Elevate your daily skincare to a soulful routine with our step by step guide to your morning cleanse.
1. Remove impurities that have settled into your skin overnight and protect it from today's environmental pollution by washing your face with a gentle, purifying cleansing foam.
2. Prepare your skin to absorb the full benefits of your products with a facial toner like this one containing lotus and aloe vera.
3. Don't skip serum! The light but highly concentrated formulations deliver a potent mix of active ingredients to your skin – and fast. Pick one that best suits your skin's needs, from glow giving, firming or hydrating.
4. Give your skin an extra shot of goodness by layering on a 100% natural booster. From hydrating and illuminating to smoothening and blemish control, find the right one for you here.
5. Smooth the delicate skin around your eyes and reduce puffiness with an eye cream which contains antioxidant-rich saffron flower.
6. Finish off by massaging our anti-ageing day cream into your skin, leaving it revitalised and ready for the day. If your skin would love a little more hydration then choose our hydrating day cream or firming day cream respectively.
Give yourself a weekend spa treatment
1. Start your weekend with a scented candle to illuminate and meditate.
2. Use your extra time to do a double cleanse: first apply the Purify Velvety Smooth Cleansing Foam, and follow it up with the Purify Radiant Glow Cleansing Balm.
3. Pamper yourself with the Purify AHA Glow Mask a facial designed to stimulate cell growth and boost your skin's radiance.
4. Spritz some Hydrate Urban Hydrating Mist for a layer of protection against city stress.
5. Supply your skin with an intense moisture shot using the Ageless Ampoule Booster, and give yourself a facial tapping massage.
6. Complete your weekend skincare regimen with the Glow Radiance Anti-Aging Day Cream.
Whether it's 7 am, 11 pm or anytime in the weekend, The Ritual of Namasté collection has everything you need for radiant, glowing skin. Try these steps, turn them into routines and reveal your natural beauty to the world.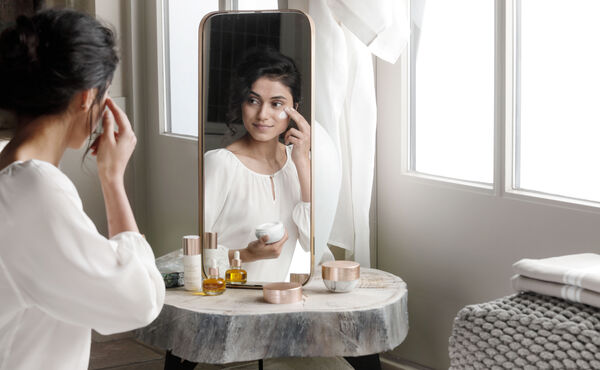 DISCOVER OUR NEW SKINCARE COLLECTION
We believe the key to a more soulful life is living with intent. The same wisdom applies to your skin: paying true attention to each step of a carefully chose skincare routine has a much more profound effect than blindly going through the motions. The Ritual of Namasté helps you honour nature, honour your own soul and to treat your skin with the utmost respect. When you use this collection as part of your beauty routine, this respect will be mirrored in your radiant complexion.