Yalda is a joyful Persian tradition that celebrates the winter solstice in late December. Friends and extended family gather together to honor the special poetry and spirituality – and of course, exquisite food – of this ancient tradition. We spoke with Iranian friends Nasim and Elham, who invited us to discover more about what Yalda means to them and their families.
Each year on December 21st, Iranians spend the night eating, drinking and reading the inspiring 14th-century poetry of Hafez, joyfully connecting with each other. In Persian, this celebration is known as Shab-e Yalda – Yalda means 'birth' and honors Mithra, the goddess of light. It is a very spiritual occasion and celebrates the coming of winter, the renewal of the sun and the victory of light over darkness.
Friends as family
Friends Nasim and Elham live in The Netherlands with their husbands and children. Since they're living away from their extended families in Iran, they've recreated a sense of family with each other, and even regard each other as sisters.
'Family life is very important in Iran,' says Nasim. 'Here we cook together, we do things with our kids, we go out together, creating that sense of family.'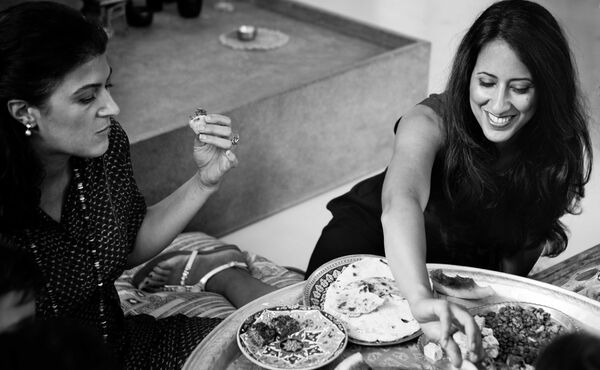 The warmth of sisterhood
Nasim was born in Germany while her Iranian parents were studying there, but returned to Iran at age three. She eventually went back to Germany to study accounting, and it was there that she met her Iranian-Dutch husband. They moved to The Netherlands together ten years ago and now have two children, but are still very much connected to Iran. Meanwhile, she plans to study psychology at university in Amsterdam. Elham was born in Iran, and lived in Australia before coming to The Netherlands. Also a mother of two children, Elham is a textile-mechanical engineer, and is doing her masters in education.
Like sisters, the women rely on each other. 'I help Elham and she helps me, says Nasim. 'We really understand and inspire each other. All our parties – like Yalda and Norooz (Persian New Year) – we do together. We're always going out together during the holidays and outside of that we sit down to share morning tea at least twice a week.'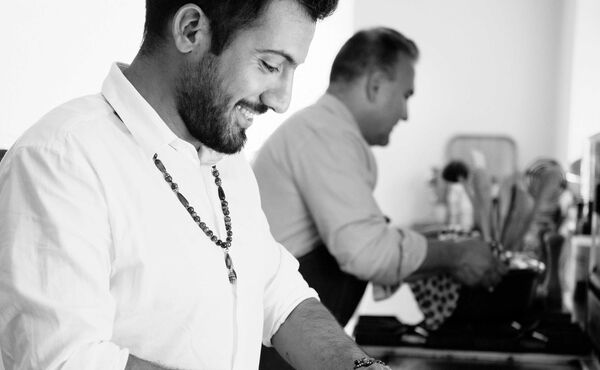 A feast from old Persia
'Yalda means so much to us,' says Elham. 'It really is a feast from the old Persia, with a bit of a nostalgia mixed in, and it has nothing to do with religion. Everybody in Iran celebrates Yalda. Families gather, from grandmothers to great grandchildren: we celebrate family life. Since we're not living in Iran anymore, we celebrate Yalda with friends. Only we do miss our families...'
'Food is very important to us,' says Nasim. 'All our gatherings are about food, the most delicious food! And the best cook is the one in charge of the food. With Yalda it's usually the mothers and grandmothers who prepare and cook.'
The rice
'Every family has its own version of the jeweled rice,' says Elham. 'There are always nuts, such as almonds and pistachios. The ingredients all depend on where you are from... some use orange peel and zereshk (barberries). Usually we eat it with chicken,' she smiles.
The warmth of togetherness
The Yalda table is beautiful, complete with flowers, mixed nuts, and of course, watermelon and pomegranates. Once everything is ready, the families gather together around the table. 'In some regions, there are special cookies or sweets such as cotton candy,' Elham explains. 'The reason we eat watermelon and pomegranate is because they're fruits of the summer and they bring on health. And, of course, their beautiful red color is a symbol of warmth and the glow of life. We have to keep the watermelon for a long time from summer until Yalda.'
'The part of Yalda I love the most,' says Nasim, 'is when we all sit around the table and start to recite the poetry of Hafez, the Iranian poet of the 14th century. You make a wish and open the book at random, and the eldest person reads the poem out loud. Yalda is not Yalda without Hafez' poetry of wisdom and life.'
I once asked a bird, how is it that you fly in this gravity of darkness? She responded: "Love lifts me"