Images
Nieuw

The Ritual of Jing

Calming Treat
Details
null
doucheschuim 50 ml, bodycrème 70 ml, slaap opwekkende droge olie 50 ml, slaap opwekkende kussen- en body mist 20 ml
Begin ontspannen aan je dag of ga rustig slapen met deze verzorgende producten die zijn verrijkt met jujube en witte lotus. Bev
...
Meer tonen
Ontvang een gratis Ayurveda kaars (140gr) bij elke bestelde Gift Set*.
Click & Collect: bestel online & haal op in geselecteerde winkels.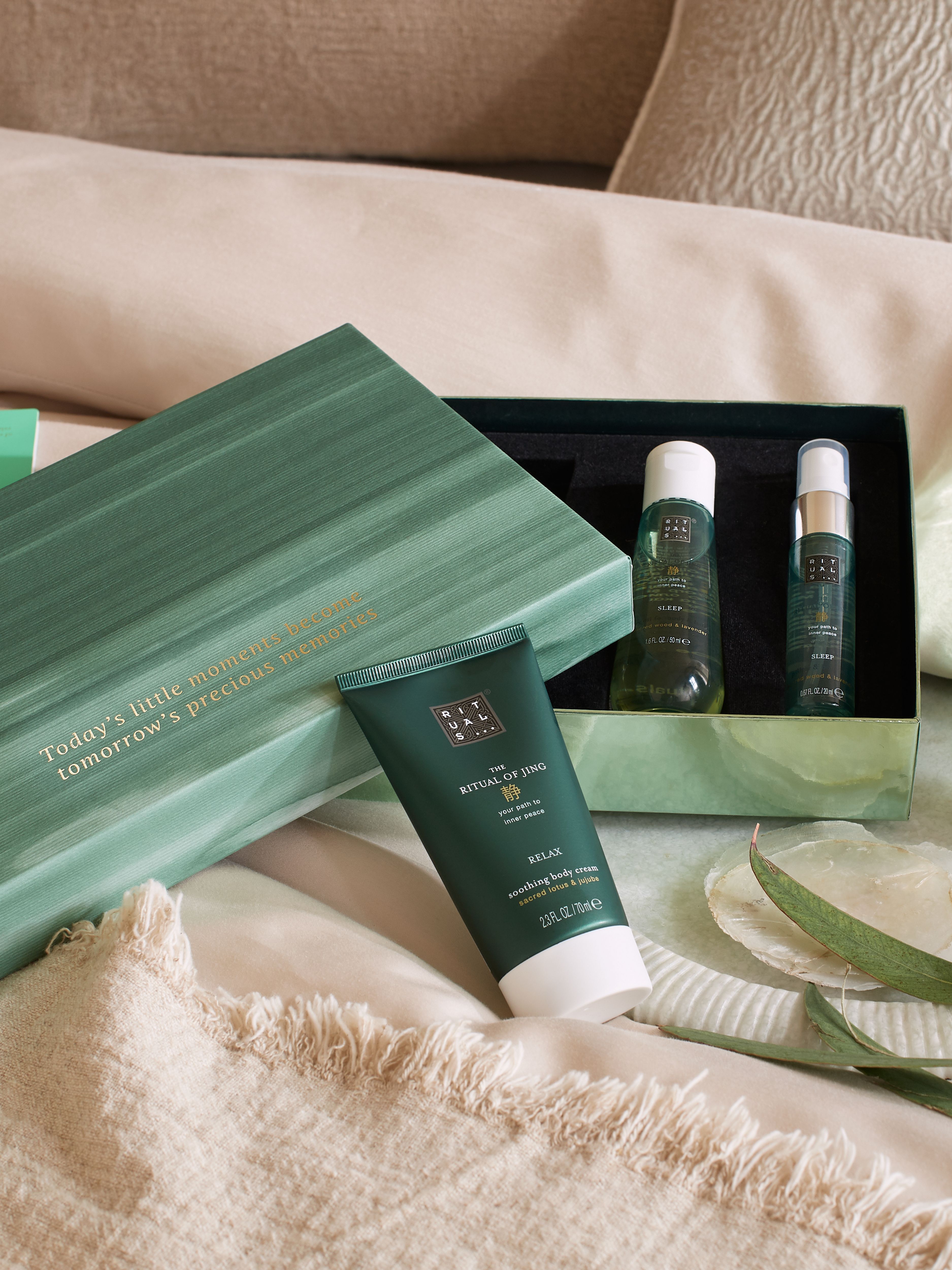 Onze 4 Kalmerende Favorieten
Wat zit er in deze cadeauset?
Ontdek your path to inner peace met kalmerende jujube, geurige witte lotus en slaapbevorderende lavendel - dit is de Calming Treat!
Scroll naar rechts om de inhoud te zien
1/4
Foaming Shower Gel
schuimende douchegel, 50 ml
Waarom het zo speciaal is
Een rijke en verzachtende foam met een rustgevende geur voor een plezierige en zachte reiniging. Combineert de ontspannende en voedzame eigenschappen van witte lotus met de verzachtende werking van jujube.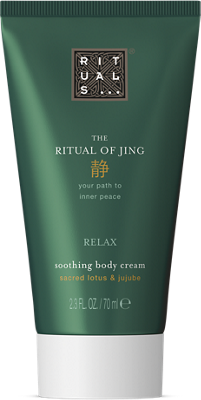 2/4
Body Cream
bodycrème, 70 ml
Waarom het zo speciaal is
De rijke en voedzame crème combineert de fleurige en verzorgende geur van witte lotus met de kalmerende en verzachtende kracht van jujube, zodat je huid zijdezacht aanvoelt.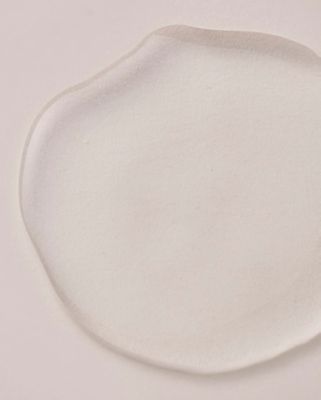 3/4
Dry Oil Body & Hair
droge olie voor body & haar, 50 ml
Waarom het zo speciaal is
Ontspan je lichaam en geest met de langdurige en rustgevende geur van lavendel en sandelhout. Deze droge olie trekt snel in de huid en voedt huid en haar voor een zijdezacht gevoel.
Heilige lotus
Lotusbloemen floreren in kalme, troebele wateren. Ze worden in het Verre Oosten beschouwd als een symbool voor zuiverheid en spirituele groei, en staan bekend om hun verzachtende eigenschappen. De geurende bloemen van de witte lotus gaan open bij zonsopkomst en sluiten bij zonsondergang, en vormen het symbool van vrede.
Jujube
In de traditionele Chinese geneeskunde worden jujubezaden gebruikt om stress te verlichten en rust te bevorderen.
4/4
Pillow & Body Mist
haar- & lichaamsmist, 20 ml
Waarom het zo speciaal is
Deze rustgevende geur is perfect voor je avondroutine, om je dag af te sluiten en ervoor te zorgen dat je sneller in slaap valt. Verrijkt met sandelhout en lavendel om de geest helder te maken.
Verpakt in luxe
Alles mooi verpakt in een luxe box
Onze duurzame gift set-dozen kunnen worden hergebruikt als luxe opbergdoos - perfect om foto's, brieven of andere voorwerpen in te bewaren. Al het gebruikte papier is FSC-gecertificeerd afkomstig uit goed beheerde bossen met de hoogste milieu en sociale normen.