To help you uncover your authentic self, we called on life coach and speaker Lucy Sheridan to guide us on a path to living a life of truth and authenticity.
Rituals: Why is it important to live authentically?
Lucy Sheridan: To live authentically is to take ownership of who you are, what you think, what you believe and how you act in the world. When we are not living in congruence with what's true to ourselves, it is as if we are wearing a mask. Yet, when we choose to really show up as ourselves we get to drop the mask and the insidious, exhausting act that goes with that.
The positive effects of living authentically include:
Caring less about the opinions of others, so we take action more swiftly.
Making better choices to support our own goals because we are not second guessing ourselves.
We have more trust and self-belief because we know that whatever the outcome, we followed the steps that felt right at the time.
It can lead to more confidence as we learn to communicate what we really think and feel, as opposed to what's popular or what we think people want to hear.
I have shared this Ted Talk online and with clients, it's well worth a watch.
Rituals: We are barraged with information and images daily on social media, how can we cut through the noise to uncover our authentic selves?
Lucy Sheridan: Set criteria for what you want your social media to be - if you are passive and using apps without intention then, in a way, you're participating in the barrage so, take charge!
Journal about what you want to see more of, see less of, learn more about, and gain more/different perspectives on.
Then, refine your feed so it represents your own wants and needs. And remember, a follow doesn't necessarily mean support - I follow accounts that have opposing views to my own because to not be aware of them would put me in a bit of a bubble.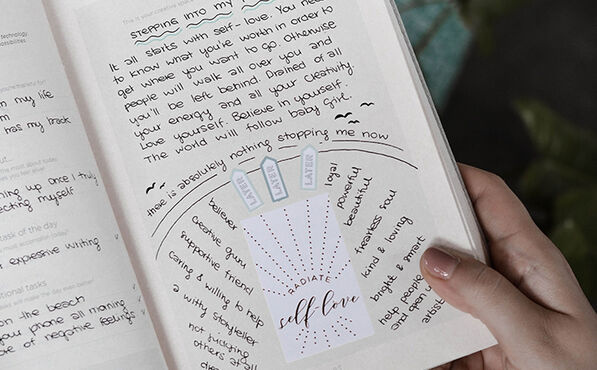 Rituals: What are your tips for looking inside, rather than comparing ourselves to others, as markers of success and confidence?
Lucy Sheridan: It is so important to pause, take a breath and focus - comparison feeds off distraction. I encourage each of us to check in on some key prompts:
What do you really want and desire in your life? What are your goals?
And why? What are your reasons and motivations?
Did you inherit those goals or beliefs from anyone else? For example, from a pushy parent figure.
Did you set those goals a long time ago? They might have gone out of date or belong to a different time in your life.
It's so important that we apply some considered thought and rigour to defining our own success - in doing so, we gain back our own autonomy and are less led by others. We can travel in and stay in our own lane!
Rituals: Do you have 3 tips our readers can try to help them uncover their true selves and start to live authentically?
Lucy Sheridan: To add to the above, I always ask clients to choose a 'Compass Word' as a tool to help them live intentionally and authentically. What word describes what you want the theme of the year ahead to be, so you can measure your thoughts, words and actions against it? So you can live in congruence with it.
For example, it might be 'expand' which invites someone to have courage and go after what they want.
It could be perhaps a bit more low-key like 'consolidate', because this will support someone in tying up loose ends, not taking on too much and making more time for what's important.
Be aware of the people or things that have become a strong or present influence in your life. That's not to say you need to be in 'burn and destroy' mode with your friendships! It's about starting to act in accordance with what you want. For example, you may not really want to go on that group trip to Ibiza that is being planned for next year. If that's the case, your next step is finding your way to communicate it and withdraw, so you can take another trip or save/invest the money in what feels right for you. It can be shocking to discover that the music we like, the clothes we wear, the way we spend our time… perhaps isn't always a conscious choice and that, instead, we just find ourselves going along with things.
Rituals: How long does it take to lead a more authentic life?
Lucy Sheridan: Reclaiming who you are is a process, so don't pressure yourself into making all the changes you want to overnight.
You might come up against bumps in the road where you feel you're not doing enough or sabotage might creep in. If you want to read more about authenticity, to help you keep on the right track, I recommend The Big Leap by Gay Hendricks and, if I may be bold, my book The Comparison Cure.