Looking for the best Christmas gifts 2023 that money can buy? Look no further than our comprehensive gift guide with recommendations for family, friends and more
Christmas gifts are not always the easiest to buy, it can be overwhelming when you have to shop for all your loved ones at once. That's why we have pulled together this expert edit of the best Christmas gifts 2023.
Whether you're looking for the perfect Christmas gift for your dad or a personalised gift for your other half, we have got you covered with these thoughtful gift ideas.
The secret to successful gift giving is to think about the person you are shopping for - what do they like to do? Are they sporty? Are they homebodies? Do they want a present that is useful or something more frivolous, one that they would never buy for themselves?
At Rituals, we have a huge selection of Christmas presents to inspire you and, we may be biased, but we're sure your family members and friends will love them. If you're looking for Christmas present ideas, this is the place to be.
Have your pen at the ready or prepare to bookmark these links, because Rituals is your one stop shop and these are the best gift ideas.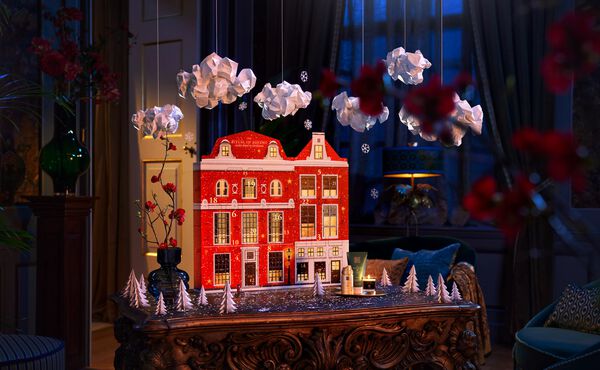 Best Christmas Gifts for your Mum
treat her to an exclusive advent calendar
For 2023, we have new and exciting Advent Calendars launching later this year. Sign up to be the first to know when our Advent Calendars launch, as they make a great gift for mums. This year, we will have different versions launching filled with either travel sized or full sized products. It's a wonderful present to help countdown to Christmas and discover Rituals items you may not choose but are sure to love.
keep it simple with a christmas gift set
Each year we also launch beautiful gift sets that come in keepsake boxes that can live on as storage boxes for trinkets, photographs or letters. If your mum is need of some much-needed rest and relaxation look to The Ritual of Jing for an energy boost choose The Ritual of Mehr or for a moment of balance choose The Ritual of Ayurveda.
Our gift sets come in three sizes to suit all budgets.
Best Christmas Gifts for your Dad
our stylish pyjamas
Looking for a Christmas gift for your dad? Look no further than our Neil Pyjama Shirt and Ebbutt Pyjama Trousers. The lightweight silk-like fabric, chic piping detail and selection of prints make this the perfect gift for any dad. Do you want to give your dad a special treatment? Discover then also our luxury skincare for him.
Best Christmas Gifts for Teens
fun stocking stuffers
For teens we have some stocking stuffers they are bound to love. Our Fortune Balms are nourishing lip balms that come in fun colourful packaging, choose from nude, red or pink shades or opt for a colour-free version. Or why not treat them to one of our wonderfully-scented hair & body mists?
a great christmas gift for every teenager
Looking for something more masculine? Our unisex Sport collection is perfect for active teens. The Cooling Shower Gel is powered by activated charcoal and mint to absorb oil and leave skin refreshed.
Now, we know teens can be tricky to buy for so if you're really stuck, then why not give them a gift card so they can choose the products they'll really love. Easy for you and fun for them.
Best Christmas Gifts for Brothers
a christmas gift set he'll love
Looking for present ideas for your brother? Our Homme gift set selection contains everything one needs from shower foam to lotion. Plus, they come already wrapped in a gift box and are ready to give.
personalized presents
Can't find a pre-made gift set that they will like? Add a personal touch to your gift by treating them to a personalized gift. We offer customised gift sets where you can handpick the products you know they will love.
Best Christmas Gifts for Sisters
Powerful skincare treats
For sisters who love skincare, look no further than our hardworking The Ritual of Namaste natural booster serums - they make the perfect holiday gifts.
Our favourites to gift? The hyaluronic acid booster is like a glass of water for thirsty skin that instantly plumps up fine lines, while the booster with bakuchiol is a great general youth-boosting serum. Bakuchiol is like nature's retinol to stimulate skin cell turnover for a smoother skin texture and appearance.
A journey to wellbeing
Treat your sister to The Book of Rituals, with over 400 pages this is so much more than a coffee table book. The pages are filled with inspiration, tools and wisdom that will inspire you on your path to personal wellbeing. This limited-edition book is packed with small routines and habits that will transform the reader's life.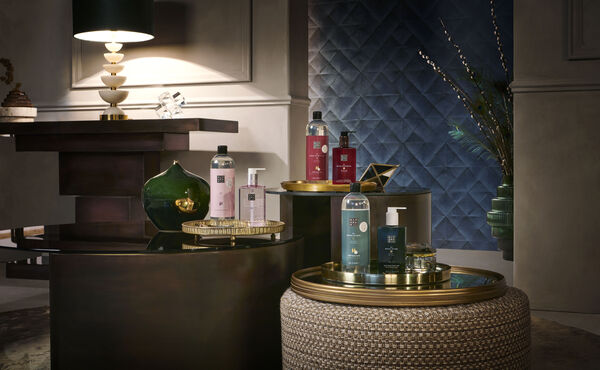 Best Christmas Gifts for Colleagues
our bestseller
A great gift for colleagues has to be our iconic, bestselling shower foams. The perfect stocking stuffers, it's a simple gift that is a real crowd-pleaser. Not sure what fragrance they'll like best? The Ritual of Jing is a relaxing, unisex aroma that is a joy to use.
Best Christmas Gifts for Boyfriends and Girlfriends
find a fragrance
When it comes to a Christmas present for your loved one, few things make for a better gift than a perfume. Not only will the scent remind your partner of the holiday season spent together, fragrance is a long-lasting gift that they'll enjoy for months to come.
Not sure what fragrance they will like? Check out our handy guide to buying perfume as a gift.
Best Christmas Gifts for Friends
a crowd-pleaser gift
One of the most popular gifts has to be a scented candle. It can be used year-round, and once the candle is finished they can re-use the pot for makeup brushes or small plants meaning it's a gift that keeps on giving.
Our classic collection candles have a minimalist design, otherwise look to The Signature Collection, the porcelain holders are decorated with stunning designs, embossed with gold or platinum details and you can buy different scented tea lights with up to 60 hours burn time.
Best Christmas Gifts for Couples
a home fragrance wonder
Whether you're shopping for couples or a gift for the whole family, The Perfume Genie 2.0 is a real crowd-pleaser when it comes to scenting the home.
A modern and innovative approach to home fragrance, the Aroma diffuser provides a unique fragrance experience. The eye-catching, stylish design adds a sophisticated touch to any house. Simply fill it with the fragrance cartridge of choice and you can use our handy app to control the schedule and intensity remotely.
Best Christmas Gifts for Grandparents
a very stylish christmas gift
Our beautiful Amsterdam Collection makes the perfect Christmas gift for grandparents. The exquisite design is steeped in history, inspired by a Delft blue vase that is housed at the iconic Rijksmuseum. The Japanese yuzu and Dutch tulip fragrance is loved by many, so this collection is a sure-fire winner when it comes to a Christmas gift.
For grandparents, we recommend the fragrance sticks from this collection as they look stylish in any home and unlike many reed diffusers these don't need to be rotated unless you want a more intense fragrance experience.
Best Christmas Gifts for your Husband
a go-to gift he'll love
Our Homme gift set is a great gift for husbands. The products are results-driven, packed with hardworking natural origin ingredient complexes.
Inside the pre-wrapped gift box you'll find a foaming shower gel, 2-in-1 shampoo & body wash, anti-dryness body lotion and L'essentiel eau de parfum.
Best Christmas Gifts for your Wife
Go big and go home
We all know the saying the best things come in small packages, but when it comes to our candles we recommend you go extra large. Treat your significant other to one of our incredible XL luxury scented candles and we guarantee they'll be overjoyed.
Best Christmas Gifts for Teachers
a moment of luxury and relaxation
If you're looking for Christmas present ideas for a teacher, why not thank them for their hard work this year with a hand wash and hand balm?
Our indulgent offering helps make a daily chore a moment of luxury. Choose from our classic collections or why not go all out with our Private Collection?
Looking for something smaller? Discover then also our top 10 small gifts article.
Avoid holiday stress with our handy guide so you can have a calm, soulful and happy festive countdown. Click here to get started.