Give your dad a luxury treat this Father's Day with our hand-picked presents to suit all budgets
Let's face it, men aren't always easy to buy for. Which is why we've taken the stress out of the situation and curated a fantastic selection of gifts to suit all ages. Because it doesn't have to be your dad you treat this Father's Day. Brother, uncle, friend, whichever father figure you choose to celebrate, these 10 timeless gifts are guaranteed to get the thumbs up. From sporty foaming shower gels to car fragrances to beard oils or bathrobes, you'll find a stylish array of gifts that tick off all budgets.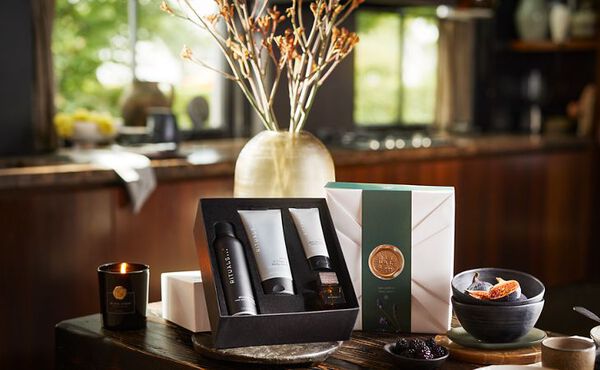 INVIGORATING ROUTINE
THE DOES-EVERYTHING
GIFT S
ET
Our Homme Invigorating Routine gift set packed with practical products (always a win with dads), this contains the legendary Rituals foaming shower gel, Sport 2-in-1 Shampoo and Body Wash, Sport Dryness Body Lotion and L'Essentiel Eau de Parfum. Perfect for guys on the go and fitness fanatics who live out of a gym bag, the range is enriched with bamboo, Japanese mint and cedar wood which smell amazing too.
HAMMAM CAR PERFUME
SCENT IT RIGHT
Activated by the flow of air from the fan heaters, this car perfume, scented with the Rituals of Hammam fragrance is a truly original gift. Blending refreshing eucalyptus and rosemary, it's natural woody aroma will transform any vehicle into a pod of escapism and zen.
FRAGRANCE STICKS
MAKE A STATEMENT
The easiest, most effortless way to create an ambiance indoors, The Ritual of Hammam fragrance sticks look the part too. Scenting the room for up to three months, our sticks don't need to be rotated unless you want a more intense hit of fragrance. The fresh combination of eucalyptus and rosemary is like bringing the outdoors in.
BEARD OIL
A GROOMING ESSENTIAL
Ticking off facial hair maintenance and skincare in one, the basil oil in this beard oil is super moisturising and has antioxidant properties to protect skin from ageing, while Argan oil, rich in vitamin E, softens and conditions facial hair. Keeping everything looking dapper it's a thoughtful pressie for anyone sporting a beard and who wouldn't necessarily invest in an oil themselves.
THE RITUAL OF JING SCENTED CANDLE
FOR THOSE IN NEED OF RELAXATION
Whether it's the mesmerising flicker of the flame, the warm and cosy feeling candles create or the scent of sacred lotus and jujube, The Ritual of Jing candle is a crowd-pleaser. The emerald green glass container complements all interior designs while the 50 hour burn time means there are plenty of opportunities to evoke a sense of calm inside your dad's pad.
COTTON BATHROBE
THE GIFT OF CHILLOUT TIME
100% cotton, our bathrobes are available in four colourways and are the perfect throw-on after a bath or shower. Weighty but easy to wear, they also boast pockets for necessities one might need for an evening of relaxation. A great option for dads who need to relax or love a night in front of the TV.
FUNG BOXER SHORTS – 2 PACK
COMFORT AND JOY
Made from soft, stretch cotton, these paisley-print boxer shorts look so good it's tempting to suggest the gift recipient should show them off. But no-one wants to see their dad parade around in pants so admire them from afar as you gift them and know they've gone to a good home.
L'ESSENTIEL EAU DE PARFUM
THE STATEMENT MAKER
Aromatic and spicy, our L'Essential eau de parfum has a warming undertone of patchouli followed by musk and cardamom which gives it a sultry, sensual dry down. The notes are famed for their motivational effect too so ideal if your man of significance needs a bit of a mood boost.
ANTI-PERSPIRANT SPRAY
FOR THE MAN WHO HAS IT ALL
With 24 hour protection from sweat, our Sport deodorant are a win for those with active lifestyles, so if your dad or significant male can't sit still, a spray or two of this will ensure he at least stays smelling good when he's on the move. With activated charcoal to help absorb oils (read: no sweat patches), the Power Recharge formula boasts a crisp scent of citrus, bergamot and peppermint. It's guaranteed to put a spring in their step.
THE BOOK OF RITUALS
A TIMELESS KEEPSAKE TO TREASURE
Dip in and out of The Book of Rituals The Art of Soulful Living and discover how to live a more soulful life through mindful practices. The stunning imagery throughout this book is as expressive and emotive as the words. Packed with inspiration, if anything was going to encourage someone to try something new, this is it.