Hosting for the holidays? Instead of staying with the traditional turkey and ham, dazzle your guests by serving homemade bánh xèo, or sizzling pancakes, filled with shrimp and herbs. Or use tempeh or tofu for the veggie version!
Bánh xèo is a popular Vietnamese street food. And for good reason—these crispy crepes are savory parcels of pure yum. Because they're light, fun and infinitely variable, bánh xèo pancakes make great party food.
Preparation time: 30 minutes
Makes 12-14 pancakes
Ingredients
Pancakes and garnish
150 g rice flour2 tsp turmeric
2 tbsp corn flour
125 ml coconut milk
250 ml sparkling water
1 tbsp fish sauce (omit for vegetarian version)
neutral oil for baking
3 spring onions, finely chopped
200 g shoots (pea shoots, bean sprouts, etc.)
500 g cooked shrimp (or tempeh/tofu for vegetarian version)
½ head lettuce, leaves picked
mixed herbs: Coriander, mint, Thai basil, shiso
12-14 sheets of rice paper
Vietnamese dip
50 ml of water
1 tbsp rice vinegar
15 g of sugar
45 ml fish sauce (use sweet chili sauce for vegetarian version)
25 ml lime juice (1-2 limes)
2 cloves of garlic, cleaned and chopped
1 chili pepper, chopped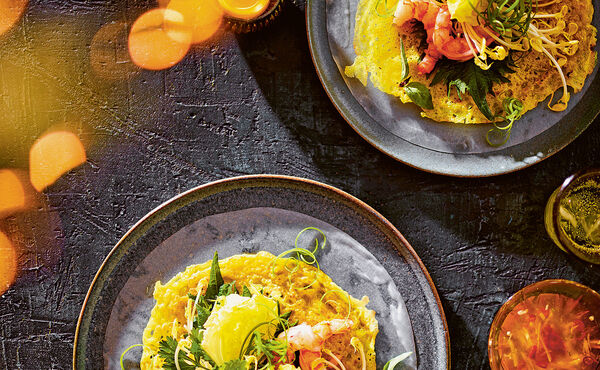 Preparation
Whisk the rice flour, corn starch, coconut milk, sparkling water and fish sauce together to make a smooth batter.


Heat a non-stick frying pan over a high heat, add half a tablespoon of oil and pour in a thin layer of batter.


Add an extra dash of oil and cook the pancake for 2-3 minutes until the top is dry.


Turn the pancake over and cook briefly on the other side.


Repeat with the remaining batter.


Mix together the ingredients for the dip.


Place the dip, shoots, lettuce, onions and herbs in bowls. Add a container of lukewarm water – soak a sheet of rice paper, then top it with a pancake and filling.