Sticky toffee cake, packed with butter and served with oozing toffee caramel sauce and rich cashew coconut cream, may seem like a surprise but, at Rituals, we truly believe in balance. That there should be room in your life for a little indulgence, without ever feeling bad afterwards. Whether you had a Christmas dinner with all the trimmings or you served up our veggie starter and white fish main, we all deserve a little sticky toffee heaven from time to time.
Serves 4 to 6 people
Preparation time: 45 minutes
Ingredients:
Cake:
200 g pitted dates
200 ml boiled water
1 tsp baking soda
100 g unsalted butter, room temperature
1 tbsp maple or agave syrup
100 g (dark) brown caster sugar
2 eggs
180 g flour
5 tsp baking powder
1 tsp vanilla extract, liquid
Pinch of salt
Toffee caramel sauce:
100 g unsalted butter
200 g (dark) brown caster sugar
150 ml whipped cream
5 tsp vanilla extract, liquid
Cashew Coconut Cream:
200 g raw cashew nuts
300 ml water
1 tbsp maple or agave syrup
2 tbsp grated coconut
Necessary tools:
20 cm springform cake tin
Baking sheet
Pre-heated oven at 180˚
Immersion blender (and a high-speed blender)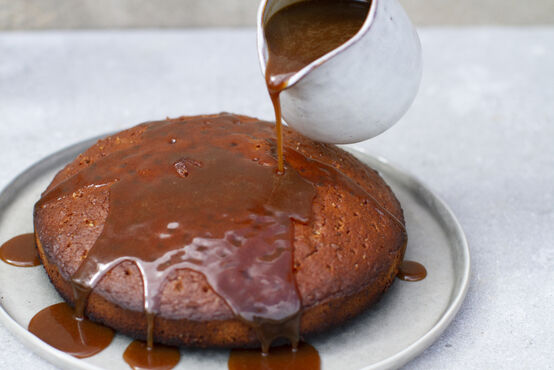 Preparation:
Place the pitted dates, hot water and baking soda in a bowl and let it soak for 20 minutes. In the meantime, mix your butter, syrup and sugar until you've got a creamy substance. Then add the eggs in one at a time and mix well. Add the flour, baking powder, salt and vanilla extract and mix until it has a lovely smooth consistency.
Drain the dates and blend them in to a thick mass. Place a baking sheet into your cake tin, mix the dates into your batter and pour it into the tin. Place in the centre of your oven for about 30 minutes. Remember to check on your cake every once in a while.
For the sauce, grab a saucepan and heat up your butter, sugar and vanilla extract. Stir until the sugar is completely dissolved. Let this simmer for a few minutes on a low heat. Turn off the heat and let the sauce thicken as it cools, but not too much, remember, the warmer the sauce the stickier your cake! If you want the sauce to really sink in, here's a trick – pierce holes into the cake with a skewer.
And finally, your coconut cream. To mix cashew nuts smoothly, you'll need a "high speed" blender. If you don't have this, make sure to soak the cashew nuts in water at least an hour in advance before draining. Mix the cashew nuts together with 300 ml water, 1 tbsp agave or maple syrup and 2 tbsp grated coconut into a smooth cream. Serve and enjoy!