From energising smoothie bowls to easy overnight oats and low-calorie vegan French toast, try these delicious healthy breakfast ideas to start your day right.
Though we may be fast asleep, the nighttime is when our bodies do most of their growth and repair work. From our brain and muscles to our hormones and immune system, there's a lot going on overnight which uses up our energy stores. That's why eating a healthy and nutritious breakfast each morning is so important.
According to health experts, starting the day with a nutritionally balanced meal not only fuels our body, but it helps our minds to stay more alert and better able to focus throughout the day, too. You're also less likely to start reaching for unhealthy snacks.
So, to help you refuel after a good night's sleep and start your day on a positive note, we've rounded up seven of our tastiest healthy breakfast ideas that are all quick and easy to whip up. Did someone say healthy French toast?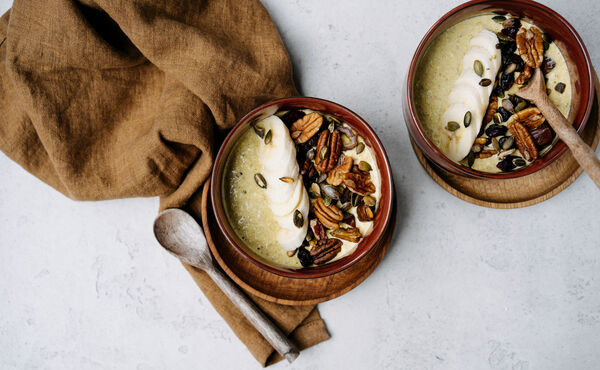 ENERGISING OVERNIGHT OATS
If mornings can be a rush, this five-minute overnight oats recipe is a quick and easy breakfast that can be prepped the night before. Plenty of fibre, high in protein, low in sugar and boasting anti-inflammatory turmeric, it's a wonderful start to the day that'll boost your energy levels and leave you feeling full until lunch time. Start prepping this healthy breakfast recipe.
ACAI SMOOTHIE BOWL
Another speedy breakfast idea that's full of healthy goodness, this tasty acai smoothie bowl is ready in under 10 minutes. Packed with superfoods like chia seeds and flaxseed plus vitamin-rich berries, it's a naturally energy-boosting dish that'll also do wonders for your skin. Bookmark this healthy breakfast recipe now.
AVOCADO AND DUKKAH ON TOAST
Easy to make and big on taste, this healthy breakfast combo teams cool and creamy avocado with flavoursome dukkah – an Egyptian mix of roasted nuts, seeds and herbs. Add a runny poached egg or protein of your choice to take this recipe to the next level. Check out this avocado toast recipe.
Top tip: Boost your mood as well as your vitamin intake with this delicious sunrise smoothie recipe.
MEDJOOL DATE AND MANDARIN SCONES
If you like to batch cook, these nutritious fruit scones are ideal for prepping ahead of time so that you can easily grab a quick and healthy breakfast when you need it. We've used wholewheat flour which is richer in fibre and vitamins than white flour. Medjool dates bring a sumptuous sweetness plus antioxidants, while the zingy mandarin packs plenty of vitamin C. Add these healthy fruit breakfast scones to your menu.
CHOCOLATE SMOOTHIE BOWL WITH PEANUT BUTTER
Did you know that cacao is a superfood? This moreish smoothie bowl uses the chocolaty ingredient in its raw form to harness those powerful antioxidants, while frozen bananas bring plenty of potassium, and peanut butter adds a protein hit. Filling, nutritious and of course, delicious. Check out this easy breakfast smoothie bowl.
VEGAN FRENCH TOAST
Satisfy your sweet tooth with this healthier, vegan take on classic French toast from head chef Renaud Goigoux. Frozen bananas and plant-based milk create an indulgent texture, while loading them up with fruit ensures a daily dose of vitamins, minerals and antioxidants. Freeze your bananas overnight to whip this up in just 15 minutes. Try this healthier French toast recipe.