Regular, constructive, two-way feedback fuels a successful working environment and positive connections with colleagues, but could this 360 approach work for your out of office relationships? Rituals investigates
These days 360 feedback is commonplace is many work environments. Where your manager gives you constructive feedback and vice-versa. Often, the idea of giving and receiving feedback can be daunting, leaving us feeling anxious and awkward and shying away from our authentic thoughts and feelings. But open, honest, feedback loops are something Silicon Valley start-ups have touted as part of their success for years. Marco Zappacosta, CEO of Thumbtack, a U.S. based digital platform that helps users find trusted professionals for home improvements, wrote an article on Fast Company, noting that "I didn't know it at the time, but if I had to point to a defining moment for our company culture, it was the first time we did 360 performance reviews." Marco chose to openly share his own feedback and soon other team leads wanted to do the same. "We compiled our 360 reviews in one document, circulated it first among the leadership team, and then out to the entire company. In this simple act, we wanted to show that everyone, including me, has opportunities for growth and self-improvement." Since then, Thumbtack has won multiple awards for its workplace culture. With that in mind, what success would we see if we applied this structured feedback method to other relationships, such as with our partner, outside of the office?
360 feedback: The new therapy
Kim Scott, former Google and Apple executive and author of The New York Times best-selling book Radical Candor; writes that there are four types of feedback, with Radical Candor being the most effective and kind. At the end of the day, the act of feedback whether it's praise or criticism, should come from genuine care for the other person—especially when it's being given to a friend, family member or partner. Being honest and direct without being patronising or aggressive – which is the essence of Radical Candor - results in effective feedback. The three other types of feedback that Scott outlines in the book are not so positive and are ones we are all likely to have experienced at some point in our lives. Obnoxious Aggression is someone who is overly critical and doesn't show care. Ruinous Empathy is where the person is so concerned about being nice and avoiding tension they praise things that shouldn't be, yet are annoyed when nothing changes. Lastly, there is Manipulative Insecurity where the person feeding back is more worried about how they are perceived so they don't say what needs to be said. Feedback that is honest and caring can be incredibly powerful as it can "help people develop the skills they need to succeed and help them know what to do more of and what to do less of," writes Scott.
In any relationship "it is best to start applying constructive criticism as early as possible," adds Scott. For those that find feedback hard to deliver, think about it this way – if you have food in your teeth you'd rather know. And the best way to find the feedback sweet spot in any relationship is through a good dose of trial and error, so you can find the formula for success for open communication in your relationship.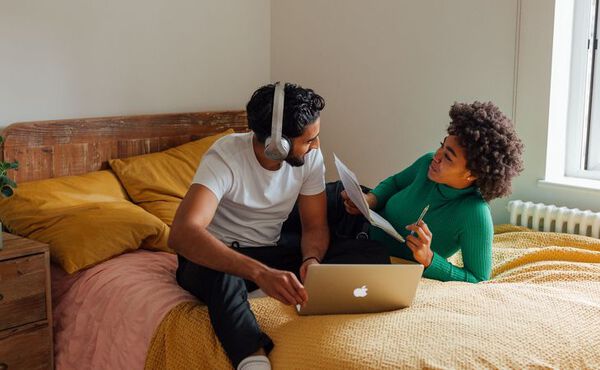 Shining a light on blind spots
Whether at work or at home, "constructive criticism can be helpful to receive because it can open us up to any blind spots," says Dr Marianne Trent, Clinical Psychologist. Blind spots are inconsistent behaviours that do not align with our own beliefs. For example, your partner stresses how easygoing they are when, in fact, they are orderly and easily agitated. Because they want to exude this opposite characteristic they seek, they subconsciously exaggerate their "go with the flow" nature to everyone but themselves. Within psychology, this is known as the Dunning-Kruger Effect. Two scientists concluded that those who lack in a particular area, such as listening, can overvalue their ability in this skill set. Therefore feedback is crucial for understanding your authentic self and learning to develop those "blind spots" whether in the office or in personal relationships.
When it comes to personal growth and self-development, feedback is an invaluable tool. A Harvard Business Review survey found that 72% of employees wanted feedback, in particular, negative feedback to amend any flaws in their work. Honest and open feedback is something so many of us crave for personal growth and authenticity, so it doesn't make sense to only factor it in at work. We all want to be genuinely understood, even if this involves accepting that there are things we need to improve upon. So knowing that those aorund us often want honest feedback could help make delivering it seem less daunting.
Out of office feedback
"Feedback can be good for all relationships. None of us are perfect people and you might well want to run a mile from anyone who thinks they are! 360 feedback can work with our partner and even with our children and younger relatives," says Dr Trent. Outside of work where there isn't a process for feedback can often lead to feelings of awkwardness, vulnerability or even shame. Dr Trent suggests, "opening and closing with something positive so that it sets and seals the tone as being helpful, not harmful. It's also good to offer specific, actionable steps so that they know what changes to consider leading to a better outcome."
If you're actively seeking feedback from friends or relatives, Dr Trent notes "it can be helpful to get feedback from the people who understand what it is you are trying to achieve. So, for example, it can be helpful to have someone you feel offers you a non-judgmental and constructive opinion which never has harm intended." For those who find giving or receiving in-person feedback just too difficult, Dr Tasha Eurich, a best-selling New York Times author and organisational psychologist, says that we are often "not as self-aware as we think and seeing ourselves clearly can help us succeed in life." In her book, Insight, she created a series of 14 questions in the form of a quiz that you can complete online - you answer the questions, before a chosen friend or family member does the same about you. Afterwards, you are sent a report you can download with feedback and insights.
When it comes to feedback OOO, if it's new to you both it's all about baby steps. Try to reframe these feedback moments as a tool for growing a healthy, happy relationship, rather than something negative. Remember that it is a gift to receive authentic and honest feedback, it can help you to develop as a partner, a parent or a friend.
3 tips for giving feedback
1. Don't be too personal
When it comes to feedback, Kim Scott notes that everybody's different. "The important thing is to start off in a neutral way and gauge the reaction of the other person."
Be caring and kind when delivering feedback. Think about it, "if somebody tells you you're making a mistake in a way that shows they care about you and your growth ... it helps builds trust with that person," Scott says. So bear that in mind when you deliver feedback.
2. Give fast feedback
Set regular feedback moments, as you would at work. Don't let things fester, if you have feedback deliver it as soon as possible so both parties can learn and move on.
3. Praise don't just criticise
"It's just as important to let people know what to do more of as what to do less of," notes Scott. Be specific about what's great and what you love about what the other person does.