Ah summer. The season of love, vacations, hot weather, socialising and a whole load of expectations to be living your best life. But what if you're not? Either because you can't afford to, don't have the energy, or you simply have no desire to fill your days with back-to-back plans. It doesn't mean you're not going to have a great and fulfilling summer, but it might just mean not overcommitting and planning out the season to suit you and your lifestyle.
"We've been placing an emphasis on summer for generations now, mainly because the winter (cold and dark) months are behind us and summer brings about a feeling of rejuvenation and fun due to the longer days, blue skies, sun shining and warmer temperatures," explains Denise Lordache, cognitive behavioural hypnotherapist at joyspacetherapy.com. "Also, from a societal perspective, summer is the season for the longer holidays people take and therefore it's turned into the time to be away from work. Because of that, we've placed a sense of happiness and achievement directly onto those holidays – eg 'I'll be so happy when I'm on holiday'. Through this process we've built unrealistic expectations for ourselves and nothing less than matching them can make us feel sad or even angry."
The good news is that by letting go of those ideals about what you should and shouldn't be doing when the sun comes out and embracing a pretty average summer you won't get a pang of guilt or anxiety every time someone mentions their holiday plans. Here's how to build a seasonal toolkit that will help you feel grateful and fulfilled whether you're taking time off or not.
Switch off from social media
Navigating FOMO is the first step to a soulful summer but that's easier said than done, especially when social media is constantly presenting us with images of beachscapes, BBQ's and rooftop bars. "The fear of missing out is directly linked to social media and the picture-perfect, utopia-like scenarios it transmits but once we catch ourselves in the comparison loop, we can really start to think how we can minimise our exposure to those platforms," continues Denise.
Try deleting the apps over summer or only check them during specific hours. Mute some accounts if you know people who like to photobomb when they're away (you can reinstate them on their return) and remember that what you see isn't always reality anyway.
Take time to appreciate what's around you too. "Studies have shown that we need to look inside ourselves rather than outwardly and place attention on ourselves as an important way of driving our own happiness," says Denise. "Gratitude is a major driver of this so have a look around you and state out loud for a few moments a day what you are grateful for that you'd normally take for granted."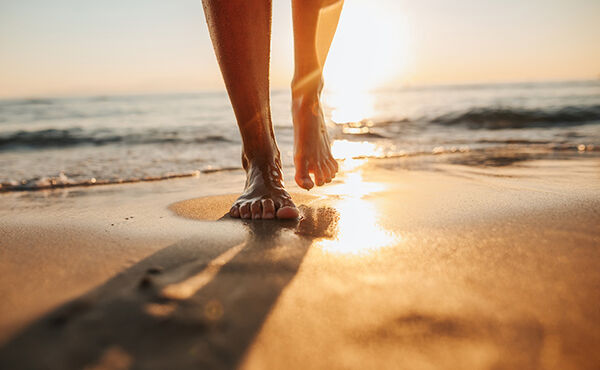 Small but sustainable
Rather than looking to a fortnight away to satisfy your summer itch, create a bucket list of little things you can dip in and out of and that you know you'll enjoy. "If you are someone that struggles with disappointment or comparison, moderate your expectations and do things for yourself that are 100% available to you," suggests Jodie Cariss, therapist and founder of Self Space. "This could look like visiting a restaurant you've always wanted to go to, booking a massage or going on a daytrip. Booking in small activities you enjoy will give you things to look forward to that are a lot more sustainable and still fill you with moments of pleasure."
Divert your diary
You don't have to block out weeks at a time, long weekends that allow for a daytrip to the beach on a Friday or a lie-in on a Monday so you can enjoy late night al fresco drinks on a Sunday will all help to top-up your summer vibes. This is also a good strategy if you're freelance as it allows for some rest and play time without compromising your earnings too drastically. "It may take more planning than for those in full time employment, however I believe it is possible for freelancers to plan their summers in a way which allows for some time to recharge," says Denise.
Besides the odd day off, think about how else you could maximise your time. With the lighter mornings maybe frontload your day with work and start earlier so you can take a longer lunch with friends or give yourself the afternoon off. Don't be afraid of blocking out time either. "During the holidays I change all my calendar booking systems to more restricted times so if I have ongoing clients I let them know when I'm available (I'll often carve out a couple of hours in the morning for client work) and then block out 'no work' time," says Emma Cossey, founder of freelancelifestyle.co.uk. "I also schedule content ahead of time when I can and, one thing, I think a lot of freelancers don't realise they can do is turn to the client and say – 'I'd love to work with you on this and I have availability from September, shall we book you in?'. You don't always have to be available immediately."
Avoid overcommitting
Another side effect of summer is trying to cram everything in, saying yes to everything and heading into autumn feeling frazzled rather than relaxed. Denise recommends asking yourself these three questions every time you get an offer to do something:
Do you have the energy required for the event/occasion and will it fill you with joy?

Do you have the resources? Budget should also be taken into consideration as extra summer plans can lead to overspending.

Do you have time for it? If you're back-to-back and feeling pressed for time you won't be able to fully enjoy any of your plans or live in the moment.
It might not come easy but by saying no to certain invites you'll have the headspace and money to say yes to the things you really want to do and that align with your goals. You should also leave some gaps to have some unscheduled solo time too. Going for an evening walk at dusk, taking your lunch outside or finishing your day early to read that book you've had on your to-do list all count.
Talk about it
It's ok to feel disappointed if you feel like your summer isn't quite matching up to what you wanted it to be but rather than bottle it up, open up to someone. "Talk about your disappointment or jealousy with others, you don't have to hide it. Communicate what you are feeling and let loved ones know how you feel and what's going on for you," says Jodie. You never know, they might be experiencing the same emotions and you can schedule something in together.
By creating a balance and working out what makes you tick – any time of year, not just during summer, you'll find you can be more spontaneous, live authentically and feel refreshed and rejuvenated when the sun finally does go down on the summer.