Craving that summer holiday feeling? Try these top interior design tips to bring those holiday vibes into your home decor and create a relaxing, mood-boosting space.
Summer is the season of warmth, sunshine, and relaxation. So why not bring the mood-boosting feeling of summer holidays into your home? From uplifting summery scents to pops of colour, with just a few smart interior design tips you can easily create a space that captures some of that vacation magic, no matter what the weather is like outside.
Keep reading for our guide to bringing that summer holiday vibe into your home, with expert tips from award-winning interior designer Shanade McAllister-Fisher.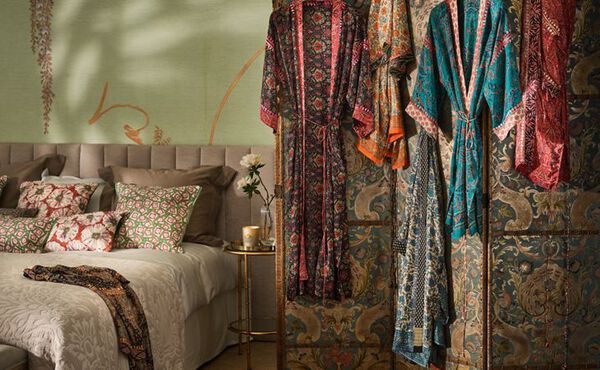 EMBRACE COLOUR
While a splash of bright colour on the walls can instantly perk up a room, colourful accessories and soft furnishings can be just as effective. "Use light, pastel colours like soft blues, greens, and yellows," says McAllister-Fisher. "These colours create a fresh and breezy atmosphere reminiscent of summer."
LOOK TO LIGHT FABRICS
All of that beautiful extra light and sunshine that we get to enjoy during summer has a huge impact on our mood. So, it makes sense that McAllister-Fisher advises bringing in sheer and lightweight fabrics, which allow more natural light to filter in. But it doesn't stop at the curtains. "Consider using linen or cotton materials for your bedding, upholstery, and table linens to create a relaxed and airy ambience," she adds. 
WRAP UP IN STYLE
Save your thick, fluffy dressing gown for chillier nights, and lighten up with an elegant kimono. Lightweight fabrics are ideal for popping on while you relax at home, while decorative patterns inspired by far flung destinations are sure to inspire that holiday feeling. 
BRING THE OUTDOORS IN
If you don't have an outdoor patio or garden, bring the outdoors inside, suggests McAllister-Fisher. "Set up a cosy seating area with comfortable chairs and add potted plants or hanging planters to create a serene and refreshing space." Make things extra cosy with luxurious throws and quilts. 
SUMMERY SCENTS
From fragrant blooms to fresh fruits, the scent of sun-drenched holidays can transport your mind and uplift your senses in an instant. Enriched with white tea and lotus flower, The Ritual of Karma home fragrance collection is an easy way to bring the scent of summer into any room.
INCORPORATE NAUTICAL ELEMENTS
"To evoke a coastal summer feel, incorporate nautical elements into your decor," says McAllister-Fisher. "Use striped patterns, anchors, ropes, or ship wheels as decorative accents. Hang a vintage map or artwork depicting the sea to enhance the theme." Our pick? Plush, comfy cushions decked with bold stripes.
OUTDOOR-INSPIRED DINING
What's better than alfresco dining while on holiday? Even if you don't have a garden space, McAllister-Fisher recommends trying to recreate the magic at home. "Set up a picnic-style dining area indoors or on your balcony or terrace. Use a tablecloth or throw, wicker baskets, and melamine dinnerware to create a casual and laid-back atmosphere for summertime meals." Try one of our delicious recipes to serve up a summertime feast.