Temperatures are dropping, leaves are falling, and nature's colour scheme has turned from fresh, leafy green to fiery reds, oranges and yellows. Noticing and becoming more aware of day-to-day changes in the landscape around you can be an exercise in mindfulness. This active awareness helps you become more conscious of time passing and can help you put things into perspective. Now that temperatures have dropped and nature's colour scheme has turned from fresh greens to fiery hues of red and orange, it's a sure sign that winter is near. Nature is ready for its next season, are you?
You might associate autumn with cozy things like walks in the forest, pumpkin lattes, the sound of rain tapping against the window or the excitement of school starting again. Ever wondered why? The psychological effects of colour might help a bit. The red area of the colour spectrum, known as warm colours, includes orange, red and yellow. These warm autumn shades evoke emotions ranging from feelings of warmth and comfort. So, it's no wonder that cosying up in front of the fireplace with a blanket - while outside the leaves and rain are falling - might be one of your favourite things to do.
While lying on the couch can be quite tempting with temperatures dropping, don't forget to go outside and discover autumn in all its glory. Is travelling not an option in your country yet? No problem, we've got you covered. Below are some pictures of the most spectacular places to visit during autumn around the world.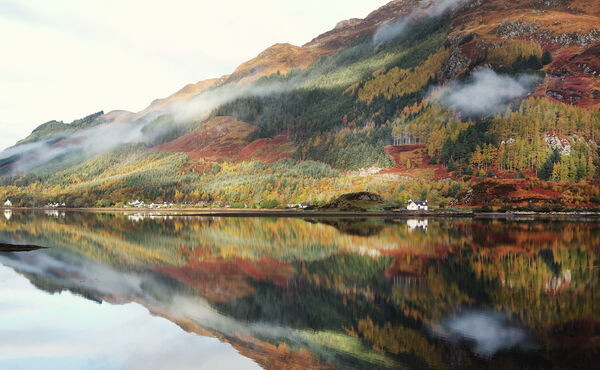 The Scottish Highlands

The wild landscapes of Scotland's Highlands offer some of the country's most beautiful scenery, especially when the hills turn fiery with warm autumn colours. This is also the best time to spot wildlife, so make sure you bring your camera.
Kyoto, Japan

Kyoto is known for its amazing food and incredible temples, but the bright red and orange leaves around the Daigoji Temple will leave you breathless. There's even a Japanese word for leaf-peeping called momijigari.
Million Dollar Highway (US Route 550), Colorado
Indian summer at its finest. The hardest part of driving this highway will definitely be keeping your eyes on the road as the trees that line this route are a fiery red, orange, and yellow this time of year.
Northern Sichuan, China

Jiuzhaigou National Park is a Unesco World Heritage Site for a good reason and one of China's star attractions. The famous blue lakes, waterfalls and mountains make it a trip worthwhile. The best time to visit is September through November, when you can see the striking contrast of the turquoise lakes and the autumn colours.