Looking for an affordable present that is sure to be well received, look no further than our festive edit of the top 10 Christmas presents
If you're making your festive shopping list and looking for an affordable Christmas gift this holiday season, then look no further... We have you covered with our gift ideas.
Below you will find an expert round-up of the top 10 Christmas gifts that Rituals has to offer. And as a bonus, they're all affordable so you can treat a family member, friend or lover in your life without breaking the bank.
These popular gifts are real crowd pleasers and also make great stocking stuffers if you're looking for some little extras. From our must have shower foam to our chic candles, you are guaranteed to find a holiday gift that will put a smile on anyone's face - think of Rituals as a Christmas one stop shop. Keep scrolling for a little inspiration in the form of our top 10 Christmas gift ideas...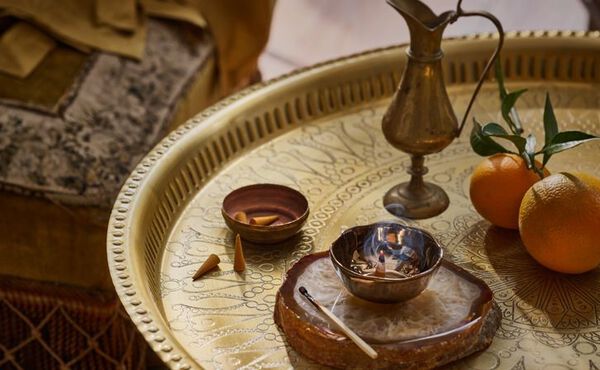 1. FOR LIP BALM ADDICTS
Our Fortune Balms make the perfect Christmas gift or stocking stuffer. Choose for our beautiful tinted versions or gift our colour-less repair balm that is perfectly unisex. For travellers, we also offer a Fortune Balm with SPF 30.
Each of the Fortune Balms are made from nourishing shea butter and either eucalyptus or aloe vera for a truly soothing experience.
2. FOR THE JOURNAL JUNKIES
If you know anyone who loves putting pen to paper, our journals are a really special gift. From gratitude to love, there are five themes you can choose from and each journal is interspersed with prompts and quotes from daily reflection. If they didn't know it already, writing down your thoughts is an amazing way to explore your feelings, push your worries aside and get to know yourself a little better.
3. FOR MEDITATION FANS
On the lookout for Christmas gift ideas that are a little unusual? Forget the typical gift set and, instead, check out The Ritual of Mehr energy restoring incense cones. Each pack contains a small golden ceramic dish and 20 cones with a 10-minute burn time each.
Light the cone and let it infuse your home with the uplifting scent of sweet orange and cedar wood, thanks to a blend of natural wood powders and fragrance oils.
4. FOR PERFUME ADMIRERS
Buying perfume as a present can be hard but we have a solution. This travel size bottle of L'Eclat is a scent that is loved by all, it's the best gift for fragrance fans.
The unisex aroma has been expertly blended to be worn alone or layered with other perfumes to create a totally unique scent. With the clean, smooth, undertones of neroli and the warmth of sandalwood, this is the perfect Christmas gift for any perfume lovers in your life.
5. FOR HOME FRAGRANCE FANS
In a stylish wave-fold effect vase, our mini reed diffusers emit a wonderful fragrance into any room and are the perfect Christmas gift for scenting the home. What's smart about our fragrance sticks is they are designed in such a way that you don't need to turn the reeds unless you want a more intense fragrance experience.
Choose one to suit the home decor style of your gift recipient or look to the effect you want them to experience whether it's a moment of balance (the look to The Ritual of Ayurveda) or an energising boost (enter The Ritual of Mehr).
6. FOR HOMEBODIES
We cannot stress this enough, if you're not sure what to buy someone as a gift you really can't go too far wrong with a scented candle. For many, it's the best Christmas gift.
A good candle doesn't just make your coffee table look lovely, our scented candles emit a beautiful aroma that fills the room.
Look to our classic scented candles, the minimalist look with the wave-fold design will suit any room. Trust us, it's an easy gift that will be much appreciated - add it to your shopping list.
7. FOR CAR LOVERS
A great Christmas gift for car lovers is our car air freshener. The minimalist wooden design of our car perfume suits any car.
Simply attach it to your car's fan and enjoy a fragrance - activated by the air flow - for 6-8 weeks. The stylish holder can be refilled time and again, so you recipient can try different scents in our collection.
8.
FOR THE PERSON WHO HAS EVERYTHING
Looking for a simple gift that you know they will love and use? Our bestselling shower foams create a rich velvety texture that cleanses and scents the body like a dream. Choose our relaxing The Ritual of Jing fragrance and you'll also be gifting a good night's sleep. It's the Christmas gift dreams are made of.
9. FOR SKINCARE FANATICS
Our The Ritual of Namaste hydrating sheet mask makes a great Christmas gift for skincare fans. The Bio Cellulose sheet mask leaves skin super soft. Infused with a hyaluronic acid-rich moisturising serum it also contains aloe vera to soothe and deeply hydrate. What's more, it suits all skin types, so you can't go wrong.
10. FOR SPA-GOERS
If your budget doesn't stretch to a spa experience, bring the spa into the home a body scrub. The blend of skin-smoothing salts or sugars and leave skin super soft and moisturised. It's an indulgent Christmas gift that they are sure to love.
Avoid holiday stress with our handy guide so you can have a calm, soulful and happy festive countdown. Click here to get started.