Let us help you build the perfect skincare routine for your complexion, plus we show you how to layer products once and for all
The beauty industry is a booming business, and that can make it difficult to choose which products are necessary and which are simply nice to have. In what order should you apply all those creams and serums? What should you pay attention to when buying new skincare products? Which ingredients are important and how do you know which products best suit your skin? These guidelines for the ideal skincare routine are your short cut to a radiant complexion.
We really do get it. Some nights you're just too tired and some mornings you're just too busy to spend more than 5 minutes on caring for your skin. However, investing more time in your routine is truly worth it, because our skin goes through a lot on a daily basis. For example, it's very important to protect your skin against air pollution and UV-rays. Your complexion needs hydration, some help removing dead cells and a boost when it comes to anti-ageing. The secret to a happy, healthy complexion is building a skincare routine that is simple, effective and can easily be tweaked.
Starting point: Deciphering your skin type
The thing is, while we're all born with a skin type determined by genetics, it can be affected by different factors like stress, lifestyle and hormones. "There are four primary skin types: normal, lipid dry, oily, and combination," says Ksenia Selivanova, skin expert. "Then there are the secondary skin concerns: sensitive, dehydrated, ageing, acne, rosacea and sun damaged."
When you have normal skin, your pores are small, and you don't experience things like rashes, breakouts, or dry or oily patches. Lucky you! If your skin feels tight and you sometimes suffer from flakiness or dullness, you have lipid dry skin. With oily skin, you can experience blackheads and blemishes and your pores are larger and therefore more visible. Finally, combination skin means your T-zone (forehead, nose and skin) is oilier than the rest of your face. Your cheeks could be normal or even dry.
You don't need to adopt a complex 12-step Korean-inspired routine to have great skin, but you do need to be a little strategic depending on how your complexion is behaving. Take a moment to think about what your primary skin type is and what your secondary concerns could be—use those as your compass to finding the products you need. And remember, "your morning routine should focus on protection, while your night-time goal is to nourish and stimulate your skin," says Megan Felton, skin expert.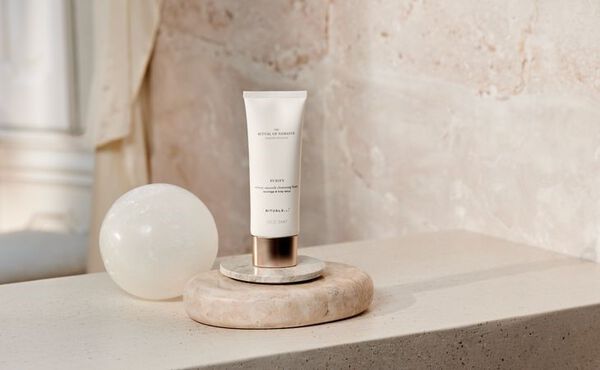 The skincare routine for you
An essential routine will vary slightly depending on skin type and concern, but it should basically consist of 3 steps; cleansing morning and night, a treatment product such as a booster, serum or toner, which could be used morning and/or night, plus a moisturiser. The more advanced skincare routine takes longer, infusing your skin with a little more (targeted) care.
An essential skincare routine would consist of the following:
MORNING & EVENING
Cleanse

Serum

Moisturiser
A comprehensive routine might be something like this:
MORNING
Cleanse

r

Toner

Booster

Serum

Eye cream

Day cream

SPF
EVENING
Now, let's look at each step in more detail:
Cleansing
This is one of the most important steps in your skincare routine. Your skin comes in contact with air pollution and other contaminants on a daily basis, and these things need to be removed at night. It's also important to cleanse your skin again in the morning to prevent clogged pores. How you do this is dependent on your skin type and personal preference. Drier skin types will want a nourishing milk or oil-based cleanser. Oily/combination complexions can use foaming cleansers or even an oil cleanser, as they breakdown sebum nicely, but be sure to double cleanse at night so pores don't become clogged. Micellar, on the other hand, is suitable for all skin types.
Toning
Toners are used after cleansing. A thin fluid, these are designed to remove any stubborn impurities deliver added nutrients, balance out your complexion and help the subsequent products in your regimen absorb better. A great choice for all skin types, alcohol-free toners will soothe and hydrate dry skin balancing the pH levels, while removing excess sebum from oily/combination complexions.
Boosters
As you might have guessed, these are designed to give your skin a boost! Each contains a specific mix of ingredients, with one active ingredient in a higher concentration, to cater to your specific skin need and skin type. These can help to rehydrate, re-plump, and revitalise on a deeper level. Because toners and boosters are lighter than serums, these should be applied first. You don't need to use them all the time, but you can add them to your routine as and when your skin needs a little extra assistance.
Serums
Thinner than day or night creams, serums usually contain a higher concentration of active ingredients. The lighter texture means they absorb deeper into the skin so they can get to work where they can make the most difference. They're typically applied before moisturisers and are suitable for pretty much all skin types. 
Eye Creams
Whether your eye cream is serum-like in texture or richer, it's best to apply with your ring finger before your oil/moisturiser. Because the skin around the eyes is more sensitive it requires specialised care, like a more tolerable concentration of active ingredients. If your main concerns for the under-eye area are lines, puffiness, hyperpigmentation or dark circles, there are plenty of eye creams out there that'll run to your aid.
"If you are prone to puffy eyes, I would advise you to only apply eye cream in the morning," says international skincare expert Abigail James. "The skin around the eyes is finer, and products can sit in this delicate area while you're sleeping and circulation has slowed."
Day and night creams
Apply a day cream in the morning and a night cream in the evening. These are often designed to suit your specific skin type and are meant to hydrate your skin, lock in moisture and leave your complexion smoother and softer.
SPF
Even in winter it's important to protect your skin from UV rays and although a lot of creams contain an SPF, it's actually much better to use sun protection on top your day cream.  
Oils
Oils nourish the skin and lock in any active ingredients, so which you choose comes down to personal preference. If your skin is particularly dry you may wish to use both oil and moisturiser, whereas oily and blemish-prone skin types might want to skip the oil. A water-based moisturiser can't permeate oil, so to be on the safe side always pat your oil onto dry patches after you've applied your cream (if you're using one). Otherwise, treat your skin to a massage with the oil if you're using it alone. 
"Once a week, I love doing a face massage with an oil. This not only nourishes the skin with essential fatty acids and oils, it also boosts circulation, relaxes muscles and provides an essential moment of selfcare," says Abigail.
Want to know more about the do's and don'ts for radiant skin? Read tips from international skincare expert Abigail James here.
Masks and exfoliators
With face masks and exfoliators aim to include these in your routine a couple of times a week. If you exfoliate before, you'll be supercharging the effects of your face mask.
"A mask, once a week in the evening, is a great way of giving the skin a boost. If you're more prone to oily skin, you might choose a charcoal mask. If you need hydration and vibrancy, the AHA mask or hydrating sheet mask is perfect," notes Abigail. On nights where you use a mask, you can skip the booster, serum and perhaps the night cream and/or oil depending on your skin type and the mask you used. For instance, if the mask was incredibly nourishing you may not need an extra layer of moisture, but if you used an AHA mask a moisturiser will finish off your at-home treatment nicely.
An exfoliator is a mild facial scrub that works differently from other kinds of scrubs. A good exfoliator contains acids that ensure that dead skin cells let loose easier from the inside out, which results in a fresher and more radiant complexion. With age and other factors like sun damage, your skin has more difficulty removing the dead cells, making exfoliation necessary. Your skin needs to adjust to this, so start off slowly. The general rule is 1-2 times a week; if you do this, you'll notice that it's a bit of a miracle cure for blemishes, wrinkles and dry skin. When you use an exfoliator on a regular basis, it's extra important that you keep the skin hydrated afterwards.
How to layer
"A good way to remember how to layer your products is to start with the thinner, water-based, products first like your toner and booster followed by oil-based, thicker products. You should always end with your SPF in the mornings," says Megan.
The ingredient list
No matter what products you use during your skincare routine, always check the list of ingredients. Don't be intimidated by difficult terminology; research which ingredients are best for your skin type and be well-informed. Avoid products that contain alcohol and make sure that perfume is the last ingredient on the list, because this means the product doesn't contain a lot of it. Ingredients that have been scientifically proven to be good for your skin include retinol, vitamin E and vitamin C. There are also ingredients that you should generally avoid, like parabens, mineral oil and silicon.
Discover our glossary of skincare ingredients that will make your complexion glow.
Adjusting your skincare routine with age
As our skin ages, we do need to consider changing our skincare routine, since our hormones and lifestyle can be quite different in our 20s compared to when we're in our 40s.
Generally, a younger skin would benefit from lighter textured creams and serums. Anything too heavy or nourishing might create breakouts, so don't jump to "anti-ageing products" too soon!
From 40 onwards, our hormones—especially estrogen—are on the decline, which causes more dry skin conditions, increases the need for more hydration and makes the layering of products essential. Added hydration doesn't just come in the form of heavier creams—it can also come in the form of hydrating actives such as hyaluronic found in serums and ampoule boosters. Applying a lovely moisturiser after this will help seal in the extra hydration.
Our natural skin cell turnover also drops dramatically as we get older, so exfoliation to encourage this process helps keep the skin looking and feeling youthful. An exfoliated skin also reflects the light more effectively, giving a dewier appearance. In addition, exfoliation allows our other skincare ingredients to absorb more effectively. As we are removing the dead skin cells from the skin's surface, we are clearing the path for our skincare routine to work even better. 
Finding your perfect skincare routine can involve some trial and error. "If you have a sudden breakout, a key change to your routine should be to reduce the level of cream moisturiser," says Abigail. "Switch to a gentle wash cleanser and add a charcoal mask twice a week along with a more regular exfoliation."
Have you got a question we haven't covered yet? Worry not! We've answered the 15 most often asked questions for you, right  here.