When it comes to shopping for skincare, there are so many ingredients, formulas and types of products to choose from. If you're looking to decipher which ingredients are best for your skin type and concern, then you're in the right place – this skincare glossary will turn you into a beauty expert. However, if you're looking for how to create a skincare routine for you, then check out our handy guide here.
While there are so many noteworthy ingredients out there, not everything that's trending will be right for your complexion. This glossary is designed to help you look beyond the buzz and decipher which ingredients your skin needs, so you can shop like a pro.
AHAs
What are AHAS?
Alpha Hydroxy Acids (known as AHAs for short) are skin exfoliants that are often derived from natural sources. For example, glycolic acid comes from cane sugar, while lactic acid is from milk.
AHA benefits
As well as exfoliating the skin, they increase cell turnover and boost your skin's radiance, ideal if your complexion is looking a little dull or lacklustre.
Lactic acid (found in The Ritual of Namaste Glow Mask) is a gentle exfoliant, that has the ability to boost your skin's own hydrating abilities. It has also been linked to wrinkle and blemish reduction.
The Rituals products containing AHAS
• The Ritual of Namaste Glow Mask
Bakuchiol
What is bakuchiol?
Extracted from the leaves and seeds of the Psoralea corylifolia plant, bakuchiol is a vegan skincare ingredient.
Bakuchiol benefits
Bakuchiol is known for its anti-inflammatory and antioxidant properties. It is widely recognised as being a highly effective, natural replacement for retinol in anti-ageing products, as it helps to maintain skin elasticity and stimulate skin cell turnover.
The Rituals products containing bakuchiol: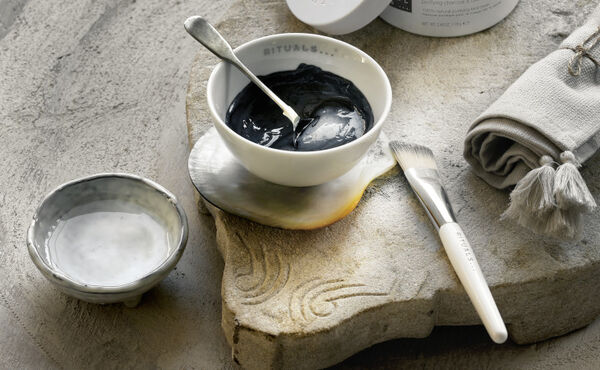 Charcoal
What is charcoal?
Many skincare products use bamboo charcoal. The bamboo is harvested, cut into pieces and goes through a firing process to create the charcoal powder.
Charcoal benefits
It is believed that the porous charcoal can draw impurities away from the skin, so when you wash away a product containing charcoal it takes particles of dirt, grime and pollution with it. Bamboo Charcoal powder is known for its antioxidant and antimicrobial properties, making it a great choice for acne-prone skin and city dwellers.
The Rituals products containing charcoal:
• The Ritual of Namaste Purifying Charcoal Wonder Mask
Vitamin C
What is Vitamin C?
Vitamin C, also known as ascorbic acid, is naturally present in some foods and can be incorporated into your diet or skincare routine to benefit the body inside and out.
Vitamin C benefits
On the skin, Vitamin C has the ability to protect the skin against the environment thanks to being a potent antioxidant. It can also visibly improve uneven skin tone, reduce the appearance of lines and trigger collagen product for a plumper-looking complexion.
The Rituals products containing Vitamin C:
Glycerin
What is glycerin?
Glycerin is a natural compound, often derived from vegetables.
Glycerin benefits
A hydrating powerhouse, glycerin may not be as trendy as hyaluronic acid but it's still an incredibly reliable ingredient. It's a humectant, meaning it draws moisture into the outer layers of the skin making it ideal for dry or dehydrated complexions that need relief.
The Rituals products containing glycerin:
• The Ritual of Namaste Hydrating Sheet Mask
• The Ritual of Namaste Skin Brightening Facial Exfoliator
• The Ritual of Namaste Micellar Water
Hyaluronic Acid
What is hyaluronic acid?
Hyaluronic acid (HA) is a polymer that is naturally occurring in our skin, however as we age the production and even the size of the HA we create can reduce.
Hyaluronic acid benefits
Hyaluronic acid has the ability to hold up to 1000 times its weight in water, this means it can draw moisture into the skin, rebalance moisture levels and temporarily plump out fine lines.
The Rituals products containing hyaluronic acid:
• The Ritual of Namaste Hydrating Overnight Cream
(This product can be refilled, the refills don't just save you money but they help reduce the use of plastic too!)
• The Ritual of Namaste Cooling Eye Lotion
• The Ritual of Namaste Intense Hydrating Serum