This World Mental Health Day, we talked to a psychologist from OpenUp about how to balance work and life.
At Rituals, we work with OpenUp, a mental health service, to offer counsilling sessions for our teams. So, it made perfect sense that this World Mental Health Day, we would call on the OpenUp team to share their expert tips so you can tackle work stress, too. Anxiety and stress can strike at any time, so to be able to prevent this and to stop work stress overflowing into your home life, OpenUp psychologist Marina Pacini has offered up 7 simple tips you can try today. Keep reading to find out how to prevent and treat stress at work.
1.
Prevention is better than cure
"If you know how your stress affects you and how you can best deal with it then this will help you navigate life and work," says Marina. "This doesn't have to be yoga or meditation, it could be watching an episode of Friends with your favourite sandwich! In fact, sometimes it can be better to cancel that yoga class and chill out." Whatever makes you feel good and helps relieve that work stress is worth prioritising.
2. Breathe away anxiety
"Meditation, mindfulness, visualisation, whatever encourages you to take a breath can really help," says Marina. If you find it hard to switch off from work, Marina recommends making it a habit to close your work day with some breathwork or meditation. "It's a good way to reset the mind before heading home," she says.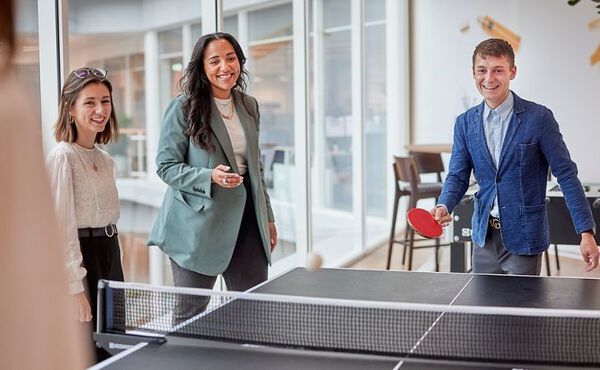 3. Get physical
"A change of scenery and some movement to activate the body can really help," says Marina. Physically getting out of your work space (especially important if you work from home) will do wonders. It can be a walk, dance class, a swim - "whatever changes up your body from the posture you had at work and brings you joy will help," she adds.
4. Prioritise sleep
"There is tons of research that proves the negative consequences of a bad night's sleep," says Marina. But, really, we don't need a study to tell us that a good night's sleep can help us both mentally and physically. "Try to prioritise sleep, if you have had a particularly stressful day maybe don't work out and have an early night. Disconnecting from your screens early is a wonderful gesture towards your sleep routine."
5. Brain dump
If your mind is whirring and won't let you sleep, Marina recommends a Brain Dump. "Write down on your phone or in a notepad everything that's on your mind, then go back to bed. I can't guarantee your thoughts will completely disappear but in most cases it will relieve the ruminating and your thoughts won't be as heavy as before."
If you don't want to write down your thoughts, you can record a voice note. "I send them to my sister and she does the same. We'll start by saying "no need to respond to this" because sometimes you don't need or want a response or an opinion, you just want someone to listen."
6. Try the Eisenhower Decision Matrix
"This is a useful tool I recommend to my clients. It helps you to categorise tasks into urgent and important or not urgent and not important. This can be particularly useful if you find yourself taking work home, by asking whether it's really necessary?" says Marina. Sometimes taking work home is inevitable and that's okay sometimes, especially if those couple of hours of extra work makes your tomorrow or the rest of your week more manageable. The Eisenhower Decision Matrix helps you to prioritise your to-do list which can feel incredibly empowering.
7. Check the Wheel of Feelings
"Sometimes we can be stressed and not know exactly why we feel uncomfortable or down, the Wheel of Feelings helps you identify and dissect your emotions," says Marina. "Understanding what is making you stressed can be they key that helps to unlock how best to manage your stress and anxiety."