Packed with flavour and spice, this Vietnamese inspired chicken soup is the ultimate winter warmer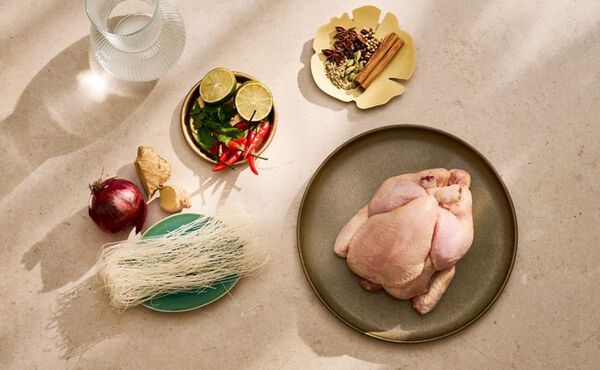 Cooking time: 2.5 hours (including 2 hours waiting)
Serves: 4-6
A typical case of slow cooking, this Vietnamese-inspired pho is a nice reminder that life doesn't always have to be fast-paced. Letting all the ingredients steep in the liquid for two hours means the broth soaks up all their flavour and this dish really packs a punch. A classic pho usually contains red meat but this recipe uses chicken instead – making it a lighter and healthier option. With ginger and spices, this chicken noodle soup is packed with nutrients that should help to bolster your immune system too.
- 1 whole good-quality chicken
- 3 pieces of star anise
- 1 tsp coriander seeds
- ½ tsp fennel seeds
- 1 cinnamon stick
- 5 cloves
- ½ tsp black peppercorns
- 3 cardamom pods, crushed
- 2 tbsp vegetable oil
- 1 thick inch of ginger, sliced
- 3.5 litres of water
- 600 g thin rice vermicelli
- 1 red onion, cut into thin half rings
- 1 red chili, cut into thin rings
- 1 lime, cut into wedges
- 4 tbsp coriander leaves, finely chopped
- Black pepper
Preheat the oven to 220 degrees. Place the chicken in a baking dish, sprinkle with a pinch of salt and roast in the hot oven for half an hour. 

Toast the spices for a few minutes in a dry skillet over low heat, until they begin to let off a fragrance.

Add the vegetable oil and ginger and stir well. Let the ginger sauté for two minutes. 

Place the chicken in the pan and add the water. Let it steep for at least 2 hours on a low heat. Remove the foam on the surface. 

Carefully take the chicken out of the soup and pull into pieces. Strain the broth and keep the broth warm. 

Cook the noodles according to package directions and divide among your bowls. Place the chicken pieces on top.  

Place the red onion and chili pepper on top. Spoon the strained broth over the soup and finish with lime, cilantro and black pepper.