I've made gazpacho many, many times as it's the perfect dish to cool you off after a balmy day in late summer. Especially here in Spain, where I live. My favourite is a green gazpacho, which we've also had on the menu in our restaurant.
Recently, I wanted to change this staple dish – try something new and have a little fun with it. The result was amazing, the kids loved it at first spoonful! So, without further ado here's my take on a green gazpacho with an Asian twist. You can serve it as a starter or as a light and refreshing main dish. Enjoy!
Ingredients
Serves 4 to 6 people
Preparation
20 minutes
chill in fridge for 2 hours
THE SOUP
750 gr ripe tomatoes
2 garlic cloves
2 tbs soy sauce
3 cm ginger, cut in pieces
fresh coriander, 1 big bunch
fresh mint, 1 big bunch
1 cucumber, without the skin, cut in pieces
½ red bell pepper
Juice and zest of 1 lime
2 tbs rice vinegar
½ chili pepper, without seeds
1 ½ tbs salt and 1 tbs pepper
500 ml water (2 cups)
EQUIPMENT
A strong blender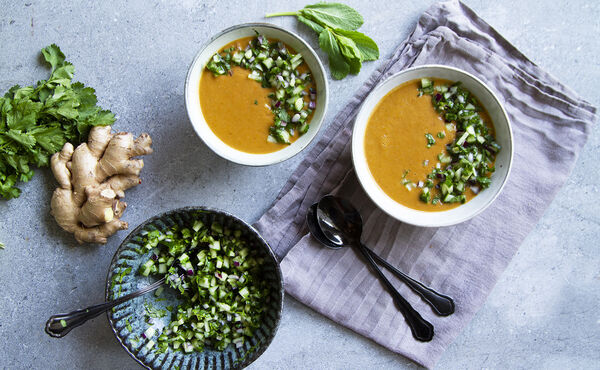 PREPARATION
Blend all of the ingredients together until they are fine and smooth. Put in the fridge and let it cool for at least 2 hours. This dish needs to be served cold.
FOR THE SALSA
½ cucumber, with the skin but without the seeds. Cut in very small pieces of 0.5 mm.
fresh coriander, 1 big bunch, thinly chopped
fresh mint, 1 big bunch, thinly chopped
½ tsp salt
2 tbs olive oil
Mix together and use as garnish to finish up the soup, just before you serve it.