From better sleep to reduced stress and stronger relationships, gratitude can reap many benefits. Try these expert tips to help you get the most of your gratitude journal
In a fast-paced world brimming with distractions and challenges, it can be all too easy to overlook the simple joys and blessings that surround us. Gratitude journaling offers a powerful antidote to this. By taking the time to reflect on the things we're most thankful for, we can not only train our minds to embrace a new attitude, but also enjoy the profound impact this practice can have on the many facets of our wellbeing.
As happiness ambassador and author of Solve for Happy, Mo Gawdat, explains, gratitude not only has the power to ignite joy and happiness in our lives, but can directly alleviate our natural inclination to hold on to on negative thoughts – once a survival technique for avoiding sabre-toothed tigers, now somewhat stress-inducing.
"When we are grateful, when we have that peaceful feeling in us, our parasympathetic nervous system engages, because we get reminded that we're actually okay, that there is something good happening to us," says Gawdat.
"And when that happens, our entire system starts to feel at peace. It starts to get the signals that you can relax, that there is no need for fight or flight mechanisms, that there is nothing out there that I need to worry about, that I can start to focus on the positive."
By strengthening our ability to feel gratitude we're effectively injecting our minds with more positive thoughts and setting ourselves up for happiness. So of course, it makes sense to ensure we're getting the most of our gratitude-building tools. Enter gratitude journal expert Rosie Peacock, a positive psychologist and writing for wellbeing coach.
WHAT IS A GRATITUDE JOURNAL?
As simple as it sounds; a gratitude journal is a place where you can write or record your thoughts and feelings about the things in life you're most grateful for. In a 2022 study, researchers defined gratitude journaling as: a diary of accounts for which one is grateful, and where attention is focused on the positive aspects of one's life.
A gratitude journal with writing prompts can be a great way to get started, notes Peacock, as many people will find responding to a question helpful, for example: 'What are three things you're grateful for today?'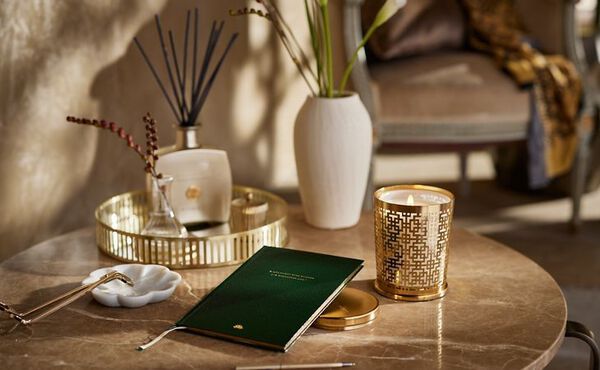 DO GRATITUDE JOURNALS WORK?
Research shows that yes, gratitude journals do in fact work by helping us to pause, reflect on, and appreciate what we're thankful for. Regular practice is associated with myriad wellbeing benefits including reduced stress, better sleep, enhanced self-esteem, higher levels of empathy, stronger relationships, and perhaps most importantly, improved mental health and strength.
"An interesting piece of research was done by Laura King, who found that her writing exercise called The Best Possible Self was associated with a reduction in stress and subsequently in doctor visits," notes Peacock.
So how does that work? Well, it's all about the upward spiral. "When you reduce stress, you'll then tend to eat better and improve other lifestyle factors that contribute to your wellbeing – in positive psychology we call this an upward spiral," explains Peacock. "Something as small or as simple as a gratitude practice can begin an upward spiral; maybe you start doing your skincare, then you're moving your body more, and as you start to feel better you start eating better. Before you know it, you've actually made a big transformation."
Having journaled since her teens, Peacock has found that gratitude journaling before bed is particularly beneficial. "For me, it actually helps me sleep better. It sets a nice tone to my thoughts before I go to bed – rather than ruminating on all the things I need to do tomorrow, it's a chance to reflect positively on my day. I go to sleep feeling good, I find it improves how much sleep I actually get, and then I wake up with that stereotypical spring in my step."
HOW TO WRITE A GRATITUDE JOURNAL
Building a strong daily practice can take time, so Peacock advises a technique called habit stacking – adding your gratitude practice to something you're already doing.
For Peacock, that's keeping her gratitude journal next to her bed, along with a glass of water and skincare, so that it becomes part of a positive nightly routine. But as with most things, there's more than one way to build your practice. Try some of these on for size:
1. Write down three things you're grateful for today.
Perhaps the most traditional way to keep a gratitude journal, this doesn't need to take long and your entries can be as short or as detailed as you like. Peacock recommends doing this each evening, so you can reflect on the events of the day.
2. Set yourself phone reminders with gratitude prompts.
"A great way to bring your practice off the page, this works well for people who find it hard to find time to sit and write," says Peacock. "It could say something as simple as 'What are you grateful for right now?' and is a nice way of building gratitude practice into your day."
3. Stack your gratitude practice with movement.
"When I'm feeling a little apathetic, I like to have a gratitude swim," says Peacock. "By combining it with exercise you get those endorphins, that feel-good factor of moving your body, and you focus mindfully on all the things you're grateful for. By the time I get out of the pool I'm like, 'oh my god, my life is amazing!'"
4. Get a gratitude buddy.
A great way to strengthen your social connection, Peacock suggests looping in a friend and texting each other gratitude prompts. As you reply, you'll build a gratitude conversation, share a positive part of your day, and get some accountability too, which can help with building habits that stick.
5. The daily gratitude debrief.
Another way to help strengthen your connections, Peacock suggests teaming up with your partner at bedtime to ask each other gratitude-focused questions such as: What was your favourite part of today? What did you love most? What are you feeling the most grateful for right now?
Whichever method you choose, try to make it as easy to be consistent as you can, advises Peacock, because what we're trying to do here is to put your brain on the gratitude path so you can find those positive aspects of your life every day.