Unlike feng shui, the Japanese concept of wabi-sabi is not a set of rules, but rather a mindset. Best described as the art of finding beauty in imperfection, it is a mash-up of two things: wabi (simplicity and humility) and sabi (the passage of time and beauty of age). It honours all things old, weathered and imperfect and it is a way of life that shows love for all things.

A wabi-sabi interior inspires minimalism that focuses more on the people who live in the space than anything else. Possessions and other items are pared down to the essentials based on utility, beauty, or nostalgia (or all three). You won't find items intentionally distressed in order to look old. Instead, beauty appears when time is allowed to take its intended course. It is believed that things are beautiful just the way they are. With wabi-sabi, it's all about perfect imperfection.
Since wabi-sabi isn't exactly a decorating style, it's quite difficult to say what you should do to practice it. You are free to experiment and find the thing that works for you. Just keep everything natural and effortless. We'd like to give you a couple tips to find the beauty in the not-so-perfect. There is no 'wrong' way to go about it; you simply need to shift your perspective from one of perfecting to one of appreciating.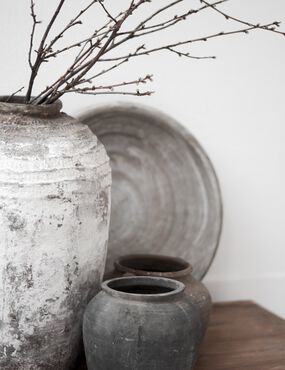 Appreciate the old
Instead of being embarrassed by old furniture that's been well used and shows in various marks and scratches, value it because of its imperfect nature. Those signs tell a story and mark the passage of time; such meaning wouldn't be found in a new table. Cherish cracks and imperfections for symbolising the passage of time and loving use.
Appreciate nature
Pay attention to the materials you bring into your home and go for natural options like wood and stone where possible. When choosing colours, look to nature for inspiration. Feel free to decorate with handmade items that will give a special charm to the space.
Get rid of clutter
It can be tempting to constantly add new things to your interior, but wabi-sabi is all about getting rid of the unnecessary. By doing this, you allow the things that really matter to stand out. Don't put much effort into adding a finishing touch, that's the point of wabi-sabi.
It's all about the light
Wabi-sabi interiors are dimly lit. Turn off harsh lights and go for muted lighting by using table lamps and candles.
Think about the environment
Embracing wabi-sabi will do more than create a pleasant environment at home. By falling in love with imperfect things, we reduce the need to buy new things. This will reduce consumption which will save money and is better for our planet.
Change your mindset
Wabi-sabi puts the focus on gratitude for what we already have rather than always yearning for something new. This shift in perspective will help us to feel more peaceful and content in the present moment. Become aware of the natural cycle of growth and decay and in doing this, you become more conscious of nature and life.

So, what are you waiting for? Embrace the concept of wabi-sabi and create a happier home, more soulful home.