From surrounding yourself with objects that spark happy memories to clever ways to bring about a sense of peace, these design tips will ensure your living room is making you feel all the emotions you want it to
It is universally acknowledged that the kitchen is the heart of the house. In which case, it follows that the living room is the lungs. It's the space in your home for unwinding, shaking off any worries and focusing on relaxing, resetting and rebooting. It is a space that needs to work for quiet moments of solitude, convivial nights of entertaining and for simply kicking back and watching your favourite TV show (should you choose to have a TV in your living room, of course!).
The living room is also probably the space that carries the most amount of emotion in it as Head of Interiors at Apt London, Stephane Piazza explains. "Kitchens and bathrooms are very functional rooms so while you can make them look beautiful, they may not be the areas in your home that reflect your personality the most. Similarly, the bedroom is a space that's all about calmness and tranquility, so the focus is on getting a good night's sleep. That leaves your living room as the place in the home where you can not only use it to be an expression of yourself to others but also to amplify how you want your home to feel for yourself.
"It is, for example, where you may choose to display artwork that really connects with you or photos of loved ones and objects you've collected over the years that all have meaning and memories. Your living room can be, if you want it to be, the most emotional room in your house. And of course, you only want it to make you feel happy."
That may seem like quite a lot of asks from one space but with smart sartorial choices, clever design hacks you can make the living room the space in your house that functions for all of your different needs. Here are Piazza's 6 tips for bringing more meaning into your living room.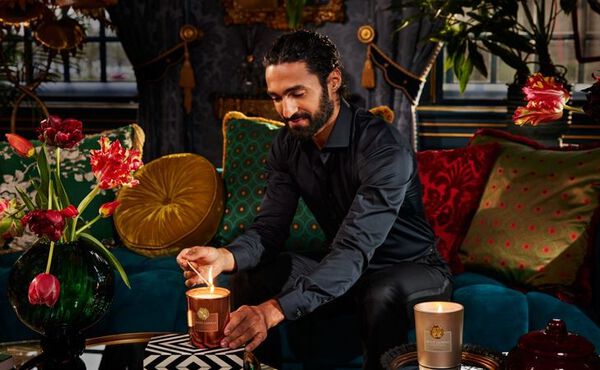 1. Beauty in the odd

"Odd numbers are more aesthetically pleasing, so when it comes to arranging any objects on shelves or coffee tables always put three or five together. Not only is it more pleasing to the eye but grouping them together allows for space around them. It may even create a space where you sit, look and even meditate, using them as your focal point." Try grouping a candle, book and vase together or a trinket box, fragrance sticks and small photo frame.
2. Go tactile

"Mix up the textures of the fabrics in the room. By having contrast in your soft furnishings such as your cushions, throws and even larger pieces of furniture, like your sofa, instantly the room feels more inviting and comfortable. Plus, it makes you want to touch and feel the room which creates a physical connection with the space you're in."
3. Objects with joy

"Surround yourself with objects or pieces of art that mean something to you or make you reflect on a happy memory. The living room should be the place in your home where you sit and feel connected to what's around you. It might also be a room where you entertain and the pieces in your living room should spark conversation and stories to be shared with friends."
4. Avoid clutter for clarity
"As important as it is to have meaningful objects filling your living room, don't let them take over. Negative or blank space is equally as important as it also then puts more emphasis on where you've considered the placement of your possessions. Clutter can make a room feel claustrophobic whereas curation can enhance a sense of peace and serenity in a room."
5.

Little and large
"Making sure you have a variety of different heights in the room will help draw your eye around the room and make the most of whatever space you have, plus adding height will help even the smallest room feel a bit more open." Try adding height with our Private Collection fragrance sticks.
6. One common thread

"Find one link that connects everything in your living room. This may be a colour that you can find in the cushions, a piece of art, a throw over an armchair or a similar material, fabric or finish amongst your furniture. By having something that connects the room not only does it enhance the aesthetic style but also amplifies a feeling of tranquility."
Of course, beyond visual style choices scent can enhance your living room. Scent is closely linked in the brain to memory, so by choosing a specific scent to fragrance a room where you make wonderful memories with friends and family, every time you smell that aroma (or one like it) you'll be reminded of the good times.
This article is part of our House of Wellbeing series to help make your home a haven of wellbeing. Articles packed with expert information and practical tips designed to equip you with everything you need to know to bring serenity, calm and joy into your home.