Making your bathroom tranquil and spa-like will not only make it look great but will leave you feeling renewed. Here's how to recreate those soothing surroundings at home
Spas are the ultimate symbol of relaxation. It's not just the deep tissue massage or the facial that makes us feel calmer, it's the entire experience. Just setting foot inside a spa can feel like a release, from the scent sensations to the calming colours. Part of this might simply be knowing that the time spent inside, is just for you.
In a similar way, your bathroom is your own private sanctuary. The time in your day that you truly get to yourself. Use this opportunity to its fullest and create the most serene pampering experience possible by turning your bathroom into your own mini retreat. Keep reading for our 7 simple steps to spa vibes at home.
Step 1: Incorporate calming colours
Trying to relax in a hot pink bathroom with a patterned shower curtain is a tricky task, so a small makeover may be required to bring long-term tranquillity to your bathroom. Incorporating calming colours in your bathroom is a great place to start. According to a recent study, navy blue was found to be the most tranquil hue of all. "Blues and greens have been proven to be linked to feeling calmer and less stressed, perhaps because they're like the sea and closely linked to nature, so make a great colour option for a bathroom where you want to feel relaxed and peaceful," says Head of Interiors at Apt London, Stephane Piazza. "I think they look great all over the wall but if that feels like a step too far then focus it on halfway up the walls - it looks great painted on panelling - and keep the space above in a more neutral tone. Or just focus the colour in small hints around the space such as one wall or around the door."
Step 2: Infuse with spa-like scents
If you were blindfolded and led into a spa, you'd know exactly where you were, simply from the aroma. From the candles in the waiting room to the aromatic oils used in the treatment rooms, scent plays a huge part in the tranquil surroundings. Whereas you might opt for a citrusy scent in the kitchen or something musky in the living area, there's a reason why spas have a signature fragrance, and that's to induce a state of calm. "One of the most popular scents for creating a relaxing environment is lavender," says interior design expert Kane Hughes. Research has found lavender to have a calming effect and is even used medically to treat anxiety, making it a great choice for the times when you want to unwind. Both candles and reed diffusers are a great way to infuse a space with fragrance but to truly create a scent sensation, invest in an electric diffuser.

Step 3: Spa sounds

Nothing makes you feel like you're about to embark on some serious relaxation time like soft, gentle, meditative music and there's no reason you shouldn't put as much effort into what you're listening to in the bath as the bath itself. And if it's relaxed you want to feel then opt for lyric-free, soft sounds that make you feel like you're floating away. If you're struggling for inspiration then we've done all the hard work for you and put together some gentle and chilled-out playlists on our Spotify channel that are perfect for a seriously relaxing bath time.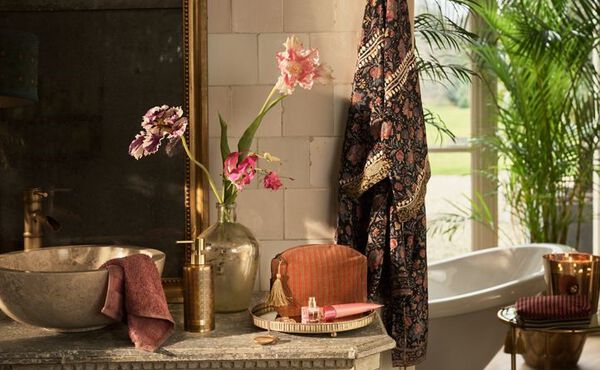 Step 4: Dim the lights
No decent spa has stark and bright lighting, it's all about low-level ambience that makes you feel calm and relaxed. If you have a dimmer switch in your bathroom use that to make it as dark as possible while still being able to see what you're doing. And, of course, candles are imperative. Around the bath place small candles such as the Private Collection Suede Vanilla mini scented candles that not only fit on the ledge of most baths but also burn out automatically. In the rest of the room place larger candles that emit soothing and sensual scents like the Private Collection Black Oudh scented candle.
Step 5: Declutter
It may feel counter-intuitive to tidy up before you start relaxing, but if your bathroom is filled with laundry, kid's bath toys or any other clutter, you'll find it hard to truly switch off. As the bath is running take a few minutes to put everything away so that when you sink into the bubbles the only thing you're concentrating on is chilling out.
Step 6: Bath with benefits
A bath isn't a bath without bubbles in it. Not only are they fun but they help soften the skin. If you really want to make your bath work hard for your body then team your bubbles with bath salts for maximum moisturisation and muscle soothing capabilities. The Ritual of Sakura bath foam and The Ritual Of Jing magnesium bath crystals the perfect pairing.
Step 7: The fluffier the better

Nothing says 'spa', like warm fluffy towels so if yours are looking a bit threadbare treat yourself to some new, cotton-rich towels that will engulf you like a big hug every time you wrap it around. And towels are a great way to play with some colour in your bathroom without having to commit to anything long-term. "Mixing the colours within a tonal palette is a great way to add interest if you already have quite a plain bathroom," says Piazza. "Neutral shades of grey and taupe work if you have a white bathroom but calming colours like blue and green also work in a bathroom really well."
This article is part of our House of Wellbeing series to help make your home a haven of wellbeing. Articles packed with expert information and practical tips designed to equip you with everything you need to know to bring serenity, calm and joy into your home.