Making sure your rooms are as environmentally friendly as possible doesn't have to involve huge change. In fact, smaller, more cost-effective tweaks can have a big impact
Never has it been more important to live sustainably. But sometimes that can feel like a gargantuan task and how are you meant to know where to start? We're here to help you cut through the noise. We have put together some simple and easy-to-implement tips to make the most hard-working rooms in your house the most sustainable they can be while still looking fabulous and feeling like home.
Cook low and slow

We all need to keep an eye on our energy bills these days, to make your kitchen as economically sustainable as possible it's best to cook for longer and at a lower temperature, which is when a slow cooker becomes your best friend. Slow cookers are so efficient that they use less energy than a light bulb and do all the hard work for you while you can get on with everything else on your life to-do list. Or, if you like to stay on trend there's a reason that #AirFryers has had over 8.8 billion views on TikTok. They are also a much more energy-efficient and healthier way to cook and use far less electricity than electric ovens.
Reuse and refill

Refillable products are becoming more popular and soon it will become the norm to top-up an empty bottle rather than buying a new one, and this isn't just happening in the bathroom. Refillable washing-up liquids and fabric detergents are almost de rigour now. In the kitchen, you can restock your hand wash with the Private Collection Sweet Jasmine Refill hand wash, which is made from recycled materials as well being completely recyclable. And in your dining room make sure you're always stocked up on refillable diffuser and candles such as the Private Collection Suede Vanilla mini scented candles and the Suede Vanilla fragrance sticks refill.
Upcycle, upcycle, upcycle
You can never have too much storage in your kitchen. Fact. Don't spend a fortune on matching plastic jars and pots. Instead, give second life and purpose to glass items and products that would otherwise end up in the recycling bin. Used candles make great utensil pots especially extra-large three-wick candle jars such as the Private Collection XL Sweet Jasmine scented candle and finished diffuser bottles, such as the Private Collection Smooth Violet fragrance sticks make beautiful single stem vases for your dining tsble.
Fermenting is your friend

Not only has research shown that fermented foods increase the friendly bacteria in your gut helping digestion and reduce internal inflammation, but they are a great way to use up any fruit and veg that could otherwise easily end up in the bin. The great news about fermenting is that it works with nearly any fruit or vegetable and it increases their shelf-life - fermented foods can last between four to eighteen months.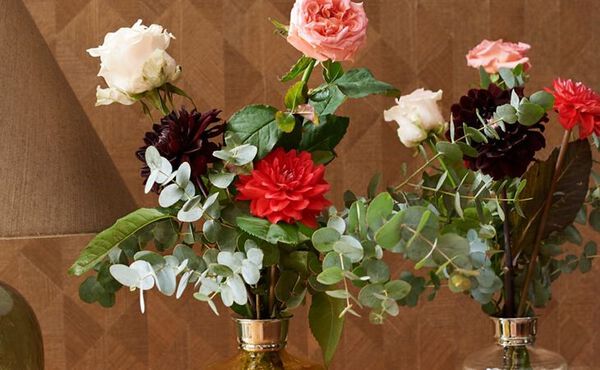 Think beyond new

Furnishing your dining room? "I know it's tempting to buy new all the time, but you can find some amazing, and cheaper, second-hand furniture on local Facebook pages or furniture up cycling schemes," says interior designer Emma Masters. Not only will it save you money, but it will also reduce the amount of packaging and transport emissions plus you will also end up with a far more unique piece for your home."
Easy ways to a chicer kitchen

We all want that perfect Instagrammable kitchen, but often the reality is that we inherit kitchens that aren't to our taste and the cost of having a new one is epic. But there are some more affordable things you can do. "If your kitchen cupboards are wooden then it really is as simple as painting the doors to give them a completely different feel and replace the handles for something more contemporary and modern. It takes a bit of time and effort but the cost is low and the outcome is great," says Head of Interiors at Apt London, Stephane Piazza. If your kitchen has a vinyl finish, then you also have options. "Use a hairdryer to warm up the vinyl; after a few minutes, you can remove it entirely. Most vinyl-coated kitchen cabinets have MDF wood underneath which looks very modern if left bare or you can also paint over that with specialist kitchen paint. Again, it takes a bit of effort but it is far more cost-effective and sustainable than buying a new kitchen."
Fresh is not always best

If you love having flowers in your house but you're not so keen on how frequently you have to replace them, there are more environmentally friendly options out there. "There has been a huge trend and shift towards displaying dried flowers over fresh ones," says Masters. "And put all thoughts of dusty and old-fashioned displays out of your mind, you can get some really contemporary-looking bouquets that look amazing, will add an instant pop of colour to a room, don't need watering or any upkeep and will last years."
This article is part of our House of Wellbeing series to help make your home a haven of wellbeing. Articles packed with expert information and practical tips designed to equip you with everything you need to know to bring serenity, calm and joy into your home.