Making space for moments of positivity is crucial for our wellbeing. That's why we have pulled together a series of bitesize positivity-boosting tips you can try anytime, anywhere
When the going gets tough, positive people always find a way out of the darkness and it is with this approach to life that joy and gratitude unravel. Positivity is contagious, when you are joyful those around you feel it too. Embrace this way of life by stepping into the light and seeing the wonderful potential life has to offer when you see through a lens of positive thinking.
Over the next few months, Rituals will be focusing on Positivity, taken from The Art of Soulful Living our compass that guides you on a path to personal wellbeing. Being positive is a choice and it can help you to excel in all areas of your life from your relationships to your career.
So, what are you waiting for? Start now with our simple tips and tricks for practicing a more positive outlook.
Your moment of positivity… Stand out with a power pose
Studies have proven how our posture can affect our mood. A powerful, upright, posture can help you feel more positive and can even elicit feelings of confidence and power.
In just one second, you activate positivity by simply adjusting your stature:
Stand up tall as though you have a string above your head

Gently pull your shoulders back and down to release tension
Try walking into a room using this empowering posture and see how you feel.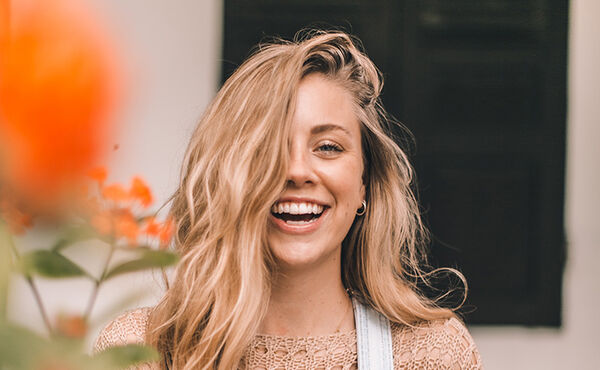 Your moment of positivity… A third-person mantra
Being mindful of how you speak to yourself and trying to communicate kindly with yourself, as you would your best friend, can be an effective way to positively connect with your inner self-critic. However, according to a study about self-talk, it is more effective to speak to yourself using the third person. Any time you notice yourself saying something negative to yourself, replace the "I" with your name.
It could be something like: "Kate, you handled that situation the best you could."

If you don't feel comfortable saying it out loud, you can always write it down or visualise yourself saying the words aloud. Be your own cheerleader with these third person statements whenever you need an instant positivity boost.
Your moment of positivity… The magic of music
Whether you're a morning person or not, why not kickstart each day with a moment of wellbeing and play some feel-good tunes? The Spotify data team suggests you start your morning with a song consisting of three qualities:
positive lyrics,

a buildable tone,

and a strong beat to amplify positivity.
Bill Withers - "Lovely Day" was picked as one of the top 10 choices as it incorporates all three of these qualities.
Your moment of positivity… Your gut is speaking to you
Two of the biggest regrets end-of-life patients have when looking back at their life is pleasing others too much and wishing they had lived out their dream. The two are intrinsically linked to positivity. Everyone has negative thoughts swirling around in their heads. Still, often, this is because we are living up to someone else expectations of us, or maybe we have created our own societal expectations for ourselves.
To be genuinely positive, you must find your most authentic self. Maybe that trip to Vienna has always been on your list, or the singing lessons you passed up on keep niggling at you. Whatever your dream is, live it now, or at least take baby steps to carve out your dream.
Today, think about what that dream looks like. Write down one thing you want to accomplish in your life and make it SMART.
S – Specific
Choose a specific thing you want to do or experience.
M – Measurable
If, for example it's to learn a language, measure your success by, say, how many nouns you know, or whether you can have a conversation in a restaurant with the waiter.
A – Achievable
Making it realistic will be more motivating.
R – Relevant
Be sure that your goal is truly relevant to making you feel more positive and authentic. Ask yourself: Am I truly setting this goal for me and only me?
T – Time-bound
Set a time for when you want to have achieved your goal. This could be broken down into stages, for example, booking your language class, learning those nouns, having that conversation.
This way, you have taken action, set a goal, and made a plan to set you on a path to authenticity and positivity.
Your moment of positivity… Eat seasonally
In Ayurveda, it is believed that our hormones and gut health are bound by the seasons. Consuming locally sourced, seasonal fruit and vegetables is the perfect way to top up your vitamin intake, support your local economy and eat foods with optimal flavour.
Seasonal vegetables are proven to boost mood and have been linked to longevity. Those who live in "Blue Zones", where people live the longest, showed optimal signs of wellbeing in part due to eating seasonally and locally. If you are wondering where to start, check out our online magazine for delicious in-season recipes.
Your moment of positivity… Your daily dance reminder
We all know that exercise releases those feel-good hormones. Just 15-minutes of movement a day is enough to increase happy chemicals, improve cardiovascular health and instantaneously decrease stress.
Dancing is an extra fun way to move your body but how intense do you need to go with your moves? One study showed that moderate exercise was linked to feelings of pleasure and euphoria. On this positive note, find a moment to put crank up your favourite music and get moving.
Your moment of positivity… It's OK to be sad sometimes
With so much pressure within society to have "good vibes only," it's easy to suppress those negative emotions. A study has proven that listening to sad songs can increase positivity. The study also pointed out that while some songs are universally sad, "self-identified sad music may represent music that does not sound 'sad' to any other listener".
If you are feeling low today it's OK to indulge in your negativity with a sad tune, the study showed that not only is sad music consoling but it helps to regulate mood and emotion, so you'll hopefully be back to feeling positive that little bit sooner.
Your moment of positivity… Your hands have power
Mudras are powerful, symbolic, hand gestures that stimulate feelings such as positivity and can decrease stress. Originating from Hinduism and Buddhism, practicing mudras can give you a little sprinkle of magic when activating positive thinking. It is believed mudras can help guide the flow of energy throughout the body through activating various pressure points. The Varada Mudra was created to manifest positivity. Here's how to do it:
With your legs crossed, place your left arm on your thigh

Your hand should hang down beside your knee facing forwards with your fingers slightly bent

Your right hand can rest in your lap
The Varada Mudra calms the body and encourages the mind to seek good vibes. Mudras are all about using your hands as a control panel for balance. This small gesture is perfect for enhancing compassion and adopting a positive mindset whenever you feel stressed or anxious.