Start the day right thanks to these sweet yet fresh overnight oats with a delicious pistachio crunch.
If you ever find yourself falling victim to the 11am snack attack or lacking the oomph to get through the day, this breakfast will help you feel full until lunchtime and give you long-lasting energy.
With pistachios, coconut milk, cardamom and rose water – this yummy breakfast has a lovely crunch and lots of flavour. I love to make a big batch, divide into pots and store in the fridge for the rest of the week. Want to try that? Simply multiply the ingredient amounts by the number of days you want to make. Pre-preparing your breakfast is the best way to have a bit more time to yourself in the mornings – and who doesn't love that?
Servings: 1
Cooking time: 10 minutes (and leave overnight)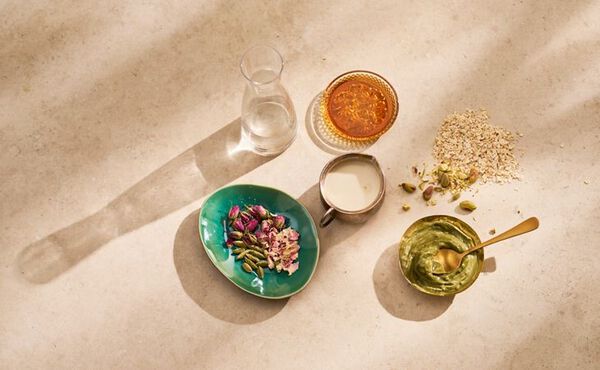 40 g oat flakes

120 ml coconut milk (not the canned one, regular plant-based coconut milk)

1 tbsp maple syrup

½ tsp ground cardamom

1 tbsp rose water

1 tbsp pistachios, finely chopped (+ extra)

Optional: pistachio paste and rosebuds
Mix the oat flakes with the coconut milk, maple syrup, cardamom powder, pistachios and rose water. 

Place in the refrigerator overnight. 

Stir all ingredients together again and finish with extra pistachios and pistachio paste and rose petals (optional).