As the nights draw in and the temperature drops, we instinctively start to slow down. Our social calendars are perhaps not as full as they were during the summer. So, why not make the most of being at home and practice niksen?
A Dutch concept, it's the art of doing nothing. "This stress-reducing practice is about simply being, letting go of any 'shoulds' or 'needs' and allowing your mind to wander freely," explains Catri Barrett, The Curiosity Coach.
"We live in a time where being busy is like wearing a badge of honour, with people correlating their levels of success with how long their to-do lists are. Stress-related illnesses are, as a result, at an all-time high," notes Barrett.
Burnout is a real modern-day issue with more and more people finding themselves exhausted and emotionally drained. "These symptoms are caused by excessive external stimulation from always being switched 'on' and plugged in—a side effect of our media-centric connectivity," says Barrett. While modern technology brings us many benefits, it also limits our ability to connect with ourselves and our inner creative. Just as we charge our phones, we need to take the time to recharge ourselves—and niksen is a wonderful way to do that.
Unlike mindfulness, niksen isn't about staying present. It's about letting the mind wander, and not focusing on the details of an action. "With wandering comes wonder. It's like hitting the refresh button in your mind and creating space. It's here within this space that creativity is born, problems are solved, and lightbulb moments can be had," explains Barrett.
"To prevent our bodies and minds going into overdrive, which can lead to burnout, we should all practice doing nothing at regular intervals during the day, to alleviate the stresses and strains of continuous information overload," she adds.
Similar to practicing mindfulness, niksen encourages you to live in the moment, to take the pressure off and sit still while time ticks by. Find out which forms of relaxing suit you best because what works for your friend might not work for you. It's all a process of trial and error.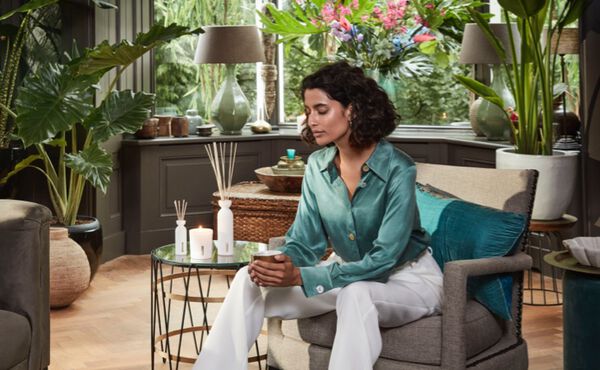 Not convinced? Jenny Holden, a communications expert and speaker, shares her first-hand experience of practicing niksen:
"I was once a busy fool, enjoying being busy but sometimes not achieving what I wanted. My friend from Rotterdam had practiced niksen and raved about its transformative potential and encouraged me to do the same because of my creative line of work and the fact that I'd become so overwhelmed with my ever-growing to-do list.
Officially defined as taking conscious, considered time and energy to do activities like gazing out of a window or sitting motionless, this was something I was extremely skeptical of. Like many people, every second of my day counts.
Coincidentally, within a week of hearing about niksen, I had a short stay in hospital and, whilst waiting for various doctors, my phone died and with no charger, pen or paper in sight I was forced to do nothing. Initially frustrated and angry with myself, I saw it as a sign to kick start my niksen journey. That was two months ago, and now it's part of my daily routine.
That day, niksen forced me to tune into my head and body like I'd perhaps never done so before. It enabled me to deep breathe every breath, exhale the anxiety, and mentally slow down from all of the distractions and digital stimulus that we have become so familiar with.
Within ten minutes of doing nothing—literally just staring and listening to myself—my head began to clear and it naturally started to work through my to-do lists, it started to cultivate greater ideas to implement and developed new content subjects to share. And all without a digital device nearby.
For me, that was revolutionary. I finally 'got' niksen and I now practice it daily during my lunch break. It doesn't take long, just 15 minutes usually does the trick to feel re-energised and awake with ideas or a new perspective on something.
Niksen takes practice, self-discipline and persistence to see and feel results. Don't expect miracles in the first week—I didn't but, over time, the beauty of niksen will come to you and hopefully, like me, make you a better person at work, in life and with your family.
I'm more creative, calmer, refreshed, invigorated and with the mental strength to be able to switch off for my niksen time. I've been so impressed with its results that I've got friends and family practicing niksen – even my eight-year-old twins give it a go! And whilst the kids haven't quite grasped niksen (there's a lot of sniggering and general goofing around) that's okay with me as the giggles alone makes us all happier.
I'd recommend niksen to everyone who loves and wants to improve themselves in career and life in general.
If you're tempted to try niksen, follow Catri Barrett's do's and don'ts for doing nothing:
DO lie on your bed and stare at the ceiling.
DO gaze out of windows and let your mind run wild.
DO pride yourself on doing nothing and having an empty calendar rather than being busy all of the time.
DON'T reach for your phone, you can steal moments of nothing and practice Niksen by keeping your phone in your pocket when you'd usually reach for it to distract yourself, or appear busy. Those times when you're waiting for a friend alone at a table, on your commute to work or in a waiting room.