Innere Entschlüsse anstatt äußere Lösungen. So lässt sich in einfachen Worten die Bedeutung von Sankalpa erklären. Sankalpa bedeutet nichts anderes als ein innerer Entschluss, der in Ihrem Herzen und in Ihrem Geist entsteht – eine Art feierliches Gelübde oder ein Versprechen, das Sie aus Ihrem tiefsten Inneren sich selbst geben.
Beginnen wir damit zu genügen
Das Schwierige an den Neujahrsvorsätzen ist die lange "Liste" der uns allzu bekannten Dinge, die wir im Außen erreichen möchten. Einige dieser Dinge wünschen wir uns wirklich von ganzem Herzen; nach anderen wiederum "streben" wir, weil wir von außen Druck spüren.
Viele dieser guten Vorsätze basieren auf dem Gefühl, nicht zu genügen; nicht gut, schön, wohlhabend oder gesund genug zu sein. Wir denken dabei an das, was uns fehlt (was uns oft ein schlechtes Gewissen oder Schamgefühle bereitet) und dann entschließen wir uns, anders zu werden, besser. Aber eine solche Einstellung wird leicht zu einem Problem, so Brené Brown, die US-amerikanische Wissenschaftlerin und Autorin, die sich seit mehr als 12 Jahren ausgiebig mit Fragen wie Verletzlichkeit, Mut, Wert und Schuld befasst. In einem Interview äußerte sie sich wie folgt:
"Wenn wir voller Angst davor sind, was andere von uns denken mögen und uns von dieser inneren Stimme leiten lassen, die uns ständig ins Ohr flüstert: 'Du bist nicht gut genug', ist es sehr schwer, Dinge in Angriff zu nehmen. Wir ringen mit unserem Wert, anstatt ihn sehen zu können."
Wenn wir nicht achtsam sind, enthalten unsere Entschlüsse genau dieses "Ringen um unseren Wert", von dem sie spricht.
Aber bei Sankalpa, der Absicht, die von Herz und Verstand geformt wird, beginnen wir damit, in der Tiefe und auf einer gefühlsmäßigen Ebene anzuerkennen, dass wir gut genug sind, so wie wir sind. Selbstverständlich gibt es in jedem von uns Bereiche, in denen wir uns verbessern oder entwickeln möchten. Aber wir sollten ganz bewusst (und sanft) diese toxischen Gefühle der Scham und Wertlosigkeit loslassen, bevor wir unsere Entschlüsse fassen. Dann können wir unseren Wert sehen. Und an diesem Punkt können wir damit beginnen, die Dinge anders zu sehen und zu erleben. Dann setzen wir uns sogar andere Ziele.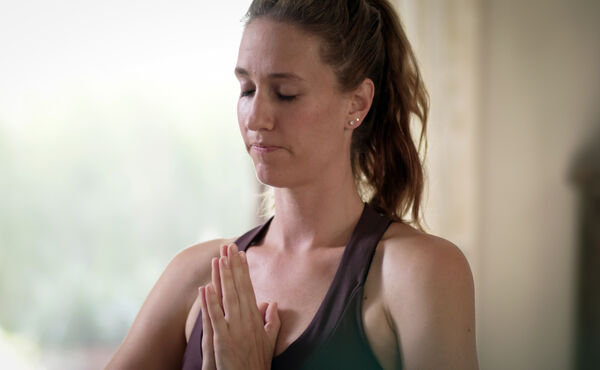 Der nächste Schritt: die Reflexion
Wir wollen es nicht zugeben, aber bei unserem überbeschäftigten Lebensstil verlieren wir leicht den Kontakt mit dem Teil, mit dem wir uns selbst wahrnehmen können. Wir leben in einer Kultur, in der das Herz von vielen Menschen voller ungeöffneter Ordner ist, in denen wir Erinnerungen und Erfahrungen abgelegt haben, die wir uns "irgendwann einmal" anschauen möchten. Aber wir machen weiter und der richtige Zeitpunkt kommt und vergeht ungenutzt wieder. Und es werden immer mehr Ordner angelegt. Das ist das Muster der sog. inneren Anhäufung.
Wenn wir dann voller solcher unbearbeiteter, innerer Dinge sind, wird es schwer, klar zu erkennen, wonach wir uns tief in unserem Herzen wirklich sehnen. Unsere innere Stimme wird von der Vielzahl dieser To-Do-Listen und Erwartungen geradezu erstickt. Es fällt uns immer schwerer, unsere innere Stimme und unsere Wünsche von den Stimmen und Wünschen der Menschen um uns herum zu unterscheiden.
Sankalpa veranlasst uns, bedeutungsvolle Momente der inneren Reflexion zu erschaffen, auf deren Grundlage wir dann entscheiden können, in welche Richtung wir weitergehen möchten. Das Bewusstsein, an welchem Punkt wir standen (und wie uns dies beeinflusst hat), hilft uns oft zu entscheiden, wie wir weitermachen sollten. Was hat funktioniert? Was nicht? Was hat uns ein Gefühl der Lebendigkeit gegeben? Was hat uns ein Gefühl der Minderwertigkeit verursacht? Es ist wichtig, über all diese Fragen nachzudenken, bevor wir wirklich wissen können, wo wir stehen, wo wir uns hinbewegen möchten und wonach wir uns wirklich sehnen.
Der letzte Schritt: eine einfache und verlässliche Klarheit
Den Lehren der Yogis zufolge wirken durch Sankalpa sowohl in unserem Körper als auch in unserem Geist besondere Energien, dank derer wir Selbstvertrauen haben, Entscheidungen treffen können und motiviert sind. Ich glaube, das ist so, weil Sankalpa aus unserer Weisheit, aus unserer tiefsten inneren Stimme hervorströmt, und uns unsere innere Überzeugung deutlich macht.
Wenn wir uns mit dieser Stimme verbinden können, ist die Botschaft ganz klar und hallt lange nach. Dann sind wir voller Vertrauen, Begeisterung und Inspiration.
In seinem Buch Sacred Journey: Living Purposefully and Dying Gracefully, beschrieb der anerkannte Yogi und Lehrer Swami Rama Sankalpa wie folgt,
"Es gilt als ein kreativer Akt, dessen Ergebnis die reine Gedankenwelt übertrifft, denn Sankalpa aktiviert den Körper; veranlasst uns, eine bestimmte Handlung in Gang zu setzen, um ein gesetztes Ziel zu erreichen. In anderen Worten – Ich entscheide. Ich handle aus dem Herzen. An meinem inneren Wachstum besteht kein Zweifel. Ich weiß, ich werde Fehler machen, aber ich werde aus ihnen lernen und weitermachen."
Können Sie darin die Klarheit und Überzeugung vernehmen, die aus unserer inneren Mitte kommt? Es muss einen Grund geben, warum ich die Aussage: "An meinem inneren Wachstum besteht kein Zweifel", so sehr mag.Das kann uns nur Sankalpa geben. Das Ritual ist einfach, klar und voller Überzeugung.
Oftmals werden Sie anstatt mit Wörtern mit Bildern arbeiten müssen, um Ihr Sankalpa mit Einfachheit und Klarheit herausfiltern zu können.
Letztes Jahr habe ich einen Workshop zu Sankalpa gegeben. Wir begannen mit einer Meditation zu unserem Gefühl des Wertvollseins und versuchten dabei, ganz tief in uns zuzulassen, zu genügen. Dann führten wir einen kleinen Opferritus, indem wir unsere "innere Unordnung" (was auch immer unsere innere Stimme zu blockieren vermag) auf ein Stück Papier schrieben und es anschließend in ein Feuer warfen. Dafür verwendeten wir Bilder und Wörter, die eine direkte Verbindung zu unserem Herzen hatten und klebten sie zusammen. Von diesen Bildern ausgehend, bat ich jeden der Anwesenden, einen Satz herauszufiltern, der das umfasst, wonach er oder sie sich tief in ihrem oder seinem Herzen sehnt oder was er oder sie braucht (in diesem bestimmten Augenblick, gerade jetzt). Die Aussagen waren ganz unterschiedlich. Manche waren glasklar. Manche poetisch. Aber alle hatten sie in der jeweiligen Person tiefen Nachhall. Und sie waren auf wunderbare Weise beseelt.
Der Sankalpa-Brauch geht unter die Haut. Und etwas Wahrhaftiges ist voller Energie und Potenzial. Ich habe seitdem daraus jedes Jahr eine neue Gewohnheit gemacht und ich würde mich freuen, wenn Sie dies inspiriert, es mir gleichzutun. Das wäre schön, denn es ist einen Versuch wert.
Loosen your grip.
Give yourself permission to be imperfect.
Don't seek what others are seeking,
(unless it echoes in your bones).
Spit out whatever you have ingested
about not being enough.
Your realness is delicious.
And you don't need to obsess any longer
about finding your path.
Start simple.
Tie a string
from your heart to your feet
And only walk in the direction
that makes you tick.
- Deborah Anne Quibell