Cold and flu season is approaching and with this year's global pandemic still lingering on, our immunity is something we're more aware of than ever before. There is no magic pill for the flu (yet) so making self-care a priority is crucial this winter. "Luckily we can do so whilst enjoying warming, comforting and seasonal foods that pack a great dose of flavour alongside immune-boosting properties," says Gabrielle Masefield, a professional chef with a diploma in holistic nutrition.
Of course, our immune system already does a pretty stellar job at keeping us healthy but, while there is no one hit wonder to boost our immunity, eating nourishing foods can go a long way in helping to keep us well. We called on Gabrielle, as well as nutrition consultant Sana Khan to reveal the foods worth stocking up on this season, what their benefits are and how to incorporate them into your diet to keep well this winter.
Miso Moment
"How well our bodies fight off infections from bacteria could be down to how healthy our own gut bacteria might be," notes Gabrielle. "An amazing way to support our gut's colony of healthy, infection-fighting bacteria is to consume fermented foods containing probiotics, the "good" bacteria that can give your immune system a lift.
"Miso is a fermented soy bean paste with a salty umami flavour and it has been used in Japanese culture for thousands of years to support good health. Miso is delicious mixed into hot water and enjoyed as a simple broth to sip or it can be added to soups, sauces and marinades to add a deep savoury flavour as well as immunity-boosting probiotics.
Why not try this miso salad?
Berry Blast
Berries are an antioxidant powerhouse and Gabrielle reveals two that are well worth leaning on. "Elderberry is a small, dark purple berry from the same tree as the elderflower that blooms in summer. The berries are very high in antioxidants and have been used for thousands of years for their medicinal purposes treating and preventing cold and flu symptoms.
"Elderberry can be taken in a concentrated form as a tincture or the fruit can be added to warming winter crumbles or in rich tart jams to spread on dark seeded rye bread, it's a delicious way to boost your immunity on a cold winter's morning."
The other berry to try is the Açai berry. "It is high in antioxidants as well, but is also packed with nutrients called anthocyanins that are thought to aid the body's ability to fight off infections. Best bought from reputable health food stores in either frozen or powdered forms, they are great for adding to a warming bowl of porridge, a morning smoothie or maybe blended with a frozen banana to make a nutrient dense 'nice cream' for dessert."
Treat yourself to this açai berry smoothie bowl.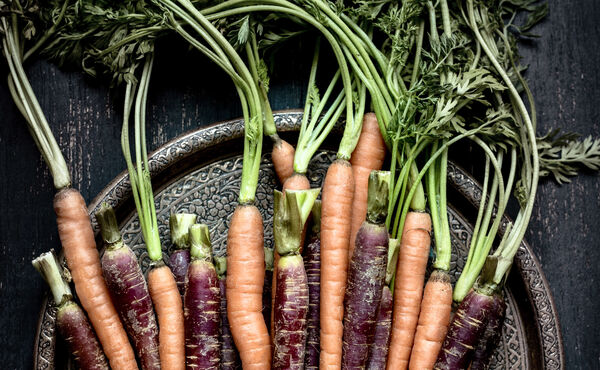 Veggie Power
"At this time of year, carrots are in season. They are super versatile - you can grate them raw into salads, add to stir fries or roast them," says Sana. "Carrots are rich in beta carotene, a potent antioxidant." Carrots are also rich in Vitamin C, that supports a healthy immune system, and Vitamin K1 that helps with wound healing and healthy bones.
Get your carrots in with this healthy and tasty Indian carrot dip.
Cauliflower is also another great autumnal vegetable to factor into your meals. "When coupled with spices like cumin and coriander seeds, and a dash of chilli flakes, cauliflower makes a great base for a curry. It is fibre-rich, which is key for the digestive health, and also nutrient dense. It is a good source of choline, which is vital for DNA synthesis in our cells," explains Sana.
Try this warming and nutritious kale and cauliflower soup.
Tea Time
"Who can refuse a warming cup of tea on a chilly autumnal day?" asks Gabrielle. "Well, saying yes to a cuppa can actually have a beneficial effect on keeping those seasonal colds at bay. All varieties of tea are high in disease fighting polyphenols and antioxidants, so you can be sure that brew willnot only warm you up but also support your immune system."
Explore the Rituals range of wonderfully aromatic Ayurvedic teas.
Add Flavour
Garlic and ginger are potent protectors that are well worth having in your store cupboard at all times. "Garlic has been used for thousands of years for its antibacterial, anti-viral and anti-fungal properties. These benefits disappear when taken in powder or supplement form, so you've got to use the real stuff! Luckily you can add garlic to pretty much any savoury dish and it will improve the flavour."
Try these warming Ayurvedic recipes enriched with garlic.
"Ginger packs a serious punch when it comes to protecting against illness," says Gabrille. "As well as antioxidants, it boasts bioactive compounds including gingerol, that is responsible for many of this spicy root's medicinal properties. Gingerol has serious anti-inflammatory properties and can fight off bacteria. Ginger is also a powerful tool for treating nausea, lowering cholesterol, easing indigestion and reducing blood sugar levels, so it truly is a superfood."
Give this fried rice recipe with ginger a try.
Figs are it
"Figs are incredibly versatile, you can add them to a salad, a fruit salad or make into homemade fig jam. Because of their sweetness, figs are great for someone who has as sweet tooth. Mineral-rich, figs boast potassium and magnesium," notes Sana. Potassium may help with balancing water retention, while magnesium is known to help aid sleep. "Figs are also great for digestive health and help many people who suffer from slow digestion," adds Sana.