This recipe is perfect to enjoy with your significant other on Valentine's Day. Relatively easy to make, anyone should be able to create their own spring rolls - success ensured. What's wonderful about this recipe is that you can put all the fillings and toppings in small bowls on the table, so you can enjoy the extra time with your loved one, rather than prepping in the kitchen.
This vegetable Filipino recipe is super easy to prepare. After a long day of work, it takes just 15 minutes to prepare. Save some of your valuable time by marinating the fish for 45 minutes earlier in the day while you're working from home.
Lumpiang hubad
This dish goes by its original name 'Lumpiang hubad' and is your favourite fillings, together with sauce and nuts, wrapped in fresh cabbage leaves. In this recipe, we have swapped the cabbage leaves for butter lettuce to keep it light and fresh. We also added fresh salmon, but you could add shrimps, chicken or any other toppings that you like. Basically, you can could add anything out of your fridge, so no waste at all.
EASY FILIPINO LUMPIA
Recipe for 2 people
Preparation time: 15 minutes
Time to marinate: 45 minutes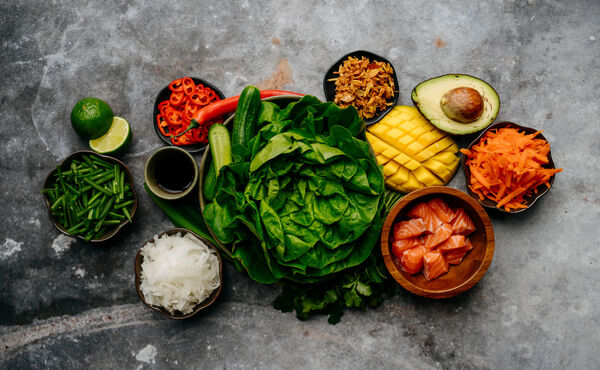 INGREDIENTS
1 butter lettuce (use as spring roll sheets)
FILLINGS:
300 g (wild) salmon filet or any local fish
1 large carrot
1 small daikon
3 spring onions
1 tbsp sesame seeds
100 g string beans
2 snack cucumbers
1 avocado
1 mango
pinch of salt
TOPPINGS:
chopped red pepper
crispy onions
crushed peanuts
MARINADE & SAUCE:
150 ml soy sauce
juice from of 1 lime
zest of 1 lime
EQUIPMENTS:
PREPARATIONS:
To prepare the marinade, put the sugar, soy sauce, lime and the zest together and stir to combine.
Pour half of the marinade over the fish and marinade for 45 minutes in the fridge. Flip the fish every now and then, so it marinades evenly. Keep the other half of the marinade for a dipping sauce.
Cut the leaves of the butter lettuce and clean, if necessary. Then use your creativity to arrange them nicely in a bowl.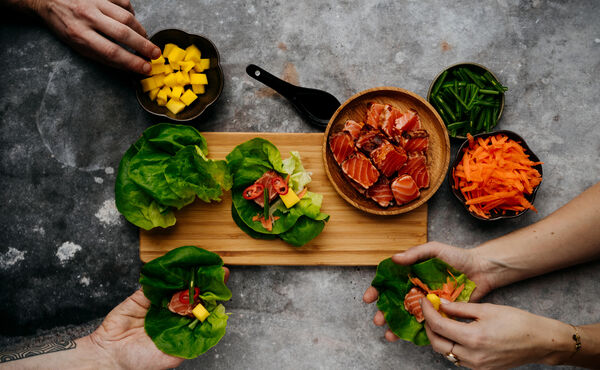 Prep the ingredients in steps 4 – 8 and set them all aside in small bowls for when you're ready to assemble. Shred the carrots and the daikon with a vegetable grater.
Chop the spring onions.
Slice the string beans 3cm long lengthwise. Season them with a small pinch of salt.
Dice the mango.
Cut the avocado in two, remove the pit and skin and slice into thin strips.
After 45 minutes, remove the fish from the marinade.
Place the pan on a high temperature stove.
Sear the fish on each side for 30 seconds (you will get a slight coloration on the fish).
After taking the fish off the fire, sprinkle some sesame seeds over and let it rest a moment to cool.
Cut the fish in small stripes of 1 cm thick.
Put all the different fillings, toppings and the sauce on the table, and enjoy!
Bon Appetit!