Birria is a Mexican dish, traditionally made using goat meat. Unsurprisingly, this tender spicy stew only gets better when served in a taco. And because everyone should get a chance to try this delight, we've made you a vegan version. This recipe replaces the meat with different kinds of mushrooms to bring texture to the dish and by leaving it to stew for enough time, it develops a delicious umami flavour that will have everyone reaching for another bite
Recipe serves: 6 people. 
Preparation time: 20 mins
Cooking time: 40 mins
Ingredients:  
500 g shiitake mushrooms

500 g chestnut mushroom 

500 g oyster mushroom 

200 g achiote paste  

½ tsp cumin seeds

 

1 tsp smoked paprika powder (you can use the mild or spicy one) 

4 Roma tomatoes 

1 white onion

2 cloves of garlic 

1 pinch of salt 

1 cinnamon stick 

12 small corn tortillas 
For garnishing:
1 white or red onion (finely diced) 

¼ bunch

of coriander (finely chopped)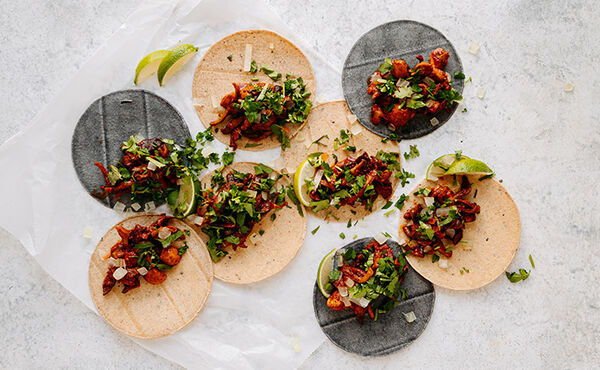 Preparations: 
Shred the mushrooms with a fork and fry them on a high heat until they start to get some nice colour.  

Cut your onion and tomato into quarters and add to a blender with the paprika powder, cumin, garlic, achiote paste and salt.

Blend until pureed (add some water to help the blender in necessary).

Add this puree to the pan with your mushrooms and cook for five minutes. 

Add water to make a stew then also add the cinnamon stick and stew for 30 minutes.

Season to taste.

Strain the mushrooms and keep the sauce aside for dipping. 

Line up the tacos and fill them with some of the mushroom stew, then fold them in half. 

Pan fry the tacos in a little oil until crispy before sprinkling them with the onions and the coriander. 

Serve with the sauce you set aside, and dip away.