Intrinsieke doelen in plaats van extrinsieke goede voornemens, dat is de betekenis van Sankalpa op een makkelijke manier uitgelegd. Sankalpa is een doel dat je stelt met zowel je hoofd als je hart, een plechtige gelofte of een diepe interne belofte aan jezelf.
Begin met een gevoel van al goed zijn zoals je bent
Een veel voorkomend probleem met het maken van goede voornemens voor het nieuwe jaar is de alom bekende lijst van externe aspiraties. Sommige dingen willen we misschien wel echt bereiken, terwijl we andere dingen denken te willen, maar dit slechts gebaseerd is op druk van buitenaf.
Veel van onze voornemens hebben te maken met gevoelens van tekortschieten, van niet goed genoeg zijn, niet mooi genoeg, niet rijk genoeg of niet dun genoeg. We kijken naar onze tekortkomingen, hebben hier vaak gevoelens van spijt, schuld of schaamte bij en dan nemen we ons voor om dingen anders en beter te doen. Maar volgens Brené Brown, de bekende schrijfster en professor die de laatste twaalf jaar onderzoek heeft gedaan naar kwetsbaarheid, moed, schaamte en een gevoel van waarde, kan dit een probleem worden. In een interview zei zij:
"Als we onze laten leiden door de angst voor wat andere mensen over ons denken of door die stem die constant in ons oor fluistert dat we niet goed genoeg zijn, is het heel moeilijk om te bereiken wat je wil. We blijven dan vechten voor onze eigenwaarde, in plaats van zelfverzekerd voor onze doelen te gaan."
Als we niet uitkijken, weerspiegelen onze goede voornemen vooral die "strijd voor eigenwaarde" waar zij het over heeft.
Maar als het gaat om Sankalpa, het van binnenuit vormen van intenties, beginnen we met een diepe en oprechte erkenning dat we goed genoeg zijn, zoals we nu zijn. Natuurlijk hebben we altijd dingen die we willen verbeteren of waar we in willen groeien, maar het is goed om ons eerst heel bewust en met zelfcompassie te ontdoen van het giftige gevoel van schaamte en niet goed genoeg zijn voordat we onze doelen stellen. We doen dat vanuit respect voor onszelf en door hiervan uit te gaan, zien en voelen we dingen ook anders. We hebben daardoor zelfs andere aspiraties.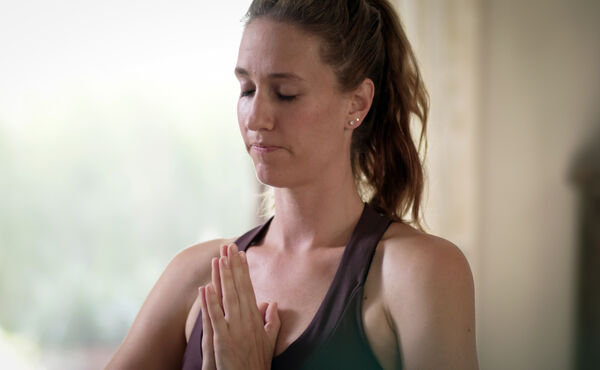 Ga door met zelfreflectie
Het is misschien moeilijk om toe te geven, maar in onze drukke levens verliezen we vaak de connectie met het deel van ons dat over zelfreflectie gaan. Ik ben bang dat we in een cultuur leven waarin veel te veel van ons een hart vol ongeopende mappen hebben. Mappen die vol zitten met opgeslagen herinneringen en ervaringen waar we "later nog een keer naar moeten kijken" en dan gaan we door met ons leven en komt dat "later" nooit. Zo blijf je dingen wegstoppen in mappen als een patroon dat zich steeds meer opstapelt.
Als we vol zitten met onverwerkte issues is het lastig om te weten wat ons hart werkelijk wil. Onze ware stem zit verstopt onder onze to-do list en onze hoge verwachtingen. We vinden het lastig om onze eigen stem en verlangens te onderscheiden van de stemmen en verlangens van de mensen om ons heen.
Sankalpa vraagt van ons om tijd te maken voor zelfreflectie voordat we doelen maken voor de toekomst. Vaak kan het ons veel inzicht geven als we kijken naar wat er is geweest en welke invloed dit op ons had. En kan dit ons op weg helpen om te zien hoe we nu verder moeten. Wat werkte? Wat werkte niet? Wat gaf ons nieuwe levensvreugde? Wat gaf ons een slecht gevoel? Dit zijn allemaal belangrijke vragen die we onszelf moeten stellen, voordat we kunnen weten wat we werkelijk willen of wat de volgende stap moet zijn.
Eindigen met een simpel gevoel van vertrouwen
Volgens lessen die we uit yoga kunnen halen, raken lichaam en geest met Sankalpa in een bepaalde staat die een persoon zelfvertrouwen, motivatie en vastberadenheid geeft. Ik heb het gevoel dat dit komt omdat Sankalpa ontstaat vanuit onze diepe en wijze innerlijke stem, onze eigen innerlijke overtuiging.
Als we deze stem weten te vinden, dan is deze helder en herkenbaar. We krijgen zelfvertrouwen, raken ontzettend geïnspireerd en trekken dingen aan als een magneet.
In zijn boek Sacred Journey: Living Purposefully and Dying Gracefully schreef de bekende yogi en leraar Swami Rama over Sankalpa:
"Het wordt gezien als iets creatiefs en als iets dat superieur is aan normale gedachten omdat het ook het lichaam activeert; het zorgt ervoor dat iemand een vooraf bepaalde handeling uitvoert om een vooraf bepaald doel te bereiken. Ik zal oprecht zijn. Mijn groei is zeker. Ik weet dat ik fouten zal maken, maar ik zal doorzetten en doorgaan."
Hoor je in dit citaat ook de overtuiging en helderheid dat het echt uit iemands hart komt, diep vanbinnen? Op de een of andere manier, ben ik vooral gek op de zin "Mijn groei is zeker." Alleen Sankalpa kan ons zoiets geven. Het is simpel, helder en ontzettend zelfverzekerd.
Soms moet je met beelden in plaats van woorden werken om tot die simpelheid en helderheid te komen.
Vorig jaar heb ik een workshop over Sankalpa geleid. We begonnen met een meditatie waarin ons gevoel van eigenwaarde centraal stond en dat zorgde voor een diep gevoel van genoeg zijn zoals je bent. Vervolgens voerden we een kleine offerplechtigheid uit: we schrijven onze "innerlijke rommel" op een stuk papier (dat wat onze innerlijke stem blokkeert) en gooiden het in een vuur. We eindigden de sessie met het creëren van een "soul-board." We verzamelden beelden en woorden die dicht bij ons hart lagen en maakten hier een collage van. Ik vroeg alle deelnemers om vanuit die beelden met een zin te komen die op de een of andere manier het diepe verlangen of de roeping van hun hart weergaf. Daar kwamen hele verschillende zinnen uit. Sommige heel helder, andere poëtisch, maar het was duidelijk dat ze allemaal recht uit het hart kwamen.
De Sankalpa-gewoonte voelt zo intens oprecht. En als iets echt is, zit het vol energie en potentie. Ik heb er een gewoonte van om dit elk jaar te doen en ik hoop dat ik je heb kunnen inspireren om met mij mee te doen. Het is het absoluut waard om het een keer te proberen.
Loosen your grip.
Give yourself permission to be imperfect.
Don't seek what others are seeking,
(unless it echoes in your bones).
Spit out whatever you have ingested
about not being enough.
Your realness is delicious.
And you don't need to obsess any longer
about finding your path.
Start simple.
Tie a string
from your heart to your feet
And only walk in the direction
that makes you tick.
- Deborah Anne Quibell