You've made the decision to start doing yoga…good for you! But before you start thinking about which class fits your schedule and what the commute will be like, let us help. Yoga is actually the perfect workout to do at home, and we have a bunch of helpful tips to get you started.

Home yoga for ultimate health
With all of the different types of workouts in the world, why choose yoga? We could go on for hours, but the short answer is that it benefits your emotional and physical health like no other fitness routine. It grounds you, relaxes your nervous system, improves immunity, increases your lung capacity and boosts the brain, just to name a few examples. After all, people have been doing yoga for at least 5,000 years, so it has to be worth it.
First things first: find your style
Before you get set up at home, you first need to find the type of yoga that suits you best. Most yoga being practiced in the Western world falls under the category Hatha, which involves the simple act of striking poses (asanas) and focusing on your breath to align mind, body and spirit. Hatha is great for restoring balance, as demonstrated in our exclusive video by our expert, Laura. For a more dynamic and high-impact approach that will tone your muscles, try Vinyasa yoga, as taught by expert Chris. If you're attracted to yoga because of its relaxing effect on body and soul, check out Yin yoga with its slower poses and emphasis on meditation with expert Erica here.
Home is where the best yoga is
Now that you've been introduced to a few forms of yoga, we hope you can start incorporating a daily practice into your home routine. Why stress about making the time for a class across town 2 times a week when you can work out whenever and for as long as it is convenient?
Yoga is all about self-acceptance: starting off simply, discovering and exploring your boundaries and not comparing your fitness level to that of other people are all major benefits of practicing yoga at home. Here are a few tips to make your new yoga practice a surefire success.
Create your sacred space
You'd be surprised at how easy it is to turn your living space into your own private yoga studio. Pick a quiet place in your home with enough open space to give you full freedom of movement. Add some scented candles to enhance your practice with a touch of aromatherapy and make sure at least one wall is empty, because at one point or another, you'll be leaning against it. Every yoga space also requires a quality mat—preferably non-slip—and as luck would have it, we've got you covered. A bolster, like this comfortable and stylish meditation pillow is also an excellent addition to your home practice, to offer you more support whenever you need it.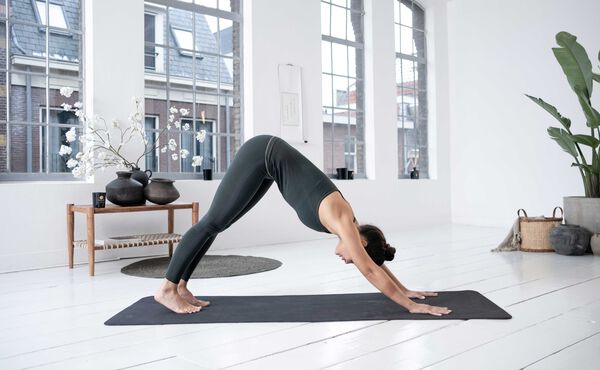 Safety is key
Like any other independent workout, you need to put safety first. That means proper stretching and warming up before you start your home yoga session. Prevent injury and improve flexibility during your practice by following our exclusive video lesson before you start your routine. Also, be sure you're listening to your own body and not forcing things that you may not be ready for yet. You won't have an instructor to keep an eye on you, but that's okay—if you're mindful of the way your body moves/feels, you're ultimately the best judge of what you can and can't do.
Clothing that feels like a second skin
A lot of the yoga wear on the market—let's face it—was designed more to impress the rest of the class than to help you get the most out of your workout. Rituals' Soulwear clothing collection has an entire line dedicated to Yogawear, that is made from exclusively breathable and comfortable fabrics to ensure full freedom of movement. And not only is it stylish, it's also been created with specific poses in mind, fusing luxury with functionality. With everything from leggings to singlets to pants, your yoga wardrobe will be complete after visiting one of our stores or webshop.
Tailor-make your practice
Another wonderful benefit from skipping the crowded yoga class and doing it at home? You call all the shots! Depending on what kind of day you're having and what you want to achieve, you get to decide what poses you do, in what order, and for how long. Need an energy boost? Do some sun salutations. Want to quiet body and mind before bed? Try some Nidra yoga. When you're doing yoga at home, you only need to concern yourself with your own personal needs, time constraints, etc.
So…what are you waiting for? Take these tips and run (or downward facing dog) with them for the best home yoga practice possible. Good luck, have fun, and of course, Namasté.