Ayurveda is een van de oudste geneeswijzen ter wereld en eentje die vandaag de dag nog steeds wereldwijd gebruikt wordt. Het is een holistische benadering van gezondheid en eten speelt hier een hele belangrijke rol in. Met dit gegeven in haar achterhoofd creëerde Mirjam twee recepten die geïnspireerd zijn door Ayurveda: een unieke, warme salade en een van de lekkerste curry's die je ooit geproefd hebt.
SALADE MET GEROOSTERDE GROENTEN, DU PUY LINZEN & HALLOUMI
Volgens de Ayurvedische leer is het beter om geen rauwe groenten te eten. Ze kunnen voor een opgezet gevoel zorgen, vooral als je vaker problemen hebt met je spijsvertering. Koude salades kunnen soms moeilijk te verteren zijn en een negatief effect hebben op hoe je lichaam voedingsstoffen afbreekt. Dit kan veel energie kosten. Doordat de groenten in deze salade geroosterd worden in plaats van gekookt, behouden ze een bite.


Recept voor 4 mensen
Bereidingstijd: 45 minuten
Ingrediënten

200 g groene linzen of Du Puy linzen
1 rode ui, in ringen gesneden
1 venkelknol, het harde stuk eruit gesneden en in dunne reepjes gesneden
3 tl extra vierge olijfolie
(kokos)olie om in te bakken
1 ½ tl zout en versgemalen zwarte peper
250 g mini wortels, in de lengte gesneden
1 tl gedroogde tijm
2 tl balsamicoazijn
2 knoflooktenen, fijngesneden
250 g halloumi, in blokjes van ongeveer 1,5 cm gesneden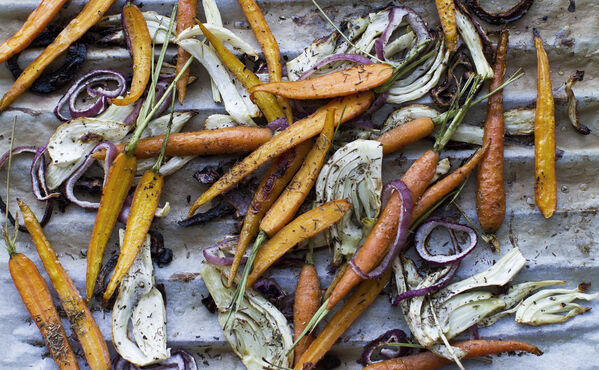 Bereiding
Verwarm de oven voor op 180°C.


Kook de linzen volgens de instructie op de verpakking. Voeg geen zout aan het water toe, want daardoor barsten de linzen. Giet ze af en laat ze in een pan met deksel rusten.


Mix de venkel, rode ui en de mini wortels met 3 theelepels olijfolie, zout en peper en spreid ze uit over een met bakpapier beklede bakplaat. Bak ze 20 tot 25 minuten in de oven totdat de groenten beginnen te verkleuren en knapperig worden. Omdat elke oven weer anders is, is het goed om tussendoor steeds even te kijken of het niet te hard gaat. De groenten moeten hun bite behouden.



Mix de linzen met de geroosterde groenten en roer de balsamicoazijn, 3 theelepels extra vierge olijfolie en tijm erdoor. Voeg zout en peper naar smaak toe.



Verwarm een beetje (kokos)olie in een koekenpan en bak de halloumi samen met de fijngesneden knoflook. Let op dat je de blokjes halloumi aan elke kant ongeveer een minuut bakt totdat ze beginnen te verkleuren.


Verdeel de linzensalade over 4 borden en leg de halloumi daar bovenop. Strooi er tot slot wat versgemalen peper overheen.
GESTOOMDE AUBERGINE, TOMAAT & KIKKERERWTEN CURRY
Aubergine is een fantastische groente en ik heb het gevoel dat het ook een onderschatte groente is. Eerlijk is eerlijk, het is ook niet de makkelijkste groente om te bereiden, want soms kan aubergine te vet of te hard worden of juist niet gaar genoeg zijn. Maar als je aubergine eerst stoomt, krijgt het een heerlijke, zijdezachte structuur en past het perfect in deze Ayurvedische curry.


Recept voor 4 mensen
Bereiding: 40 tot 50 minuten
Ingrediënten
2 aubergines, gehalveerd en dan in blokjes van zo'n 2 cm gesneden
1 groene peper
3 tl zonnebloemolie
1 ui, fijngesneden
2 tl verse gember, geschild en fijngesneden
4 knoflooktenen, fijngesneden
5 Romatomaten, in stukjes gesneden
1 tl kurkuma
2 tl komijn
1½ tl korianderpoeder
1 blik tomatenblokjes
1 blik kikkererwten (400 g), uitgelekt
Griekse yoghurt als garnering
Verse koriander als garnering
naanbrood
EXTRA: een stoommandje (of 2 op elkaar) en een pan die daar precies onder past
Bereiding
Kies een pan die precies onder het stoommandje past. Vul de pan met water en breng het water aan de kook.


Leg de aubergine in het stoommandje en gebruik zo nodig 2 stoommandjes. Dek deze af en stoom de aubergine 10 minuten. (Ze hoeven niet helemaal klaar om te eten te zijn, want ze koken nog een beetje verder als de tomaten toegevoegd worden.)


Verwarm de olie in een grote pan met dikke bodem. Voeg de ui toe en fruit deze 5 minuten totdat de ui glazig wordt.


Voeg de groene peper, gember en knoflook toe en bak deze een paar minute totdat alles zachter wordt en begint te verkleuren.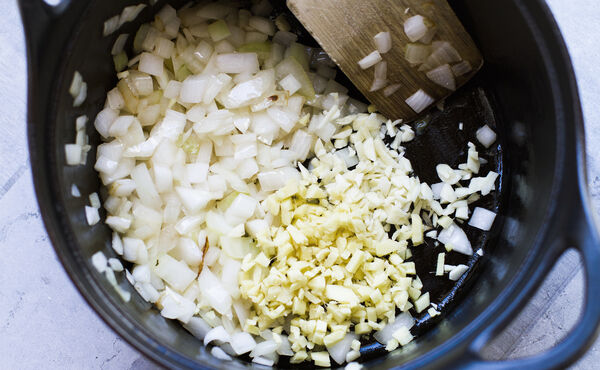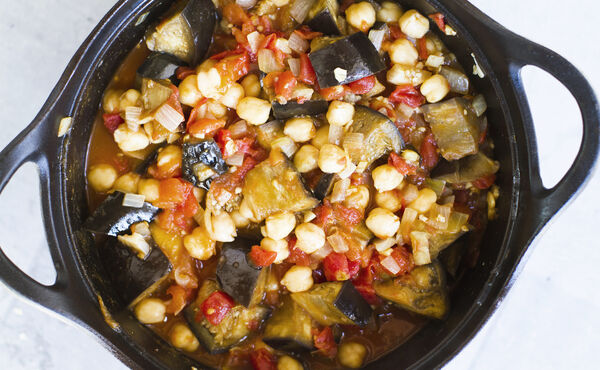 Voeg de blokjes verse tomaat toe, roer goed door en draai het vuur lager. Doe de deksel op de pan en laat alles 10 minuten doorkoken.

Voeg de kurkuma, komijn en korianderpoeder toe en daarna het blikje tomatenblokjes en roer nogmaals goed door.


Voeg de blokjes aubergine en de uitgelekte kikkererwten bij het tomatenmengsel en roer het daarna voorzichtig door. Kook dit nog een keer zo'n 10 tot 15 minuten op een laag vuur met de deksel op de pas. De aubergine moet zo zacht worden dat deze uit elkaar valt.

Voeg peper en zout naar smaak toe en server de curry met het naanbrood, de yoghurt en de koriander.