Deze calorierijke sticky toffee cake, geserveerd met een zoete toffee-karamelsaus en een rijke cashew-kokoscrème, komt misschien als een verrassing, maar bij Rituals geloven we in balans. Er mag in je leven best wat ruimte zijn voor een beetje verwennerij, zonder dat je je daar na afloop schuldig over hoeft te voelen. Of je nu een uitgebreid kerstdiner serveert met alles erop en eraan of dat je ons vegetarische voorafje met de witte vis als hoofdgerecht hebt gemaakt, we verdienen allemaal zo af en toe een sticky toffee cake.
Voor 4 tot 6 personen
Bereidingstijd: 45 minuten
Ingrediënten:
Cake:
200 gr dadels zonder pit
200 ml gekookt water
1 theelepel baking soda
100 gr ongezouten boter, op kamertemperatuur
1 eetlepel ahornsiroop of agavesiroop
100 gr (donker)bruine griessuiker
2 eieren
180 gr bloem
1½ theelepel bakpoeder
1 theelepel vanille-extract, vloeibaar
Snufje zout
Toffee-karamelsaus:
100 gr ongezouten boter
200 gr (donker)bruine griessuiker
150 ml slagroom
½ theelepel vanille-extract, vloeibaar
Cashew-kokoscrème:
200 gr ongebrande cashewnoten
300 ml water
1 eetlepel ahornsiroop of agavesiroop
2 eetlepels kokosrasp
Benodigdheden:
Ronde springvorm van 20 cm
Bakpapier
Oven die is voorverwarmd op 180˚
Staafmixer (en een krachtige high-speed blender)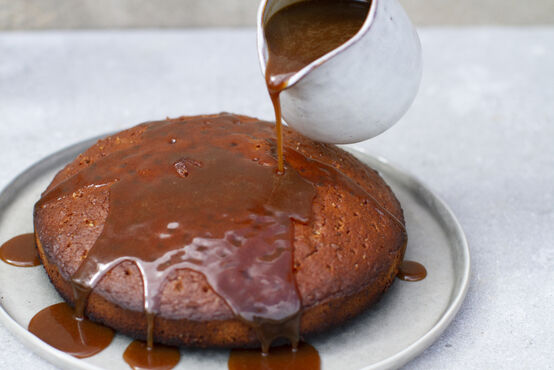 Bereidingswijze:
Laat de dadels 20 minuten wellen in het hete water met de baking soda. Mix ondertussen de boter, siroop en suiker tot een romige massa. Voeg één voor één de eieren toe en mix goed. Doe de bloem, bakpoeder, zout en vanille-extract erbij en mix door tot je een glad beslag hebt.
Giet de dadels af en blender ze tot een dikke massa. Leg een vel bakpapier in de bakvorm, meng de dadels door het beslag en giet het in de bakvorm. Plaats in het midden van de oven en bak ongeveer 30 minuten. Controleer af en toe of de cake al klaar is.
Voor de saus smelt je de boter, samen met de suiker en het vanille-extract, in een steelpannetje. Blijf goed roeren tot de suiker helemaal gesmolten is. Verwarm nog een paar minuten goed door op een laag vuur. Draai het vuur uit. Laat de saus indikken terwijl het afkoelt. De saus moet niet te koud worden, hoe warmer de saus, des te kleveriger is je cake! Als je wilt dat de saus goed in de cake trekt, kun je er eerst met een satéprikker wat gaatjes in prikken.
Maak ten slotte de cashew-kokoscrème. Je hebt een krachtige "high speed" blender nodig om een gladde pasta van de cashewnoten te maken. Als je die niet hebt, kun je de cashewnoten eerst minimaal een uur laten weken in water. Meng de cashewnoten met 300 ml water, 1 eetlepel agavesiroop of ahornsiroop en 2 eetlepels kokosrasp tot een gladde room. Serveer bij je cake. Eet smakelijk!