De vegaburger is een onmisbaar onderdeel van het menu geworden, en gelukkig zijn er steeds meer vegetarische variaties mogelijk. Deze zwarte-bonenburger is lekker en kruidig. Hij staat binnen 40 minuten op tafel. Voor de pro's die houden van pikant eten en die een beetje meer pit wel op prijs stellen, doe je er een extra lepel zelfgemaakte piri piri saus bij – als je durft.
6 porties
Benodigdheden:
keukenmachine of een goede blender
kleine koekenpan
ovenplaat
INGREDIËNTEN
BURGERS VAN ZWARTE BONEN
1 blik (biologische) zwarte bonen
1 rode paprika
2 (biologische of scharreleieren) eieren
100 gr walnoten
1 teentje knoflook
1 klein handje verse basilicum, fijn gehakt
1 klein handje verse koriander, fijn gehakt
1 theelepeltje zout en vers gemalen zwarte peper
3 eetlepels olijfolie
BROODJES
6 hamburgerbroodjes (wij hebben zwarte houtskoolbroodjes gebruikt)
slabladeren
2 of 3 in plakken gesneden tomaten
1 rode ui, in ringen gesneden
(veganistische) mayonaise
piri piri saus
PIRI PIRI SAUS
1 kleine rode (piri piri) peper(see photo)
3 teentjes knoflook
1 rode ui, gepeld en in stukjes gesneden
2½ eetlepel gerookte paprikapoeder, niet de pikante variant
3 eetlepels appelciderazijn
1½ eetlepel worcestersaus
sap en schil van 2 citroenen
½ theelepeltje zout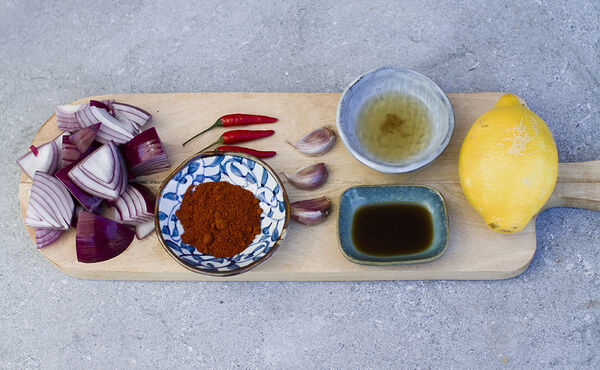 BEREIDINGSTIJD 40 minuten
BURGERS VAN ZWARTE BONEN
Verwarm de oven voor op 180 graden.
Laat de zwarte bonen bijna helemaal uitlekken in een vergiet. Doe de ingrediënten – alles behalve de specerijen – in de keukenmachine en mix het tot een stevige massa. Zorg dat de massa niet te glad is, omdat de textuur van de burger nog een beetje stevig moet blijven. Grotere stukken bonen zijn het best.
Kneed met je handen de groene kruiden door de zwarte-bonenmassa, en vorm er dan met vochtige handen burgers van. Plaats de zes burgers op een ingevette ovenplaat en bak ze ongeveer 12 minuten. Vergeet niet om ze halverwege te keren.
BROODJES
Bak de broodjes kort in een hete koekenpan of in de oven, om ze een beetje krokant te maken.
Smeer wat (veganistische) mayonaise op de broodjes en leg er slablaadjes, tomaat, rode-uienringen en de burger op. Maak het af met een beetje van de piri piri saus, als je het niet te heet vindt, om je meesterwerk te voltooien.
PIRI PIRI SAUS
Mix alle ingrediënten in de keukenmachine of blender – en je bent klaar!