Deze zelfgemaakte granola repen zijn knapperig, zoet en zó in elkaar te flansen. Ze zijn perfect als gezond toetje of als vlugge snack, en ze geven je een natuurlijke energieboost met iedere hap.
Voor 6 grote of 12 kleine repen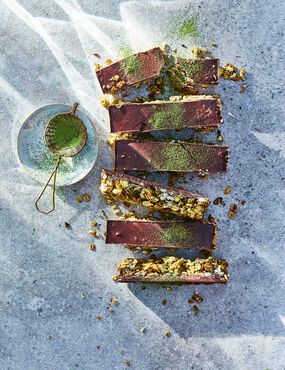 Ingrediënten:
150g havervlokken
35g gepofte rijst
40g pompoenpitten
40g pistachenoten
75g gesneden gedroogde mango (of gedroogde veenbessen of walnoten)
75g kokossnippers
4 el gesmolten kokosolie plus wat extra om de ovenschaal mee in te vetten
125g honing
1 tl zout
1 el kaneel
2 tl vanille extract
1½ el culinary grade matcha poeder
1 el hoge kwaliteit matcha, om te bestuiven
200g rauwe chocolade
Voorbereiding:
1. Verwarm de oven voor op 175°C.
2. Vet een ovenschaal, van 16 bij 26 cm, in.
3. Doe alle ingrediënten in een schaal en meng ze goed.
4. Druk het mengsel goed aan in de ovenschaal en bak gedurende 15 minuten tot ze goudbruin zijn.
5. Laat 10 minuten afkoelen. Smelt ondertussen de chocolade au bain-marie.
6. Schenk de chocolade over het afgekoelde mengsel en zet kort in de diepvries zodat de chocolade stolt.
7. Snijd de repen met een scherp mes en bestuif ze met het overgebleven matcha poeder voor je ze serveert.