Nu het echt winter is geworden, lijken het voorjaar en de zomer nog ver weg, dus je kunt waarschijnlijk wel wat warmte en zonneschijn gebruiken. Als je wat hulp nodig hebt om de donkere dagen van februari door te komen, is 'balans' het woord dat je zoekt. De Chinese, taoïstische filosofie gelooft in het concept van yin en yang, dat uitgaat van het idee dat alles in het universum bestaat uit twee tegengestelde, maar elkaar aanvullende krachten. Je kunt een balans tussen yin en yang in het lichaam bereiken door de juiste voedingsmiddelen te eten. En inderdaad: is er een betere manier om balans te bereiken, om een evenwicht te bieden tegen de ijzige kou en je tintelende winterhanden, dan met een gezellig dinertje met je dierbaren? Lees de recepten die Mirjam Leslie-Pringle, onze eigen voedingsexpert, je van harte aanbeveelt.
Geroosterde curry met groente
Een ander gerecht dat je van binnenuit verwarmt, is de gestoomde curry met aubergine en kikkererwten. Stoom de aubergine in een stoommandje, roerbak de pepers, gember en knoflook – heerlijke yang-ingrediënten – en serveer het met naanbrood, yoghurt en koriander.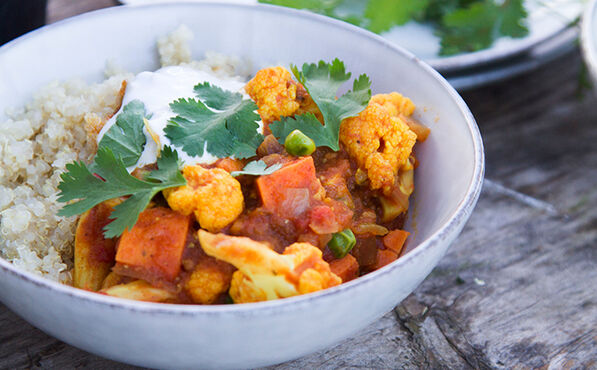 Masala met bloemkool en zoete aardappel
In de Indiase keuken maakt het oude concept van Ayurveda onderscheid tussen kruiden die verwarmend of verkoelend zijn voor het lichaam. Dat lijkt op de theorie van yin en yang, die ons leert dat het eten van warm of koud voedsel het lichaam in balans brengt. Deze masala van bloemkool en zoete aardappel bevat zowel wortelgroentes als kruiden die het lichaam "verhitten" en voor een warm gevoel zorgen in de winter.