De wereld van geuren is heel creatief. Het is ook emotioneel. Een geur kan net zo goed herinneringen oproepen als kijken naar foto's in een stoffig fotoalbum. Maar geuren hebben ook een wetenschappelijke kant. Geuren worden ingedeeld in families. Als je weet welke geurfamilie voor jou het meest aantrekkelijk is, kun je op zoek naar een parfum dat bij je past. In dit artikel onthullen we de geheimen van geur en hoe je jouw favoriete parfum vindt.
Geuren: de taal
Om te beginnen moet je over geuren kunnen praten, of in ieder geval de taal begrijpen. Want, net als elke andere industrie, gebruikt de wereld van geuren zijn eigen jargon. Een typische geur bestaat uit een basis (meestal alcohol) die gemengd is met oliën om een eau de toilette of een eau de parfum te creëren.
Een eau de toilette heeft een lager percentage olie dan een eau de parfum, waardoor een eau de toilette iets goedkoper is, terwijl een eau de parfum langer op de huid blijft hangen.
Als het over geuren gaat, wordt er ook vaak gepraat over noten. Hiermee beschrijf je de geur, zoals citrus of hout. Ook hoor je vaak de namen van ingrediënten, zoals roos of oud. De noten beschrijven hoe de geur ruikt naarmate het evolueert op de huid (maar daarover later meer).
Geuren: de geurfamilies
Omdat er ontzettend veel verschillende geuren in de wereld zijn, is het handig dat je ze in categorieën kunt verdelen. In 1983 bedacht geurexpert Michael Edwards een geurenwiel, waarmee parfums in verschillende geurfamilies kunnen worden opgedeeld. De wereld van geuren blijft zich ontwikkelen, dus het wiel is in de loop der tijd geëvolueerd, maar de algemene structuur is gelijk gebleven. Er zijn een paar hoofdcategorieën en daarbinnen verschillende subcategorieën aan te wijzen.
Bij Rituals hebben we vijf hoofdcategorieën in de eau de parfums van onze nieuwe Talisman Collection: Fresh, Floral, Sensual, Wood en Oriental. De secundaire geurcategorieën verdelen de geuren verder op grond van hun nuances. Je kunt bijvoorbeeld een frisse geur uit de categorie Fresh hebben die ook fruitig, zoet of houtachtig is. Je kunt ook een houtachtige geur hebben in de hoofdcategorie Wood die tegelijkertijd fleurig of leerachtig is.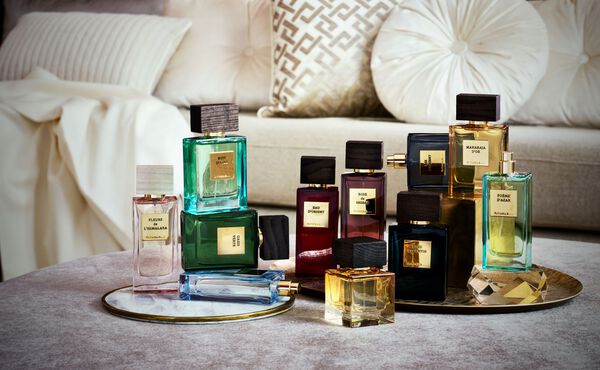 Geuren: hoe zitten ze in elkaar
Geuren bestaan uit topnoten, hartnoten en basisnoten. De topnoot is de eerste geur die je ruikt als je een parfum sprayt. Het zijn bij voorkeur lichte, frisse en sprankelende aroma's. Als het parfum op de huid droogt, komen de hartnoten vrij. Deze bepalen de essentie en de persoonlijkheid van het parfum. De basisnoten blijven uiteindelijk het langst aan de huid kleven. Het zijn deze noten die je je het best herinnert. Met elke spray van het parfum leg je een reis af, waarbij alle noten samenwerken om je van A naar B te brengen.
Geuren: hoe vind je jouw favoriet
Geuren hebben net als mensen zoveel persoonlijkheid dat je ze het best kunt leren kennen door ze te proberen. Parfums ruiken voor iedereen een beetje anders, omdat de ingrediënten een beetje mengen met het unieke aroma van je eigen huid en transpiratievocht. Daarom kan een parfum heel anders ruiken bij een vriendin dan bij jou. Maar je kunt de keuze toch wel een beetje afbakenen, zodat je met een redelijk vertrouwen een geur kunt kopen die bij je past (zelfs online als je dat wilt). Het geheim is te kijken naar de geur die je nu draagt en de parfums die je eerder hebt gehad die je lekker vond. Je kunt de ingrediënten googelen en je vindt informatie over bijna alle parfums op websites zoals. Fragranatica Stel jezelf dan de vraag:
- Van wat voor soort geur houd ik? Word ik aangetrokken door zware of lichte geuren?
- Komen de parfums die ik in het verleden heb gebruikt allemaal uit dezelfde geurfamilie? Zijn het bijvoorbeeld allemaal bloemige parfums? Of zijn er meerdere geuren die ik lekker vind?
- Zoek vervolgens nog verder door. Als je bijvoorbeeld echt van bloemengeuren houdt, stel jezelf dan de vraag: hebben ze allemaal vergelijkbare noten, zoals roos of jasmijn?
In mijn geval weet ik dat ik van houtige geuren houd met een vleugje leer, tabak en amber. Ik ben ook altijd aangetrokken tot parfums waar roze peper in zit. Dat wordt meestal gebruikt als topnoot, omdat het iets kruidig is en een verkwikkende uitstraling heeft. Als je eenmaal deze informatie over jezelf weet, is het eenvoudiger om een geur te vinden die je lekker vindt.
Het is leuk om deze ontdekkingsreis te maken. Als je benieuwd bent naar jouw geurpersoonlijkheid, kun je ook de parfumbar van onze nieuw geopende House of Rituals in Amsterdam bezoeken. Je kunt daar kennismaken met de 25 nieuwe parfums in de Talisman Collection, die uitsluitend in deze nieuwe winkel worden verkocht. Woon je niet in Nederland? Shop dan hier onze bestaande collectie prachtige eau de parfums en eau de toilettes. Je vindt er ook het innovatieve uniseks eau de parfum L'Éclat (met neroli, mimosa en sandelhout), dat je op zichzelf kunt dragen of kunt layeren met een andere Rituals geur.