In our pursuit of happiness, we tend to focus on the more monumental things in life—like landing a dream job or having a fairy-tale wedding. But no matter how good those things can make us feel, the bursts of intense joy they bring will fade once the excitement wears off. So don't bet your happiness on big events and grand successes. Instead, discipline yourself in the art of finding happiness in the smallest of things.
Our days are filled with tiny meaningful moments that we rush by inattentively as we speed through our busy modern lives. Daily routines of self-care—like taking a shower, having breakfast or applying make-up in the morning—often feel like tasks we execute rather than moments we experience.
Because we're so focused on the big things in life, we tend to completely overlook the small things that nourish our body, mind and soul. Unlike big life events and brag-worthy accomplishments, it's those little things that can bring real, lasting happiness. Not that fleeting rush of pleasure, but a deep sense of well-being that sustains us in good times and bad.
5 HABITS TO SAVOR THE LITTLE THINGS
Not sure how to find happiness in life's little joys? Here's what you can do to start inviting lasting happiness into your life today.
1. Be mindful of the small moments
Pay more attention to the little moments in life that often go unnoticed. If you're mindful of the small things that are seemingly mundane or insignificant—like washing the dishes together after dinner or climbing into a freshly made bed—you're opening yourself up to the happiness those tiny moments can bring. In the words of author Robert Brault: "Enjoy the little things, for one day you may look back and realise they were the big things."
2. Practice gratitude
Regularly expressing what you're grateful for in your life makes you feel happier. Gratitude has demonstrated positive effects on our physical and mental well-being—it increases the brain's happiness hormones, decreases stress levels and improves sleep. So why not practice gratitude for two minutes every day? Get a notebook that will be your dedicated gratitude journal, and write down what you're grateful for each day.
3. Be kind to others
Doing good makes us feel good. Neuroscientists have found that performing acts of kindness and compassion has a stimulating effect on your brain's pleasure and reward centres. But we actually don't need brain scans to know that helping others can make us happier. Being kind to family, friends and even random strangers opens up lots of possibilities to deepen meaningful connections and make new friends. Such meaningful relationships are known to be associated with long-term happiness, physical and mental well-being, and even a longer life.
4. Treat yourself like a friend
Being kind to others makes us happy, but practicing self-kindness is just as important. Treat yourself like you would treat a dear friend. Buy yourself a hot cup of tea on a cold commute, spontaneously take yourself on a date to a restaurant or a movie, be non-judgemental, set aside some time for yourself, embrace your imperfections and love yourself whole-heartedly.
5. Less phone, more experience
It's perfectly understandable that you want to capture the moments, places and people that you love, so that you can re-live meaningful experiences and share them with others later on. But if you become too focused on recording happy moments, it will keep you from enjoying those moments as they unfold. So the next time something Instagrammable happens in your life, don't whip out your phone. Just be present and enjoy it.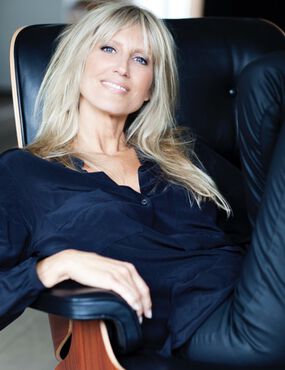 HEAR IT FROM AN EXPERT
If anyone masters the art of finding happiness in life's littlest things, it's Dorien van Nieukerken. She teaches mindfulness, meditation and yoga at events across the Netherlands and at her centre Heart to Heart in Bussum. Here's what she can tell us about the small things that bring us true happiness.
What is happiness to you?

"You can experience a sense of joy when you've bought a new dress or when you've achieved something. But I believe in a greater kind of happiness. That kind of happiness—sustainable happiness—is a feeling that comes from within."
Can appreciating the little things in life help us achieve that kind of true, sustainable happiness?

"Absolutely. Sustainable happiness isn't something you can force, but you can do certain things to open yourself up to it. I believe gratitude is key, so that would be my first advice—live with an attitude of gratitude. Grant yourself moments of peace and quiet, so that you can really listen to what's present deep inside your heart and your mind. Try to let go of ego-driven motivations, such as judgement, fear and the need for power and control. Live love instead. That's what makes you happy."
When did you last experience a small moment of true happiness?

"When I was having dinner at my house and my two kids, my 89-year-old mother and my partner were all there. I believe the happiest moments are those you get to share with the people you love."
Do you have a daily routine?

"Yes, I do! I practice Pranayama every morning. It improves the flow of your vital energy. Something I never skip is a meditation practice, which allows me to bring myself back to silence. I always finish my meditation by chanting a Sufi prayer, which, to me, is a meditation practice with words. Directing the words at my heart helps me increase my compassion."