Have you ever heard of umami? Otherwise known as the "fifth taste," umami is something you hear a lot about in foodie circles. But unlike the other tastes—sweet, sour, salty and bitter—umami is a bit more difficult to describe. Our food-expert Mirjam introduces you to the wonderful world of umami with a delicious poke bowl with fresh salmon.
The poke bowl is a salad with fresh and loose "components." This means that the ingredients are suitable separately, without having to mix them all together. It looks absolutely beautiful this way. Especially when you use fresh ingredients like edamame, strips of red cabbage and salmon—it's as pretty as a picture! Aside from that, salmon is the ultimate umami ingredient—and the soy sauce and Sriracha in the dressing enhance the taste even more.
Recipe for 2 people
Preparation time: 20 minutes
Ingredients for the salad
40 g brown rice or brown, organic basmati rice
50 g salmon, cut into blocks
50 g red cabbage, in thin strips
100 g cucumber
50 g edamame
1 avocado, halved and cut crosswise into thin slices
4 radishes in slices
2 tsp black or roasted sesame seeds
1 spring onion in thin rings
Small handful lamb's lettuce, leaves only
optional: small green pepper in thin rings
Ingredients for the marinade
30 ml soy sauce
1 tsp rice vinegar
1 tsp Sriracha
1 tsp sesame oil
Ingredients for spicy dressing
60 ml extra virgin olive oil
2 tsp Dijon mustard
2 tsp sambal oelek
30 ml soy sauce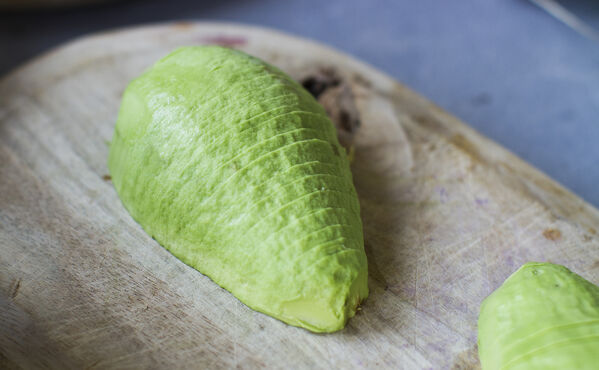 Preparation
1. Cook the rice as directed on the package. Drain (if necessary) and let it sit under a closed lid.

2. Cut the salmon into blocks of around 1.5 x 1.5 cm. Prepare the marinade by mixing all the ingredients together and then mix this with the salmon.

3. Cut the cucumber into blocks and the red cabbage into thin strips. Boil the edamame (pods and all) and then remove the pods. (if possible, buy the edamame loose to eliminate this extra step). Slice the avocado and radishes, and then slice the spring onion, lamb's lettuce and (if applicable) the green pepper into rings.

4. Prepare the spicy dressing by mixing all of the ingredients thoroughly in a pot with a lid.

5. Divide the rice into the bowls, then all the other ingredients. Garnish with the rings of spring onion, green pepper and sesame seeds. Serve the dressing on the side.