Inre avsikter i stället för yttre löften. Det är ett enkelt sätt att förklara vad sankalpa innebär. Enkelt uttryck är sankalpa en avsikt formulerad av hjärtat och sinnet – en högtidlig ed eller ett inre löfte till dig själv.
Tillräcklighet
Ett vanligt problem med nyårslöften är att de ofta är ett uttryck för yttre målsättningar. Vissa av löftena är sådant som vi verkligen vill uppnå, medan andra är sådant som vi "tror" att vi vill ha för att vi känner press utifrån.
Många av våra löften bygger på en känsla av att vi borde vara bättre, vackrare, rikare eller friskare. Vi fokuserar på vad vi saknar (och känner ofta dåligt samvete, skuld eller till och med skam) och bestämmer oss sedan för att bli annorlunda och bättre. Men detta kan vara problematiskt, menar forskaren och författaren Brené Brown, som har studerat sårbarhet, mod, värdighet och skam under de senaste 12 åren. I en intervju säger hon:
"När vi drivs av rädsla över vad andra människor tycker om oss och en röst ständigt viskar i örat att vi inte duger, är det lätt att ge upp. Det slutar med att vi tigger efter värdighet i stället för att göra oss förtjänta av den."
Om vi inte är försiktiga kan våra nyårslöften också sluta med att vi "tigger efter värdighet".
Men under sankalpa, som går ut på att formulera avsikter inifrån, utgår vi från en djup övertygelse om att vi duger precis som vi är. Självklart har vi alla något vi vill förbättra hos oss själva, men sankalpa handlar om att medvetet (och varsamt) släppa taget om den förgiftande skammen och känslan av att inte räcka till innan vi definierar våra mål. När vi står rakryggade i vår egen värdighet börjar vi se och uppleva saker annorlunda. Till och med våra önskningar förändras.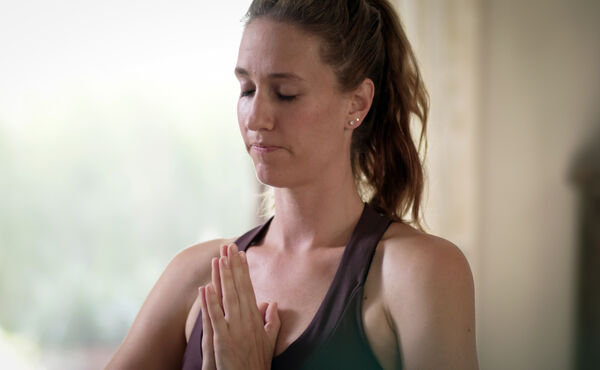 Reflektion
Det kan vara svårt att medge, men i våra upptagna liv tappar vi ofta kontakten med den reflekterande delen av oss själva. Dessvärre lever vi i en kultur där många av oss har hjärtat fyllt av "mappar" där vi samlar på oss minnen och upplevelser som vi tänker "ta tag i senare". Sedan går tiden utan att vi öppnar de där mapparna. Med tiden skapas fler mappar, och vi samlar dem på hög.
När vi är fyllda av inre, obearbetat material är det svårt att få klarhet i vad vårt hjärta verkligen vill. När vår sanna röst är begravd under att-göra-listor och förväntningar är det svårt att urskilja vår egen röst och våra egna önskningar bland andras röster och önskningar.
Sankalpa uppmanar oss att reflektera innan vi formulerar en avsikt om vart vi vill nå. Vårt förflutna (och hur det har påverkat oss) kan ofta ge oss värdefulla insikter om hur vi bör gå vidare. Vad fungerade? Vad fungerade inte? Vad fick oss att känna oss levande? Vad fick oss att känna oss obetydliga? Dessa är viktiga frågor att reflektera över för att komma fram till i vilken riktning vi bör röra oss och vad vi verkligen vill.
Klarhet
Yogan lär oss att sankalpa laddar kroppen och sinnet med speciella vågor som gör oss självsäkra, beslutsamma och motiverade. Jag tror det beror på att sankalpa kommer från den kloka rösten djupt inom oss – vår egen inre övertygelse.
När vi hittar den rösten är den klar och tydlig. Vi blir mer självsäkra, tilldragande och enormt inspirerade.
I sin bok Sacred Journey: Living Purposefully and Dying Gracefully skriver den berömda yogamästaren och läraren Swami Rama om sankalpa:
"Sankalpa anses vara en kreativ och överlägsen version av vanliga tankar eftersom det aktiverar kroppen och får oss att genomföra förutbestämda handlingar för att uppnå i förväg uppsatta mål. Sankalpa betyder: jag ska vara beslutsam. Jag ska vara helhjärtad. Jag ska utan tvekan växa. Jag vet att jag kommer att begå misstag, men jag ska inte ge upp."
Visst kan man höra den inre klarheten och övertygelsen i hans ord? Jag är särskilt förtjust i orden "Jag ska utan tvekan växa". Bara sankalpa kan ge oss det. Filosofin är enkel, tydlig och otroligt övertygande.
För att kunna urskilja enkelheten och klarheten kan du ibland behöva arbeta med bilder i stället för med ord.
Förra året höll jag en workshop om sankalpa. Vi började med att meditera kring vår egen känsla av värdighet, och frammanade en känsla av att vi duger från djupt inom oss. Sedan genomförde vi en renande ceremoni där vi skrev ned vår "inre oreda" (det vill säga sådant vi tror står i vägen för vår inre röst) på ett papper och slängde det på en brasa. Slutligen skapade vi en "soul board". Vi tog bilder och ord som talade direkt till vårt hjärta och gjorde ett kollage. Jag bad varje person formulera en mening utifrån bilderna som på något sätt beskrev hjärtats innersta längtan (i det ögonblicket). Meningarna var varierade. Vissa var kristallklara. Andra poetiska. Men alla var oerhört meningsfulla och kom från djupet av hjärtat.
Det är något med sankalpa som känns så äkta. Och när något är äkta är det fullt av energi och potential. Jag har gjort sankalpa till min vana varje år, och jag hoppas att du också känner dig inspirerad att prova det. Det kan vara värt ett försök.
Loosen your grip.
Give yourself permission to be imperfect.
Don't seek what others are seeking,
(unless it echoes in your bones).
Spit out whatever you have ingested
about not being enough.
Your realness is delicious.
And you don't need to obsess any longer
about finding your path.
Start simple.
Tie a string
from your heart to your feet
And only walk in the direction
that makes you tick.
– Deborah Anne Quibell