Take care of your skin, and it will take care of you. The Ritual of Namasté elevates your daily skincare routine to a soulful moment—showing respect for nature and respect for skin. The following steps will not only give you glowing skin, they will also make you feel good both inside and out: morning, noon and night.
Give yourself a weekend spa treatment
1. Start your weekend with a scented candle to illuminate and meditate.
2. Use your extra time to do a double cleanse: first apply the Purify Velvety Smooth Cleansing Foam, and follow it up with the Purify Radiant Glow Cleansing Balm.
3. Pamper yourself with the Purify AHA Glow Mask a facial designed to stimulate cell growth and boost your skin's radiance.
4. Spritz some Hydrate Urban Hydrating Mist for a layer of protection against city stress.
5. Supply your skin with an intense moisture shot using the Ageless Ampoule Booster, and give yourself a facial tapping massage.
6. Complete your weekend skincare regimen with the Glow Radiance Anti-Aging Day Cream.
Whether it's 7 am, 11 pm or anytime in the weekend, The Ritual of Namasté collection has everything you need for radiant, glowing skin. Try these steps, turn them into routines and reveal your natural beauty to the world.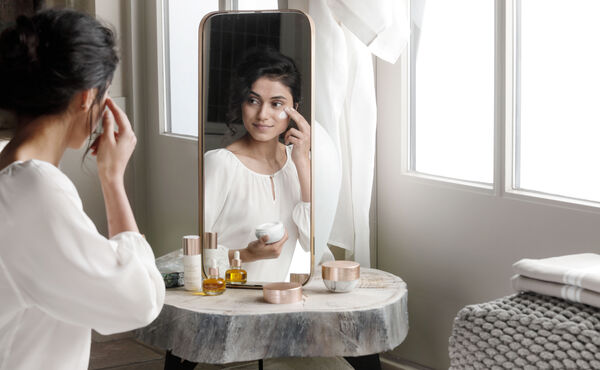 DISCOVER OUR NEW SKINCARE COLLECTION
We believe the key to a more soulful life is living with intent. The same wisdom applies to your skin: paying true attention to each step of a carefully chose skincare routine has a much more profound effect than blindly going through the motions. The Ritual of Namasté helps you honour nature, honour your own soul and to treat your skin with the utmost respect. When you use this collection as part of your beauty routine, this respect will be mirrored in your radiant complexion.