As temperatures rise, our bodies crave light and healthy drinks. Here are some delicious options to serve at your next brunch, lunch or dinner party or just when you need a cool treat.
POMEGRANATE-BASIL TONIC
Serves 4
Ingredients
100ml water
70ml pomegranate molasses (or syrup)
4 star anise
800ml tonic water
Handful fresh basil leaves
Bring the water, pomegranate molasses and star anise to a boil in a small saucepan and turn off the heat. Let the ingredients infuse for 10 minutes. Divide the pomegranate mixture among 4 glasses, add a few basil leaves and fill the glasses with ice. Top each glass with 200ml tonic. Stir well before serving.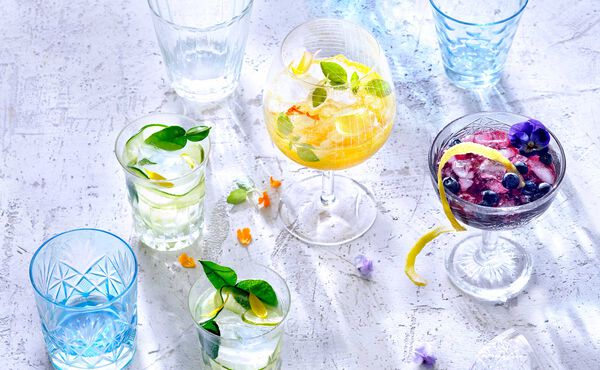 MANGO COOLER WITH ROSEWATER AND LIME
Serves 4
Ingredients
250g mango flesh, fresh or frozen
21⁄2 tbsp sugar
50ml water
11⁄2 tsp rosewater
2 limes
4 mint sprigs, leaves picked
600ml sparkling water
Crushed ice
Place the mango, sugar and water in a saucepan and simmer for 5 minutes. Using a hand blender, puree until smooth. Stir in the rosewater and allow to cool. Divide the mango mixture among 4 glasses. Add the juice of half a lime to each glass and add some mint leaves and crushed ice. Top each glass with 150 ml of sparkling water. Stir gently before serving.
BLUEBERRY-GINGER TONIC
Serves 4
Ingredients
250ml blueberry juice
3 tsp peeled and grated fresh ginger
250ml tonic water
400ml sparkling water
Zest of 1 lemon
Handful of blueberries
Mix the blueberry juice and ginger in a measuring cup and infuse for 5 minutes. Strain the blueberry mixture into a large jug. Add the lemon peel, crushed ice, tonic, sparkling water and a few blueberries. Stir well before pouring into glasses.
GINGER ALE SOUR WITH CUCUMBER AND LIME LEAVES
Serves 2
Ingredients
1 lime
4 lime leaves, frozen
4 slices cucumber
300ml quality ginger ale
Ice cubes
Take 2 glasses and squeeze half a lime into each glass. Add the squeezed lime, lime leaves and cucumber to each glass, pressing firmly with a spoon to release the flavours. Fill the glasses with ice cubes and add the ginger ale. Stir well before serving.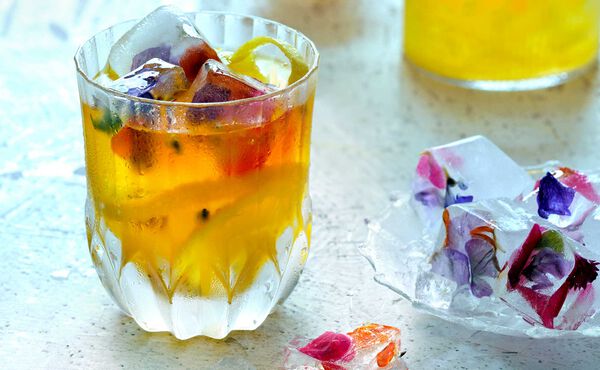 LEMONADE WITH PASSION FRUIT AND ORANGE BLOSSOM
Serves 4
Ingredients
4 passion fruits
Juice and grated zest of 2 lemons
4 mint sprigs
800ml sparkling lemon soda
1 tsp orange blossom water
Ice cubes
Scoop the flesh from the passionfruit into a large jug. Add the lemon zest, juice, mint, lemon soda and orange blossom water and fill the jug with ice cubes. Stir well and pour into glasses to serve.
Tip: Want to make beautiful floral ice cubes? Just add some edible flowers to ice cube molds. Gently fill with water and place them in the freezer until ready to use.