Forget bowls of cereal and rushed slices of toast, the weekend is your chance to really spice up breakfast time. Loaded with veggies, herbs and an array of different spices, this colourful take on the traditional North African dish will certainly do just that. And to make things even better, you only need one pan to cook up this sunshine-yellow delight. Perfect for scooping up with some carbs, we recommend serving with flatbread or naan and inviting all your favourite people over to enjoy.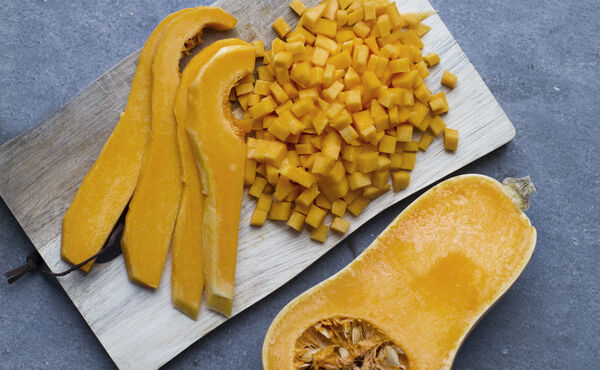 Ingredients for 4-6 persons
3 tbsp neutral olive oil, ghee or coconut oil for frying
1 tsp black mustard seeds
1 tsp fenugreek seeds
3 laurel leaves
1 large white onion, finely chopped
4 garlic bulbs, finely chopped
300g yellow mung beans, split *let them soak for at least 30 minutes*
200g red lentils
1 tsp ground paprika powder
1,5 tsp ground coriander powder
2 tsp dried chili flakes
½ tsp ground curcuma
2 tsp sea salt (or according to taste)
Freshly ground black pepper
600ml water
400ml coconut milk
200g butternut squash, chopped into small ½ cm cubes
2 big handfuls of (baby) spinach
6 organic eggs
For garnishing
Parsley-lemon pistou
Greek yoghurt, 1 large tbsp per person (or according to taste)
Optionally: fresh leaf parsley and/or coriander
Sides
Serve with naan bread or flatbread
Preparation shakshuka
1. Heat the oil in a large frying pan over medium high heat and add the mustard seeds. Wait for the mustard seeds to start popping and then add the fenugreek seeds and the laurel leaves. Stir well.

2. Add the onion to the pan, and fry until golden brown and softened. Add the garlic after 5 minutes or so and let fry for another 2 minutes.

3. Add all the dried herbs and stir until well-blended.

4. Pour in the water and coconut milk and add the pre-soaked and drained mung beans and dry red lentils. Add the salt and bring to a boil, then turn down the heat and let it simmer with the lid on for 10 minutes.

5. Add the butternut squash cubes, bring to a boil again and stir well. Turn the heat down and let simmer for another 10 minutes until the lentils, mung beans and butternut squash are soft. Add some more water if needed, and season with pepper and salt.

6. Add the spinach, stir, and then make dimples in the sauce. Gently crack an egg into each dimple, close the lid and let simmer until the eggs are set.

7. Sprinkle with some dried chili flakes and fresh parsley leaves. Place the pan at the centre of the dinner table so that everyone can dig in! Serve with the yoghurt, parsley-lemon pistou and naan breads. Enjoy!
Preparation parsley-lemon pistou
100ml extra vierge olive oil
2 garlic bulbs
2 big handfuls of fresh parsley
Grated lemon zest of 1 lemon
1 tsp sea salt
Freshly ground black pepper
Mix all ingredients in a blender (or with a hand blender) until smooth.
Want to experience Rouhi for yourself? Experience a world where East meets West. A world where you can indulge body and mind, with food for the soul. At Rouhi, chef Renaud Goigoux presents a considered menu that uses only the most carefully sourced wholesome ingredients.
You will find Rouhi on the ground floor of House of Rituals, Spui Square, Amsterdam.