We all know how important it is to apply sunscreen. Even on cloudy days we should be wearing a minimum of SPF 30 and in the summer months SPF 50 all with a broad-spectrum UVA coverage. But did you know there are lots of other clever ways you can be protecting and soothing your skin during the sunny weather? We called on two skin experts Dr. Sophie Shotter (founder of Illuminate Skin Clinic) and Dr. Ross Perry (Medical Director of Cosmedics Skin Clinics) to reveal the little-known sun care tips you should have on your radar.
Eat salad
Well, tomatoes to be precise. "Eat lots of tomatoes," says Dr. Shotter. "They contain lycopene which is a powerful antioxidant and it has been shown in studies to protect the skin against UV induced damage."
Wear the right sunglasses
We're not talking about the most fashionable pair but ones with polarised lenses. "These will help to reflect light away from the eye area," notes Dr. Shotter. "This will help to reduce the risk of cataract formation in the eyes as well as protecting the delicate eye area."
Apply SPF early
"I advise always applying SPF at least 20 mins before heading outside," recommends Dr. Perry. 'Thoroughly coating your body before putting swimwear or clothes on will give the product the time it needs to be able to do its job."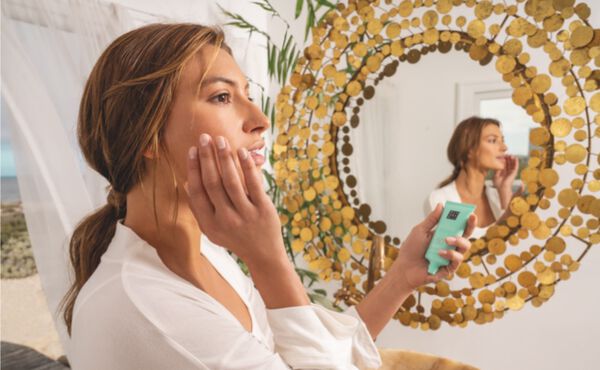 Supplement!
"Taking a good anti-oxidant supplement through the summer months can help to protect your cells further from UV damage. My go-to are the Heliocare 360 capsules, which contain a blend that makes your skin more sun-resilient," says Dr. Shotter.
Look to Aloe Vera
"Aloe vera or a product containing aloe not only soothes but aids the skin in healing and can also help prevent the peeling typically associated with sunburn," says Dr. Perry. Try The Ritual of Karma After Sun Shower Gel with Aloe Vera.
"A cool shower or a damp cool towel can help with sunburned skin but rather than rub your skin with a towel it's best to just pat the skin or let it air dry," adds Dr. Perry.
Slather on your vitamins
"Moisturisers containing vitamin E will work well on sunburnt skin as they have antioxidants which help the skin to heal, minimising the amount of flaking that will ensue," explains Dr. Perry.
On your lips apply our Fortune Balms – Rescue Balm and take a shower after a day in the sun with The Ritual of Namaste Natural Nourishing Shower Cream, both contain nourishing and protecting Vitamin E.
Dr. Shotter adds that "if you layer a good vitamin C serum beneath your sunscreen, it can make your sunscreen up to 4 times more effective." Try applying our The Ritual of Namaste Vitamin C* Natural Booster before The Ritual of Karma Sun Protection Face Cream SPF50.
Dress unexpectedly
In summer, it's totally normal to reach for the natural linen and white cotton clothes in your wardrobe but Dr. Shotter tells us that "wearing darker coloured clothes acts as a filter on bright days, helping to decrease the amount of UV that reaches our skin." So, switch it up this summer.
DIY sunburn remedy
"A natural sunburn remedy is baking soda which can be used to help with sunburn," says Dr. Perry. "When mixed with water and applied, baking soda's alkaline properties can really soothe skin that's in pain."
Pop a pill
Both experts agree that Ibuprofen can relieve sunburn swelling and pain all over your body. Dr. Perry adds that, "taking antihistamines will also help too, but the take home message is don't get burnt and don't try and aim for a cheeky tan either."