With a little love and attention, it's possible to turn any outdoor space into a garden oasis. Whether you have a big backyard, a rooftop terrace or a tiny balcony, here's how to create your own outdoor paradise.
It's that time of year again: sun-soaked days, breezy afternoons and the smell of backyard barbecues lingering in the evening air. Gardens can bring joy and serenity to our lives in every month of the year, but summer is definitely the best time to enjoy your own little slice of the great outdoors.
Follow these 9 essential tips to transform your outdoor space into a soulful haven where you can retreat and relax all summer long:
1. Plants, plants, plants
Every outdoor space needs plants—they create lushness, provide privacy and bring natural beauty to your urban retreat. Different-sized plants grouped together give an instant jungle vibe. If space is limited in your oasis, hanging baskets with easy-to-grow greens are a great option.
2. Light up your outdoor space
On warm summer nights, there's nothing as relaxing as sitting outside and sipping tea under the stars. With the right lighting, your outdoor space can be just as enchanting at night as it is during the day. To create a soulful evening ambiance, brighten up your garden with light strings and lanterns.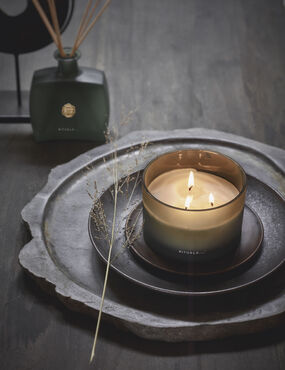 3. Create a warm glow with candles
Garden candles are a wonderful addition to any outdoor space. They bring a warm, twinkling light to your oasis. Scented candles are even more magical—they don't just radiate light and warmth, they also fill the air with soothing fragrances. For the perfect summer glow, scatter a few scented candles around your garden and light them after sunset.
4. Roll out a rug
What rugs can do for your indoor spaces, they can do for your outdoor spaces too—add colour, make a statement, tie the space together. Plus, they make barefoot chillouts in the garden even more comfortable.
5. Go big with mirrors
Ever considered adding a mirror to your outdoor area? Mirrors will make smaller outdoor spaces seem bigger. Because they bounce light around, outdoor mirrors are also great for darker gardens that lack natural light.
6. Add a water feature
Few things can bring tranquility to a garden like the soothing sound of running water. A water feature—whether it's a fountain, a garden waterfall or even a natural stream—drowns out street and traffic noise. If you live in a big city, it provides a simple way to turn your outdoor space into an urban oasis of calm and serenity.
7. Get comfy with cushions
For lounging in luxury, cushions are a definite yes. Outdoor cushions made from weather-resistant fabrics are available in all shapes and sizes, from pillows to matrasses to floor cushions.
8. Keep the birds around
Birds bring a garden to life, so you want to make sure they feel welcome. Invite them to your oasis by providing branches to sit on, a birdbath to play in, feeders to eat from and a birdhouse to nest in.
9. Provide shade
A shady spot is key to keeping cool and shielding from the sun. Parasols and garden umbrellas can be a stylish addition to your garden, and they're easy to fold up and store away when summer is over and winter rolls around. For a more creative way to block the sun from your outdoor sanctuary, use some rope to attach a sail shade to poles, beams, walls or nearby trees.