Compassie is een belangrijke emotie. In het Latijn heeft 'com' de betekenis van 'met' en 'pati' betekent 'lijden'. Het is de emotionele daad van het meelijden met anderen. Het is het gevoel dat je krijgt als je ziet dat iemand pijn heeft en waardoor je voelt dat je moet helpen. De Tibetaanse term voor compassie is 'nying je', dat "verwijst naar liefde, affectie, goedheid, vriendelijkheid, onbaatzuchtigheid en hartelijkheid", zoals de Dalai Lama het uitlegt.
Compassie is een emotie die een grote rol speelt in het voortbestaan van de mens. We zijn sociale wezens. Het bijstaan van iemand in nood helpt de groep en versterkt de sociale banden. Uit onderzoek is gebleken dat een daad van compassie ook stress verlicht en gevoelens van welzijn bevordert bij de persoon die compassie voor anderen toont. Het heeft dus niet alleen voordelen voor de persoon die hulp nodig heeft, maar ook voor de helper. Er is zelfs een studie waaruit blijkt dat hetzelfde deel van je brein wordt geactiveerd als mensen een goed doel steunen of wanneer ze een geldelijke beloning ontvangen.
Mensen kunnen echter ook lijden onder iets dat bekend staat als compassiemoeheid. Je kunt dit voorkomen door niet te snel je oordeel klaar te hebben, mensen te helpen vanuit vriendelijkheid en zonder je morele waarden op te dringen. Het is niet alleen belangrijk om compassie te tonen voor anderen, maar we moeten ook meer compassie met onszelf hebben. Wees vriendelijk voor jezelf als dingen misgaan, in plaats van negatief over jezelf te denken of jezelf te bekritiseren. Dit is vaak makkelijker gezegd dan gedaan. De professoren Kristin Neff en Christopher Gerner hebben drie dingen geïdentificeerd die invloed hebben op zelfcompassie: zelfkritiek, zelfopsluiting en zelfingenomenheid.
Hieronder onthullen we hoe je meer compassie voor anderen en voor jezelf kunt tonen. En verder, hoe ook Rituals compassie toont.
HOE TOON JE MEER COMPASSIE
Verplaats jezelf in een ander
Ken je iemand die een moeilijke tijd doormaakt? Neem een moment om je voor te stellen hoe jij je zou voelen als je dezelfde uitdaging het hoofd moest bieden. Stel jezelf de vraag: wat zou je willen dat anderen voor jou doen in die situatie? Wees de persoon die contact zoekt en het verschil maakt. Bel gewoon even om te laten weten dat je aan ze denkt en de tijd hebt om naar hun verhaal te luisteren, of help met het doen van boodschappen. Wat je gebaar ook is, klein of groot, wees er voor ze.
Stel je standaardreactie op de proef
Je hebt het vast wel eens meegemaakt dat een vreemde heel bot tegen je was. Je eerste reactie is misschien om hier fel op te reageren, intern of extern, maar neem in plaats daarvan eens de tijd om over de situatie na te denken. Kwam hun reactie uit het niets? Was het overdreven? Misschien hebben ze een slechte dag gehad. Laat in dat geval hun stemming de jouwe niet beïnvloeden. En bedenk ook: mensen lijken meer op elkaar dan je denkt. De volgende keer dat je te maken hebt met een moeilijke klant of een irritant familielid, herhaal je voor jezelf: "jij lijkt op mij". Som in je hoofd alle manieren op waarin jullie op elkaar lijken. Deze simpele oefening helpt je om de kloof tussen jullie kleiner te maken.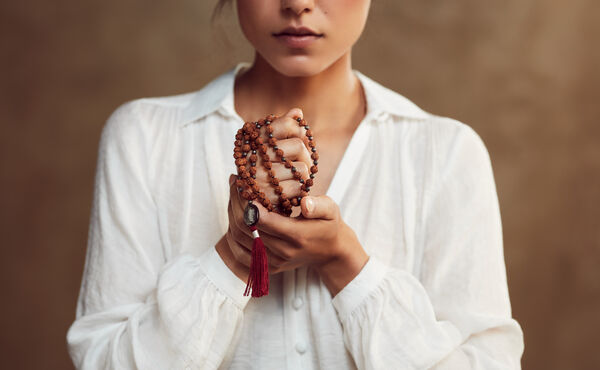 Behandel jezelf met compassie
Je toont elke dag wel wat compassie en vriendelijkheid voor anderen, al is het maar door iets kleins, maar hoe vaak toon je compassie voor jezelf? Denk na over hoe aardig en complimenteus je bent naar je partner of je vrienden. Jij verdient diezelfde zorg en compassie. Schrijf drie dingen op die jij het meest in jezelf waardeert. Ga dan voor de spiegel staan, kijk jezelf in de ogen, spreek het hardop uit en meen het ook.
Doe vrijwilligerswerk
Het doen van vrijwilligerswerk is een goede manier om meer compassie voor anderen te tonen. Zoek iets waar jij enthousiast over bent of waar je van geniet en beloof jezelf dat je daar een aantal uren per week of per maand aan zal besteden. Misschien kun je helpen bij het schilderen van de sets voor een lokale theatergroep of ga je een uurtje per week op bezoek bij een ouder persoon die alleen woont. Iemand anders helpen is niet alleen goed voor degene die je helpt, maar het geeft ook je eigen welzijn een boost en vermindert je gevoel van stress.
Breng tijd door met anderen
Uit de eerder genoemde studie bleek dat zelfopsluiting een gevoel van zelfcompassie kan dwarsbomen. Op jezelf blijven kan voordelen hebben, je hebt bijvoorbeeld tijd om te mediteren of om een goed boek te lezen. Maar ongewild te vaak alleen zitten is niet goed voor ons als sociale wezens. Maak elke week tijd vrij om vrienden te bezoeken of met je familie te bellen. Deel je verhalen met anderen, maar luister ook actief naar wat anderen meemaken en leef met ze mee als ze dat nodig hebben.
RITUALS CARES
Al bijna tien jaar volgt Rituals Tiny Miracles op de voet. Het is een initiatief dat vrouwen uit de armste gemeenschappen ter wereld helpt om los te breken uit hun armoedecyclus in Mumbai, India. Rituals biedt financiële steun aan de vijf pijlers van Tiny Miracles: onderwijs, gezondheidszorg, awareness, inkomensverwerving en geluk. Wil je helpen? Koop een van de Rituals goodiebags. Deze tassen zijn handgemaakt door de vrouwen in de sloppenwijken van Mumbai. Het stelt moeders in staat nieuwe vaardigheden te leren, een vast inkomen te verdienen en bij te dragen aan hun eigen toekomst. Bij elke tas krijg je ook een prachtig cadeau, een unieke armband, speciaal voor jou gemaakt door de vrouwen van deze gemeenschappen in India.